Estimated read time: 4-5 minutes
This archived news story is available only for your personal, non-commercial use. Information in the story may be outdated or superseded by additional information. Reading or replaying the story in its archived form does not constitute a republication of the story.
Drivers gave the new Legacy Parkway its first full test today with a working-day rush hour commute.
Drivers through Davis County are still getting used to on and on off ramps. Utah Department of Transportation (UDOT) traffic planners say almost 25 percent of Interstate 15 drivers switched to Legacy today.
It was a success this morning. And at 5 p.m., traffic was pretty much dispersed evenly among I-15, U.S. 89 and Legacy Parkway. That's good news for drivers.
UDOT expected the afternoon commute to be more crowded than your morning drive; that's because most motorists are on the road to go home between 4:30 p.m. and 6 p.m., as opposed to mornings when drivers are more dispersed between 6 a.m. and 9 a.m.
With every new freeway or highway comes an adjustment period for drivers, and UDOT says this Legacy Parkway is no different. Driver Joseph Perez said his drive was "Quick, plus you don't have all the backup." That's something Davis County commuters aren't used to hearing.
Another thing drivers must adjust to are new onramps and offramps. Nile Easton, spokesman for UDOT, said, "So it's a limited access facility. You really only got the places it begins and ends, or you got the two in the middle: Parrish Lane and 500 South."
Perez said, "It gets confusing because you're used to going the old way, so you just gotta get used to it. It's new!" UDOT says Legacy might be confusing at first, just like the I-15 Spaghetti Bowl was in the beginning. Easton said, "I think we'll see a similar thing, particularly up in the northern, what we're calling the Wasatch Weave; the place where U.S. 89, I-15 and Legacy all come together. In that area I think people will have a bit of a learning curve."
Commuters were able to gauge their drive time this morning by using the electronic billboards UDOT has placed before the split off from I-15 and I-215 to Legacy Parkway. Easton said, "We have sensors in the Legacy Parkway itself and I-15 to give us an idea of how long it takes to drive from the U.S. 89 junction all the way to downtown."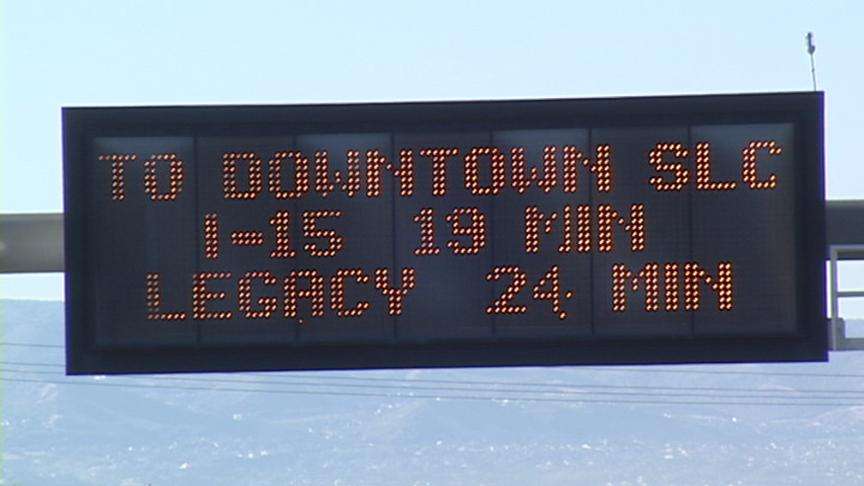 This morning it took commuters an average of 19 minutes on I-15 to get from the U.S. 89 junction to downtown. It took and average of 23 minutes on Legacy Parkway, but that did not seem to bother commuters. Hokensen said, "It was sort of nice to see different scenery, and I hadn't been out that way before."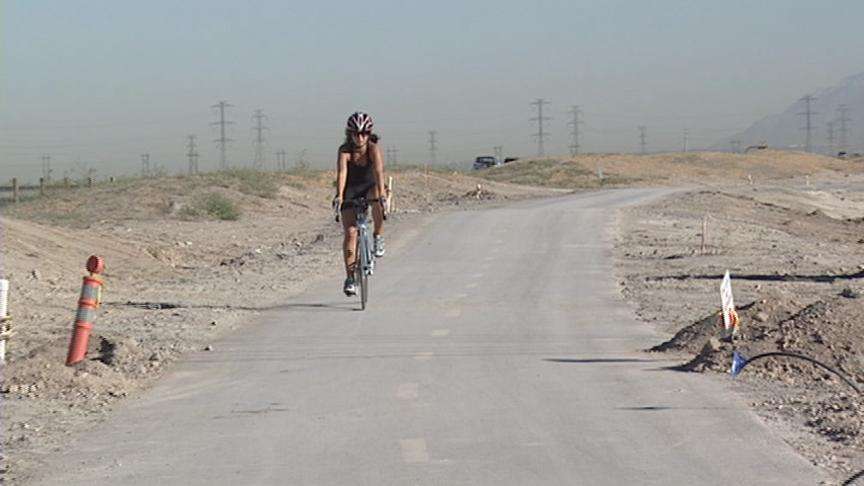 Commuter Bobby Anderson thought the scene was nice. He said, "It's really nice just to go walk, drive through it and see the different parts, you kind of forget where you're at." Anderson liked what he saw. He said, "They have done a good job. I mean, you know, they are not completely finished with everything yet, but it's the main road that's nice, and it's really nice to be able to be here."
UDOT's Executive Director John Njord said, "This has been designated as a scenic byway and when you see it you will see why. The views out here toward the west, toward the lake, though the lake is several miles away, it's still a beautiful view. Then over to the mountains it's a gorgeous view as well."
Also, remember the speed limit is only 55. And even though that may be inconvenient, many drivers are fine with it, especially since they don't have to deal with semi trucks.
Perez said, "Yeah, because the trucks are always breaking your windows. The rocks they throw up and everything like that. Plus they get too close together, not enough room. So, it's really nice." Semi trucks are not allowed on Legacy Parkway.
It cost $685 million to build the parkway, making it one of the most expensive roads in the state, but UDOT says driving Legacy Parkway is more of an experience than a commute. "The whole parkway its self is really a unique driving experience for people, unique for the entire western United States," Easton said. "Everything from the pavement to the bridges, the landscaping, the trails systems, it's all different and unique."
E-mail: ngonzales @ksl.com
E-mail: spark@ksl.com
E-mail: tcallan@ksl.com
×
Related links
Most recent Utah stories