Estimated read time: 4-5 minutes
This archived news story is available only for your personal, non-commercial use. Information in the story may be outdated or superseded by additional information. Reading or replaying the story in its archived form does not constitute a republication of the story.
SOUTH SALT LAKE — In the season of giving, Muna Hussein received the gift of eyeglasses, which vastly improved the teenager's view of her world.
"I can see now things far away. I'm so excited," said Hussein, 17, a refugee from Somalia.
She was one of dozens of students at Utah International Charter School who on Tuesday received new glasses as a gift coordinated by Eagle Vision Center of Eagle Mountain.
The Eagle Mountain vision clinic performed screenings for about 220 students at the school then arranged transportation to the InVision Eye Health office in Sandy and Eagle Vision in Utah County for nearly 70 students who required further examination.
The students who received exams at Eagle Vision were hosted for the day by Rockwell Charter High School in Eagle Mountain, where they were served pizza for lunch and played basketball with Rockwell students as they waited for their appointments.
Not only did the charter school shuttle groups of students to the eye care office during the day, they bused the students to Utah County and back again in their buses, which facilitated matters greatly, said Eagle Vision's Aubri St. Clair, project organizer.
Meanwhile, a friend with a 16-passenger van transported other students to InVision in Sandy for their exams.
Students who needed glasses were able to pick out frames they wanted. All told, the gift ran into the thousands. The lenses and coatings, which St. Clair described as top of the line, were donated by a benevolent vendor. The lenses alone were valued at some $8,500.
The payoff? The look on the students' faces as they tried on their new glasses and their vision came into sharp focus.
"I was really excited to get new glasses. I never wear glasses in my past life," said Ashraf Kambere, 18, who is from the Democratic Republic of the Congo.
Utah International Charter School Principal Angela Rowland said she appreciated the time and care the eye care providers devoted to the students.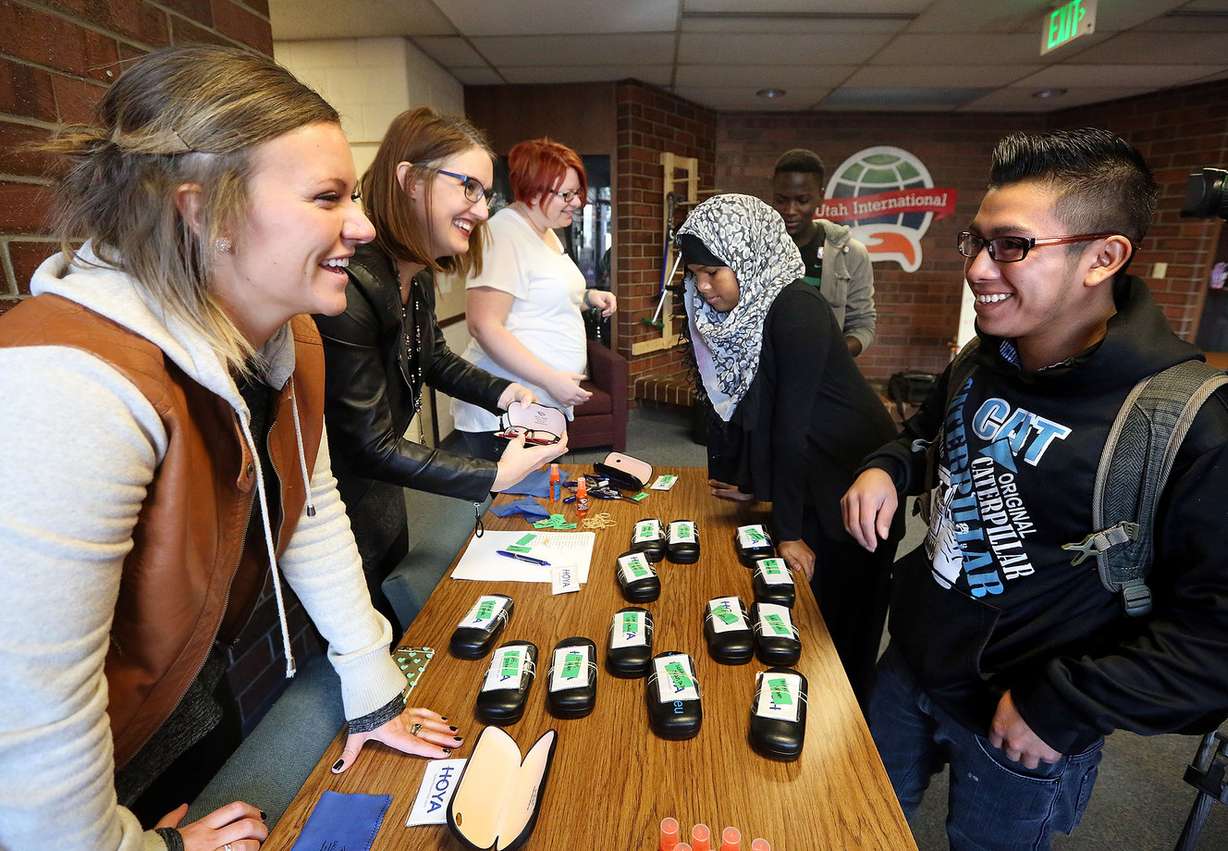 Some speak no or very limited English, so for baseline screenings, using eye charts with letters were not an option. Instead, the screeners used charts with shapes so students could form the shapes with their hands to convey whether they were able to see them.
"I was just so impressed how sensitive they were with them," she said.
But more so, the school was profoundly grateful for people in the community to extend the hand of kindness after the presidential election, the outcome of which has stirred fear and uncertainty among refugees and other immigrants, she said.
Some children worried they would have to pay for glasses out of pocket. Rowland said she had to repeatedly assure some students that Eagle Vision and others who assisted with the project were doing it "just to be kind."
Rowland said refugees aren't screened for vision problems when they are resettled in the United States, leaving many with unmet needs. Those who have limited coverage under Medicaid have difficulty negotiating the health care system, let alone arranging transportation, so the gift of care and glasses meant a lot.
"This event was so touching. The kids felt really appreciated and welcomed in really tangible ways, the food, the eyeglasses, especially at this time in the country's life. It was really meaningful," Rowland said.
St. Clair said donating the eye care and glasses was a gift to all who participated, too.
"I feel we're the ones who benefited more than anything," she said.
Some 30 languages are spoken at the school of 230 students, so the optometry professionals relied on the help of students, staff and parents to help translate.
But a few moments, such as watching someone whose vision needs correction see things clearly, possibly for the first time in their life, transcends spoken language, St. Clair said.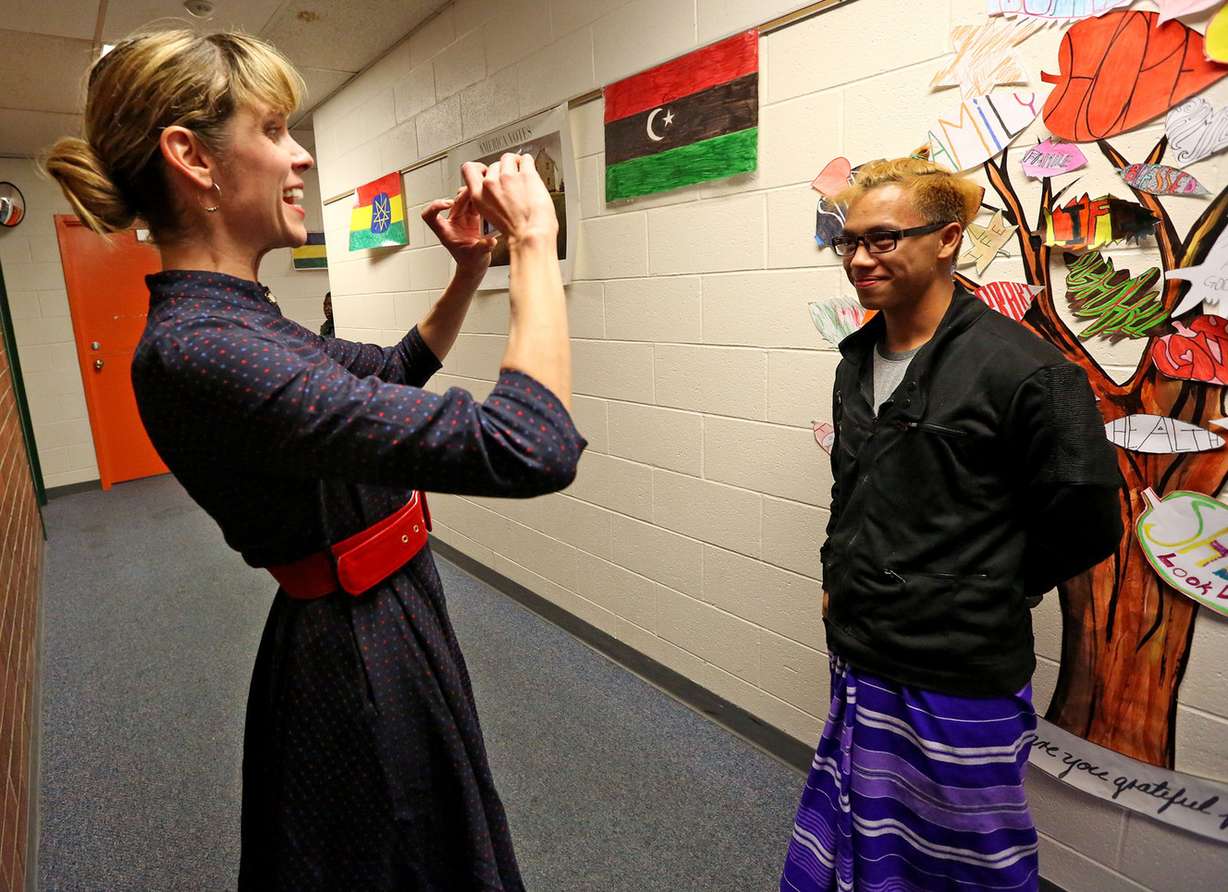 "That's the best part. That language barrier kind of doesn't exist for a minute. They're like 'Oh my goodness.' The face says it all," she said.
Kambere, who the faculty and staff at Utah International Charter School affectionately refer to as the school's "mayor," passed on the student body's thanks and appreciation.
"They are very excited, all of them as far as I can tell," he said, proudly sporting his own new specks.
"To get new glasses without paying for them. For free! Not paying any single coin. That is great."
×
Photos
Most recent Utah stories