Estimated read time: 2-3 minutes
This archived news story is available only for your personal, non-commercial use. Information in the story may be outdated or superseded by additional information. Reading or replaying the story in its archived form does not constitute a republication of the story.
OREM — Santa is already busy spreading Christmas cheer and made a surprise stop at an elementary school in Orem.
"Well, when they come in they are going to think Santa is the surprise," said Principal Keith Conley, dressed as Santa Claus. But for these kindergarten students at Geneva Elementary in Orem, Santa is about to deliver a very big surprise.
"Old Santa has a soft spot in his heart for those who serve our country in the military, especially this time of year," he said. And when Santa heard about a special request from 5-year-old Brisa, he knew what he had to do.
"We were just sitting around, and she said, 'Mom, you know what I would really like Santa to bring us for Christmas would be my big brother Dylan,'" said Michelle Ramirez, Brisa Ramirez' mother. "We knew we had to make it happen."
Army Pvt. Dylan Ramirez has been training in Virginia for the last six months. He was touched by her wish and knew he had to be home for Christmas. He was able to secure some holiday leave and couldn't wait to see the look on her face when he magically appeared in front of her.
"When I found out that my little sister, Brisa, all she wanted for Christmas was me, I just had to try to figure something out to surprise her because I miss them and I know they miss me."
With help from the school, the soldier was able to sneak into the library and hide in a large box.
When it was Brisa's turn to get on Santa's knee, Santa asked the 5-year-old about her wish. "So what is that thing you wanted for Christmas that is a little bit special," Santa asked.
"My brother," she replied.
"You want your brother for Christmas? Santa asked. "Brother in the Army, see if we can see you."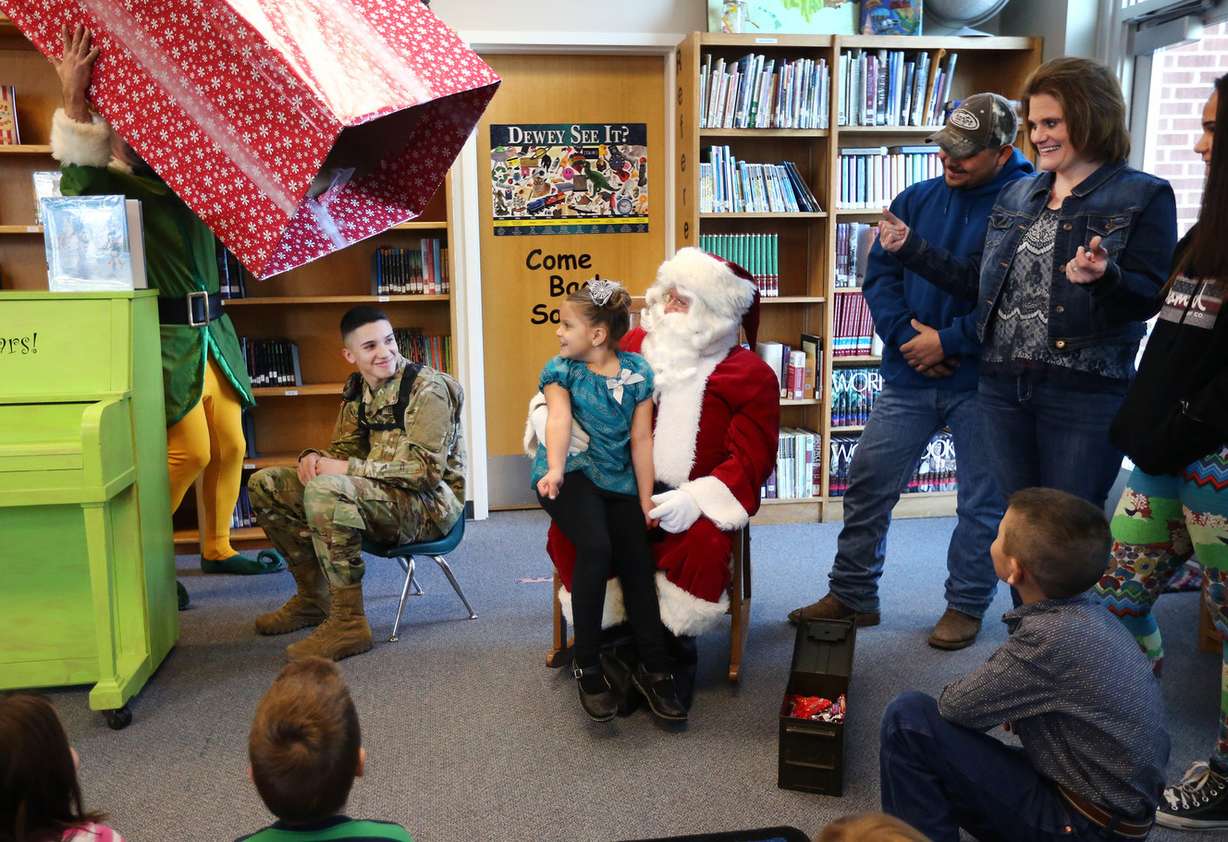 The box hiding Pvt. Ramirez was lifted, and that's when she realized her wish came true. With a gigantic smile on her face, she rushed to her brother and gave him a hug.
Santa's surprise left Dylan's 10-year-old brother, Mitch, in tears.
"Thank you," Brisa told Santa.
"We are all glad big brother is home, aren't we," Santa said. "Ho, ho, ho."
And Santa will never forget. "To be able to maybe help this little girl and her brother to get their wish for Christmas come true, is something special," Santa said.
Contributing: Viviane Vo-Duc
×
Photos
Most recent Utah stories