Estimated read time: 2-3 minutes
This archived news story is available only for your personal, non-commercial use. Information in the story may be outdated or superseded by additional information. Reading or replaying the story in its archived form does not constitute a republication of the story.
Samantha Hayes ReportingSalt Lake City Mayor Rocky Anderson was criticized for leading a protest against President Bush a year ago. Now the President is making a return visit, and while there may be protests this time, the mayor is not invited to the main event.
This year, the American Legion will host President Bush at its national convention in Salt Lake. The Deseret Morning News has learned that local organizers with the American Legion are breaking with tradition by not inviting the mayor of the host city.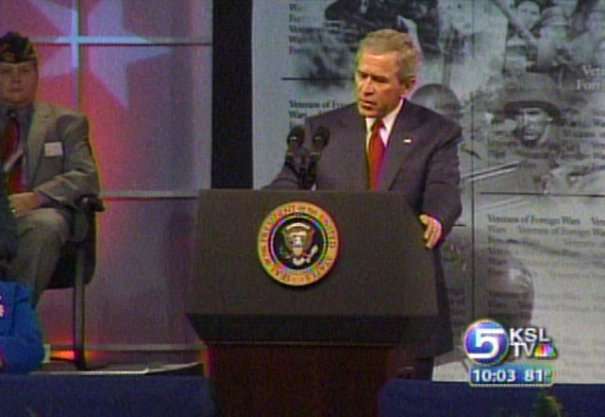 KSL has an exclusive poll on how Utahns feel about the President compared with a year ago.
While the President of the United States spoke to the Veterans of Foreign Wars just a few blocks away at the Salt Palace Convention Center, Salt Lake City Mayor Rocky Anderson spoke at a protest. A year later, free speech has cost the mayor an invitation. Instead, Salt Lake County Mayor Peter Carroon will open the convention at the end of the month.
An exclusive Survey USA poll for KSL-TV shows Utah's approval of the President is about the same. 59 percent of Utahns approve of the job George W. Bush is doing as president. 38 percent of Utahns polled disapprove. That's almost identical to the same poll a year ago.
But the President's approval numbers in Utah have fluctuated in the last year. Mr. Bush's highest disapproval was this past May, with 46 percent. During that time, the Pentagon investigated the deaths of more than two dozen Iraqi civilians killed in Haditha, and the national immigration policy was a daily headline..
The President's highest approval ratings in Utah came last December when Iraqis voted to elect members of the Iraqi Assembly. 63 percent of Utahns approved of Mr. Bush's performance.
Those current approval ratings are the exact opposite as the rest of the nation, where 59 percent of Utahns approve, 60 percent of the nation disapproves.
×
Most recent Utah stories