Estimated read time: 4-5 minutes
This archived news story is available only for your personal, non-commercial use. Information in the story may be outdated or superseded by additional information. Reading or replaying the story in its archived form does not constitute a republication of the story.
SALT LAKE CITY — It's hard enough to get 7-year-olds like Donavan Peterson to brush and floss — much less to keep them away from the soda and sweets that they crave.
So it wasn't surprising that Donavan showed up to his pediatric dentist in Kaysville with another cavity, now his second or third one, said mom Elisha Peterson.
"They get sweets wherever they go," she said. "You go to the movies, you get sweets. You go to school, you get sweets. … I think it became a culture."
Donovan is not alone. A Utah Department of Health report released Friday revealed that about two-thirds of Utah children ages 6 to 9 have had cavities.
That's up significantly from the last time the screening was conducted, in 2010. Back then, just over half of kids ages 6 to 9 had cavities.
It also means Utah is falling short of Healthy People 2020 targets. The national target rate for children with cavities is 49 percent.
"We're never comfortable when we see any of those numbers," said Utah Department of Health oral health specialist Michelle Martin.
"Dental decay is preventable," she added. "We all have so much on our plate that sometimes that's the last thing (that they're thinking about). … But an ounce of prevention — boy, that can really go a long way and save some money."
The statewide oral health survey was conducted between September 2015 and January 2016. Nearly 1,900 children between first and fourth grade were screened for the survey.
The screening showed that just under 1 in 5 children had untreated cavities, about the same as in 2010.
But even more concerning was the fact that about 1.5 percent of children presented urgent dental problems like abscesses and infections that require immediate dental care — a figure that Martin called "very unsettling."
The percentage may seem small, but there are nearly 202,000 students between first and fourth grade in Utah. That means there are about 3,000 children between ages 6 and 9 in Utah who are suffering from untreated abscesses, infections or other serious oral health issues.
Disparities among minorities and low-income children also persisted, according to the report.
Statewide, 18 percent of children did not have dental insurance, compared to 26 percent of Hispanic children.
Nonwhite children in Utah had higher rates of cavities than white children (77 percent versus 64 percent). Hispanic children experienced higher rates of cavities, untreated decay and unmet dental needs compared to non-Hispanic children.
Children on free and reduced lunch at school also had higher rates of cavities and untreated decay.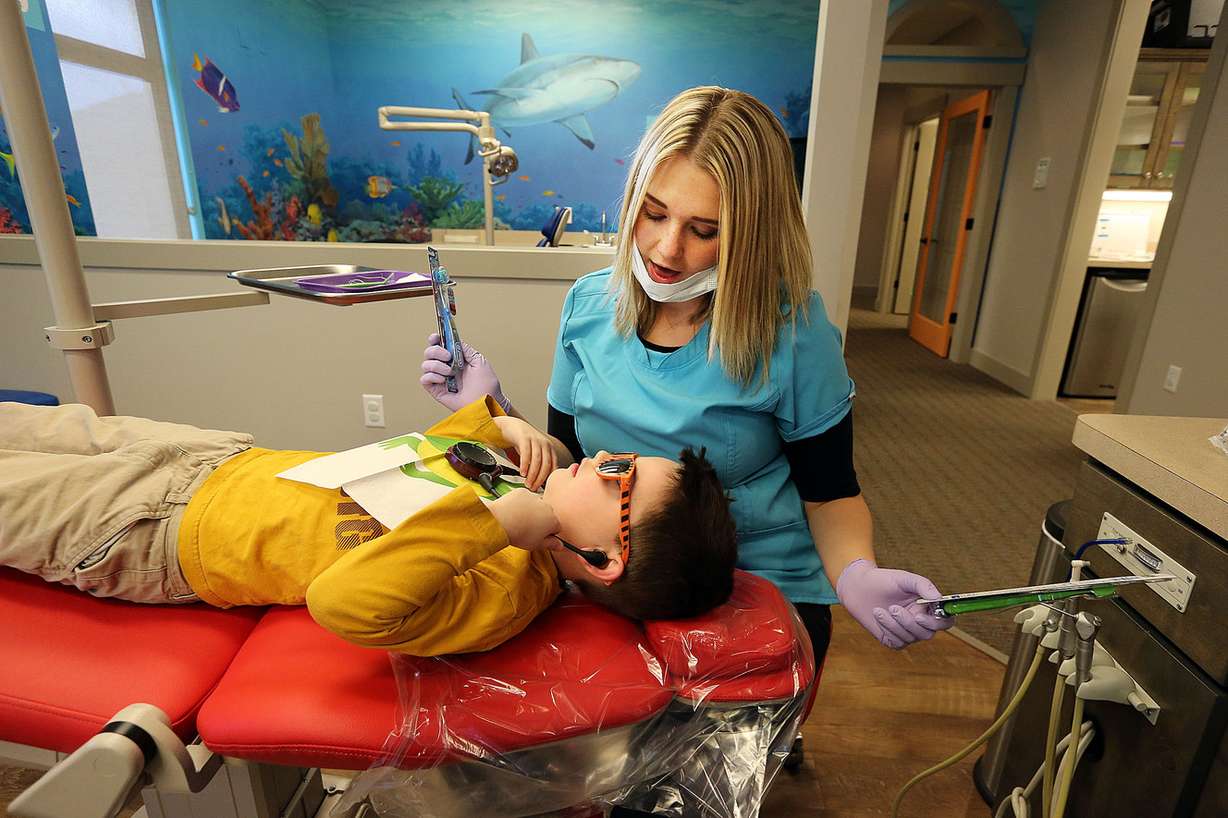 "It's a huge, huge problem, and it's been a huge problem for a long time," said Kurt Micka, executive director of Utah Partners for Health, which is expanding its dental services at four low-cost public health clinics across the state.
He said dental care regularly shows up as the No. 1 health need on the organization's annual needs assessment.
Micka said it's not that Utah doesn't have enough dentists — it's that many people can't access those dentists.
"In some of the Title 1 schools, you're dealing with just about every single student that has an oral health concern," Micka said. "It's a real problem. And there are programs out there for them, but the need far outweighs the resources that are out there."
Because dentistry has thinner margins than medical care, it's harder for dentists to offer charity care than a doctor or hospital, Micka said.
And recent changes to the funding model of Utah's largest Medicaid dental benefits provider may make it even harder for low-income patients to find a pediatric dentist who will accept Medicaid.
Many children in rural areas also have difficulty accessing dental care, according to Martin, who helped conduct screenings for the report.
She described finding one child in a rural area of the state who had an abscess in her mouth but did not have dental insurance. The nearest dental office was 30 miles away, if not more.
There was some good news: The percentage of children with sealants increased dramatically from 26 percent to 45 percent between 2010 and 2015, according to the report.
However, it could be a short-lived victory. One of the biggest programs that provided sealants for low-income students in Utah — Sealants for Smiles — recently became defunct.
Martin said the health department is working with local nonprofits and the health disparities division to expand programs that offer dental care in low-income areas.
Parents should be vigilant about their children's oral health, watch what's in their fridge or cupboards and continue to brush their children's teeth until they are confident they can do it themselves, she added.
Martin also encouraged parents to call the Utah Oral Health Coalition, their school nurse or their local health departments if they have trouble accessing dental care.
"Oral health is not only an integral part, but it's a vital part of our overall health," she said.
×
Photos
Related stories
Most recent Utah stories