Estimated read time: 3-4 minutes
This archived news story is available only for your personal, non-commercial use. Information in the story may be outdated or superseded by additional information. Reading or replaying the story in its archived form does not constitute a republication of the story.
OREM — In August, Kim Power Stilson was given weeks to live.
The breast cancer she fought off more than a year ago had metastasized and spread to her lungs and bones, turning her bones to mush and making it too painful to do much of anything.
After a three-week stay at the hospital and getting through hospice, Stilson and her husband, Chad, moved into a house down the street because their own home wasn't wheelchair accessible. There were other problems with it too.
"It was dark and uncomfortable," Stilson recalled Saturday. "There was some bad memories here."
There had been an old tree in the front room that was dying, and it always reminded Stilson of the illness she was battling. So she and her husband stayed for several months at a neighbor's home, with family stopping in to visit every day.
"I've been wanting to come home for so long," the BYU radio show host said. "It is so hard to go through this and not have your family with you."
Her friends believed something had to be done.
"She's defying all the odds," said Barbara Stuart. "She needs to be with her family. Every day spent with family is a precious gift."
A social media campaign was started to "Get Kim Home for Christmas." Volunteers were recruited, donations were collected and a local charitable organization got involved.
"I still get chills doing this for people," said Heart 2 Home President Greg Adamson, who has overseen renovation projects at 35 homes since founding his organization in 2014. The goal is to help people function better in their homes.
"A lot of people are prisoners in their own homes," Adamson said. "The American dream can be a nightmare for them."
Contractors were able to turn an infrequently used office and front room space at the Stilsons' Orem home into a wheelchair-accessible bedroom, with an attached ADA-compliant bathroom and shower for Stilson to use until she has the strength to climb the stairs to the master bedroom of her home.
In the process, Adamson and his team of volunteers decided to paint, carpet and decorate the rest of the home as well, giving the three Stilson children a beautiful place to call home while they help with the necessary 24-hour care for their mother.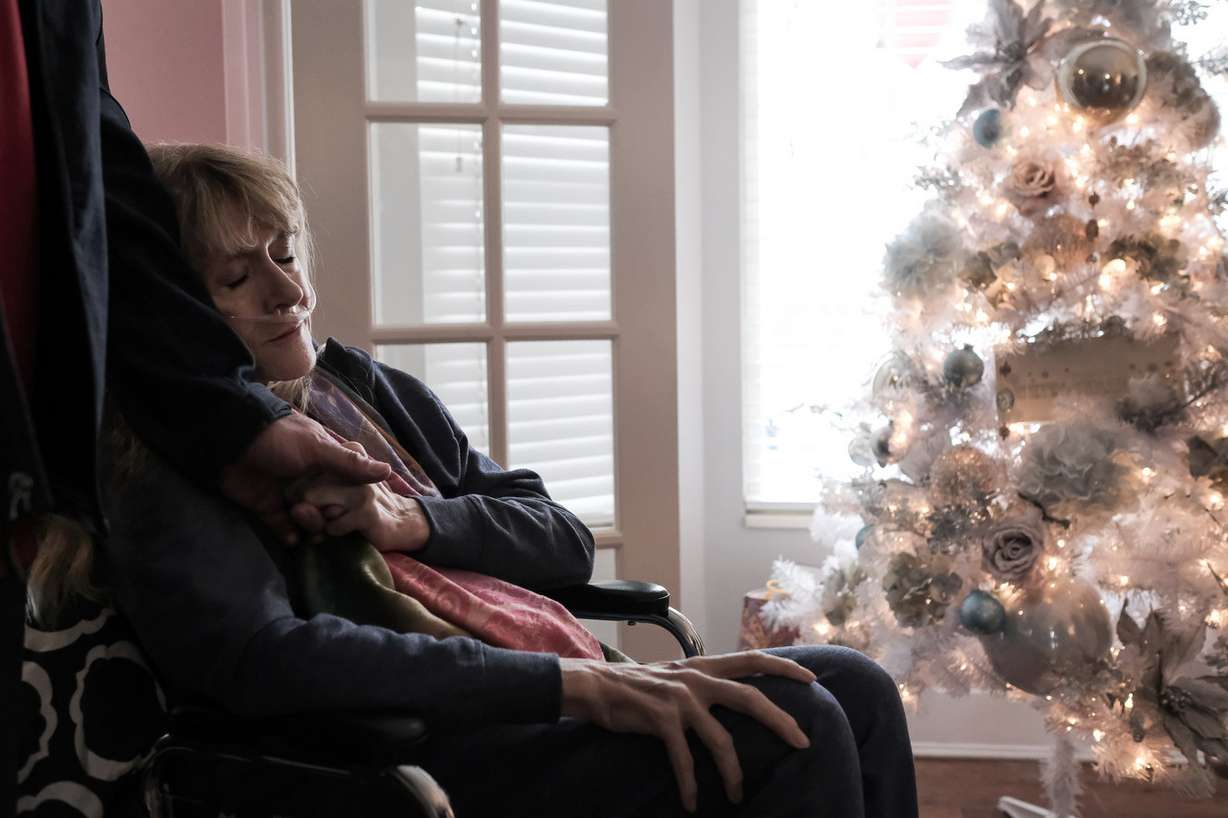 "It's a totally different place. It doesn't even look like the same place," Stilson said. "It's a little bit of heaven on Earth. It's so peaceful and so healing. I know I can get better in this house. I don't know how, but I know I can."
Stuart said that's just the kind of person Stilson is — exuding positivity.
"She's spent most of her life building people up," Stuart said. "She's always pulling the good out of people and sharing it with the world. She's a fighter. She doesn't take anything for granted."
McKall Stilson, 20, said she couldn't imagine her mom ever coming home to the old house, with its dirty, stinky carpets and dark colors everywhere. The family had lived in the home about five years, having made very few changes to the place.
"It means a lot to have our mom home," she said. "It was time for her to come home."
As her husband pushed her through the home Saturday, Kim Stilson could hardly hold back the tears. She couldn't believe the opportunity she and her family had been given. She was in awe of her newly decorated home and all the people who worked to complete it.
"It's going to change our lives," she said. "When you get a boost like this, you can't help but win."
×
Photos
Most recent Utah stories