Estimated read time: 3-4 minutes
This archived news story is available only for your personal, non-commercial use. Information in the story may be outdated or superseded by additional information. Reading or replaying the story in its archived form does not constitute a republication of the story.
SALT LAKE CITY — Trevor Milton spent much of his adolescence in southern Utah thinking about ways to build things like locomotives and heavy equipment vehicles.
He was exposed to trains while his father worked in management in the railroad industry.
As a teenager, it became apparent that Milton enjoyed taking things apart to figure out how they worked, he explained.
"I'm a hands-on learner," said Milton, 34. "I've had to learn everything by touching and tearing things apart and learning (about) them."
He attended one semester of college and realized his passion for entrepreneurism was much stronger than his desire for a formal education.
"(I have) a very hyper-driven personality," Milton said.
It was that energetic determination that helped Milton launch several small businesses during his early adulthood, including an alternative-fuel company he sold a few years ago.
He used the proceeds of that sale to fund his latest venture — the Nikola Motor Co., which designs and manufactures electric components, drivetrains and vehicles.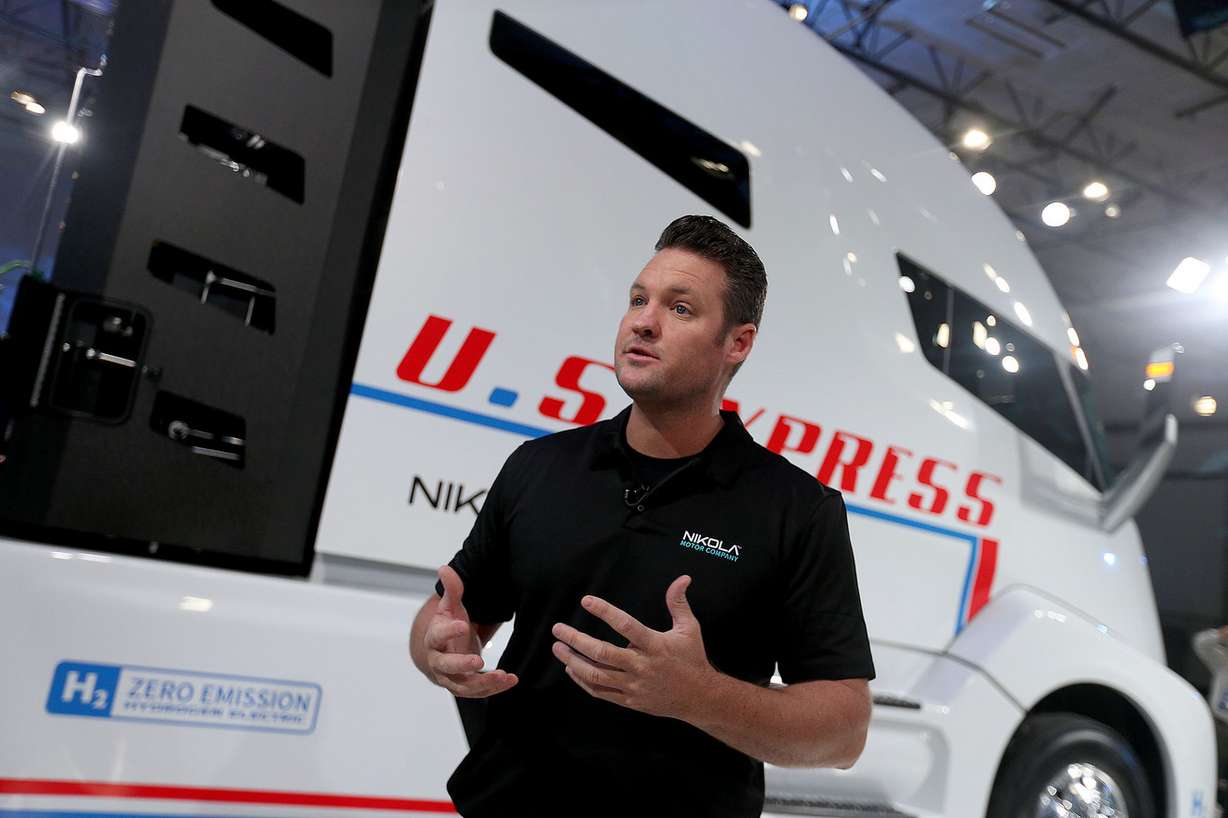 Today, that company is launching a prototype vehicle that could potentially revolutionize the transportation industry.
Called the Nikola One, the full-size semitruck uses a fully electric drivetrain powered by high-density lithium batteries with energy supplied by a hydrogen fuel cell that gives the truck an estimated range of 800 to 1,200 miles, a news release stated.
The vehicle delivers more than 1,000 horsepower and 2,000 foot-pounds of torque — nearly double that of any semitruck on the road, Milton said.
Speaking Friday to an audience of more than 200 at the company's Salt Lake City headquarters, Milton said the prototype has tested and achieved an estimated best-in-class fuel efficiency — the equivalent of around 15 mpg — while also dramatically improving performance over its diesel competition with the added benefit of zero emissions.
When the truck is ready for production, the company will provide a leasing program that will include unlimited hydrogen fuel, warranty and scheduled maintenance during a 72-month term for about $5,000 per month, Milton said. To date, the company has received approximately $4 billion in reservations for future orders, he said.
Production will begin once Nikola determines where it will establish its manufacturing plant. A decision is expected in mid-2017, Milton said.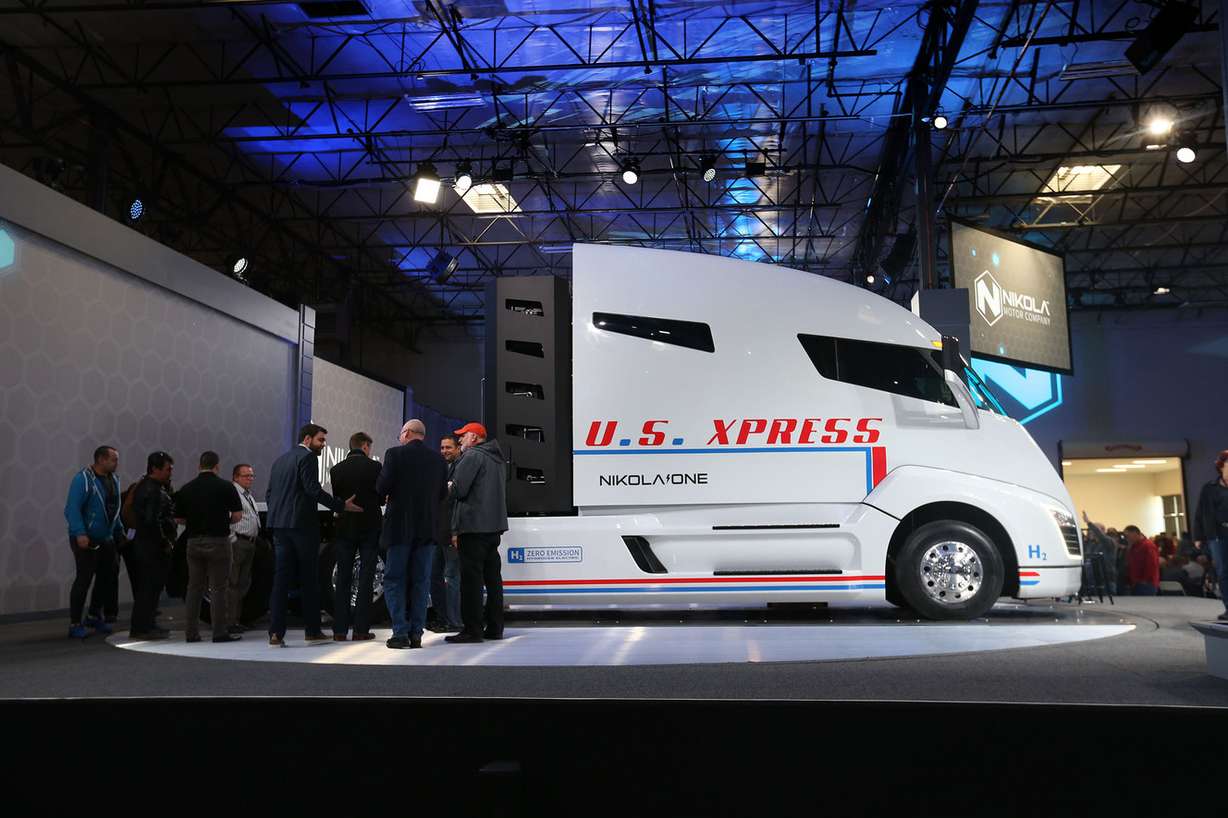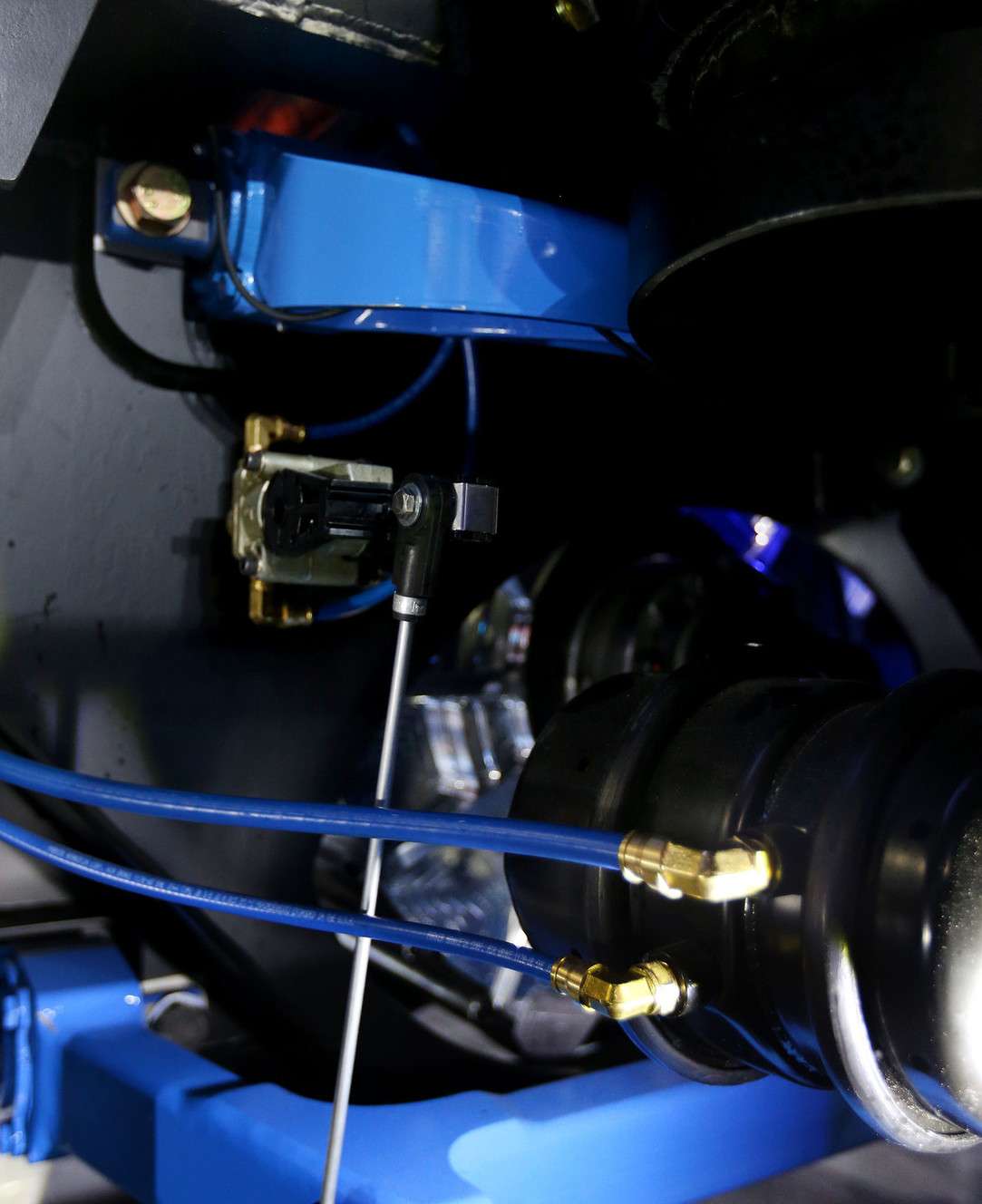 "Nikola will build a world-class advanced manufacturing facility which will create thousands of new jobs," he said.
The company is currently in discussions with several states, including Utah, to decide with whom to partner, he said. Full production of the Nikola One is planned for 2020, he added.
Milton also unveiled Nikola's plan for a network of company-owned hydrogen fueling stations across the U.S. and Canada. Construction of those facilities is planned for January 2018, he added.
For some in the audience, the idea of a fuel-efficient, battery-powered semitruck is something they've dreamed about for years.
Matthew Hurley, owner of Hurley Transportation Services based in Roaring River, North Carolina, began his career nearly 40 years ago. Over the past six years, he has owned and operated his own diesel-powered truck.
Hurley said when he first looked into the Nikola vehicle, the estimated $375,000 sticker price seemed a bit high compared with a similarly equipped diesel truck priced in the $200,000 range.
But after some thought and lengthy discussions with his accountant, Hurley said he realized the leased electric semitruck would be a better long-term investment.
"Carefully going over the figures, I'm going to be ahead by (getting) this vehicle," he said.
Hurley said he's changing his business plan so he can be prepared to lease a new all-electric vehicle when the Nikola One production models become available in the next three years.
"The world needs this truck now," he said. "We've needed it for the last 10 years for emissions alone. Fossil fuels are finite. Mere words cannot express how enthusiastic I am about this truck."
×
Photos
Most recent Utah stories