Estimated read time: 4-5 minutes
This archived news story is available only for your personal, non-commercial use. Information in the story may be outdated or superseded by additional information. Reading or replaying the story in its archived form does not constitute a republication of the story.
NIBLEY, Cache County — Loved ones remembered fallen paramedic Jacob Jay Shepherd as intelligent, honorable and energetic as they paid their respects Monday and laid him to rest.
Shepherd's service as a paramedic "was an honor to him and to his wife," said his uncle, James Morrill.
"We will honor Jake. And we rejoice (in) Jake," Morrill said after the services. "And we love Jake for all the things that he did for others that we didn't know, that we are learning about (for his job)."
Shepherd, 24, was aboard a medical service plane that crashed Nov. 18 in Elko, Nevada, while transporting a man to University Hospital in Salt Lake City. He and three others, including the patient who was being transported for open-heart surgery, were killed on impact.
The husband and father of three was a paramedic with Mountain West Ambulance, which coordinates with Tooele County Emergency Medical Services. Tooele police called Shepherd "one of our own community's heroes" in announcing the tragic news.
Family and friends gathered for Shepherd's funeral at the LDS Stake Center in Nibley, where the Utah Firefighters Emerald Society paid tribute to him in a performance featuring the bagpipe, a drum corps and an honor guard. Graveside services were then held in Mendon City Cemetery.
"Today has been a real roller coaster up and down," Morrill said. "But (to see) the amount of people (and) strength of people — the EMS, all the firefighters, police … has been uplifting."
Shepherd's family is banding together to cope in the aftermath of his death, Morrill said.
"This is something that is very tragic, and something that we have to live with and help each other out," he said.
Morrill said his nephew was dedicated to his job, but also knew how to "have a really good time." Shepherd was brilliant, his uncle said.
"Jake served well, very honorably. … He would be out on a flight and he could rig up a pen or any other thing to help, and he was amazing," Morrill said. "Jake spent numerous hours studying what he already learned to become a better EMT."
Morrill's son, Matthew, said his whole family was "heartbroken" to learn of his cousin's death.
"He was a really good man and … the best cousin that I ever had," the boy said.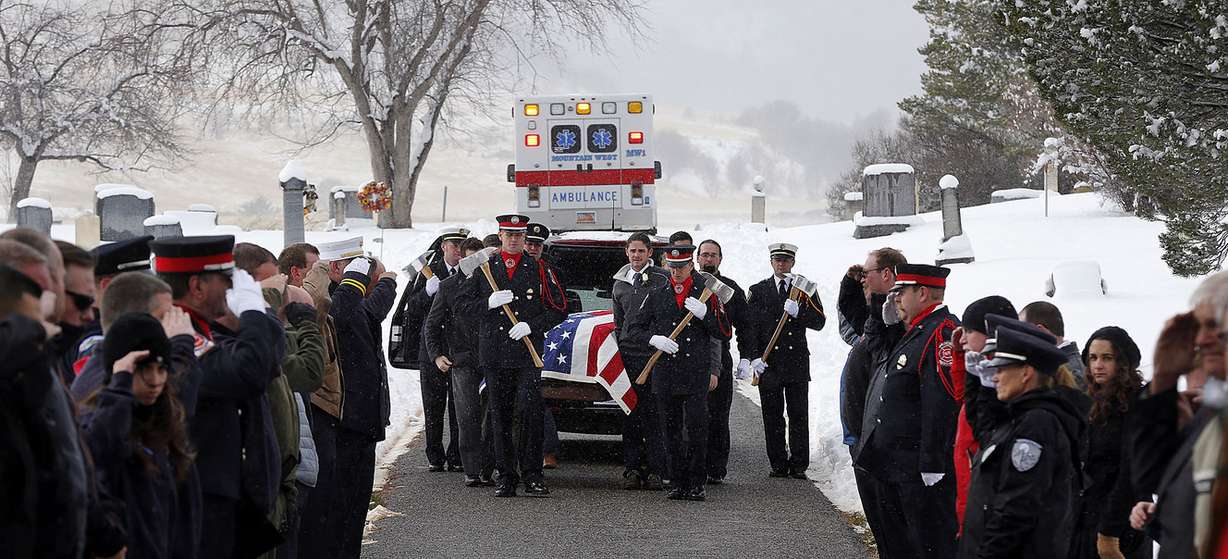 Shepherd's obituary in the Deseret News said his life was filled with selflessness.
"Jake's life was based on serving others, it was not merely something he did but it was who he was. His love of serving others is what drove him," the obituary states. "He loved all people as was demonstrated through his daily acts of service and generosity. All those that met him felt they were better for having known him. His contagious laugh, quick wit, and off the wall sense of humor positively affected everyone who was lucky enough to experience it."
The obituary went on to say Shepherd will be "remembered for his unyielding kindness, tenderness, unconditional love, devotion, boundless energy, enjoyment of life and continuous service." It also said he appreciated a good practical joke.
"One time he hid under a desk for over an hour just to get a scream, anything for a laugh!" the obituary says. "He loved Halloween and being able to dress up in the craziest costumes and he loved family get-togethers. It wasn't until Jake arrived that the party started."
The National Transportation Safety Board is still investigating the cause of the crash that took Shepherd's life. The others who were killed were Elko resident Tiffany Urresti, a nurse on board; Yuji Irie, the 63-year-old pilot from Las Vegas; and Edward Clohesey from Spring Creek, Nevada.
The Piper PA 31 fixed-wing plane crashed into a parking lot just across a roadway adjacent to the Elko Regional Airport, shortly after taking off, the Federal Aviation Administration has said.
Shepherd is survived by his wife, Sadie Brook Shepherd, who was also his high school sweetheart; his 4-year-old son, Jack; his 2-year-old daughter, Ruby; and his 1-year-old son, Dean. He served as a volunteer firefighter, eventually becoming a critical care paramedic and later a flight paramedic, his obituary says.
"He was amazing. He loved to study and better himself," Morrill said. "He lived a long life in how much he did and he learned and he gave."
Contributing: Abbie Lewis
×
Photos
Related stories
Most recent Utah stories