Estimated read time: 6-7 minutes
This archived news story is available only for your personal, non-commercial use. Information in the story may be outdated or superseded by additional information. Reading or replaying the story in its archived form does not constitute a republication of the story.
OREM — Five students were stabbed at Mountain View High School on Tuesday morning in an apparent attack by a 16-year-old boy who then turned the knife on himself.
The stabbings happened just before 8 a.m. in the boys locker room in the gymnasium area, according to Orem Police Lt. Craig Martinez. All the victims were boys and were stabbed at least once, suffering wounds to their upper torso or neck, police said.
Four victims were transported Utah Valley Hospital, where two remained in critical condition but were considered stable, one was in fair condition, and one was transferred to another hospital in fair condition, hospital officials said in a statement about 3:45 p.m.
"At this point, none of the patients' injuries are considered life-threatening," according to the statement.
Before being taken into custody, police say the 16-year-old stabbed himself in the neck with the 3-inch blade.
By Tuesday afternoon, the 16-year-old had been released from the hospital and booked into the Slate Canyon Youth Center in Provo, police said.
Orem Police Chief Gary Giles met with the boy's family, who gave him a prepared statement to release to the public.
"We express our deepest condolences to the five boys who were harmed at Mountain View High School this morning and to their families. None of the victims had done anything to hurt him. This was in no way racially or ethnically motivated. We are at a loss to express how deeply sorry we are for the pain and injury caused. Our thoughts and prayers will be with the boys and their families," the statement read.
Orem police say the boy's parents were caught completely off guard by their son's actions.
"This was a tragic, unforeseen event that no one could have prevented. Our only hope is that we can learn from it and pray that it never happens again," the Orem Police Department said in a statement late Tuesday afternoon.
Police did not release the name of the 16-year-old Tuesday, or the names and ages of any of the stabbing victims.
Kimberly Bird, Alpine School District spokeswoman, said the 16-year-old was a new student who had enrolled in August as a sophomore at the school of 1,300 students. Prior to that, he was home-schooled.
Since starting school, the 16-year-old has had straight-A grades, good attendance and no prior disciplinary incidents, Bird said. Those who had gotten to know him reported they had seen no red flags.
"This is not something that was on the radar at all," she said. "It was just not something that was foreseen by this particular young man."
It is unknown whether the boy had been bullied or had other issues at school, Bird said. He is not believed to be new to the area and has had siblings who attended Mountain View before him, she said.
It was also unknown whether the 16-year-old was targeting one or more specific students and others were injured intervening, or if he attacked all five students individually.
911 calls: 'He's stabbing people'
The attacks played out in a matter of minutes in the boys locker room as students were getting ready for gym class, Giles said. A motive for the stabbings have not been identified, but investigators have begun interviewing numerous witnesses.
Giles did not know how many students were in the locker room when the stabbings occurred, but "there were a lot of students in there getting ready for PE class."
Some students called 911.
"There's someone at Mountain View High School killing people. He's stabbing people," one student who spoke in both English and Spanish could be heard saying on a recording of one of the 911 calls.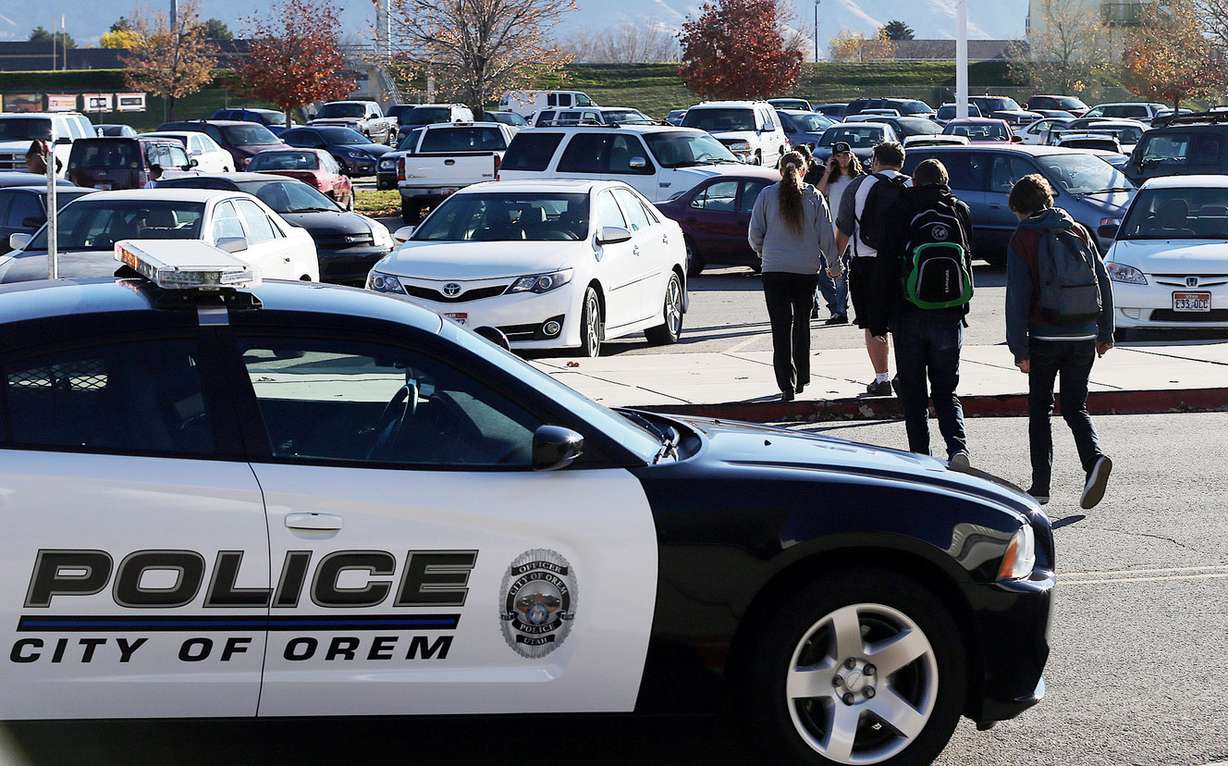 Another 911 recording released Tuesday came from the office, where one of the receptionists, trying to remain calm, told dispatchers that at least two students had come into the office with stab wounds, one with an injury to his neck.
"We just need some help," she tells the dispatcher.
A full-time school resource officer, who was at the school preparing to teach a law enforcement class, heard the initial dispatch report about the stabbings and rushed to the locker room, Giles said. When he arrived, school staff had the 16-year-old "boxed in" in a bathroom area of the locker room.
"He still had a knife at the time, so staff members did put themselves in harm's way to keep that suspect from coming back out with these students," Giles said.
The officer used his Taser to subdue the boy and get the knife away from him, Giles said.
Bird expressed appreciation for the resource officer and for the school staff who responded "quickly and appropriately" Tuesday.
Police dispatch received the first call reporting the attack at 7:47 a.m., Giles said. Within six minutes, the boy was in custody.
"When you think about that kind of response time, that's amazing," Giles said.
Keeping students safe
Mountain View High was placed on lockdown as police investigated the incident. Classes resumed as normal about 90 minutes later.
Administrators were encouraging students, however, to remain at the school. By 9:30 a.m., names were being read over the school's public address system of students who were allowed to check out because their parents had arrived to pick them up. Crisis counselors were also being sent to Mountain View High.
Because the scene was at a far end of the building and had been secured so quickly, the school district decided to keep the school open Tuesday, Bird said.
"We also know that school is a safe place for kids to be, and we also have resources for kids to use," she said.
Mountain View High was placed on lockdown as police investigated the incident. Classes resumed as normal about 90 minutes later.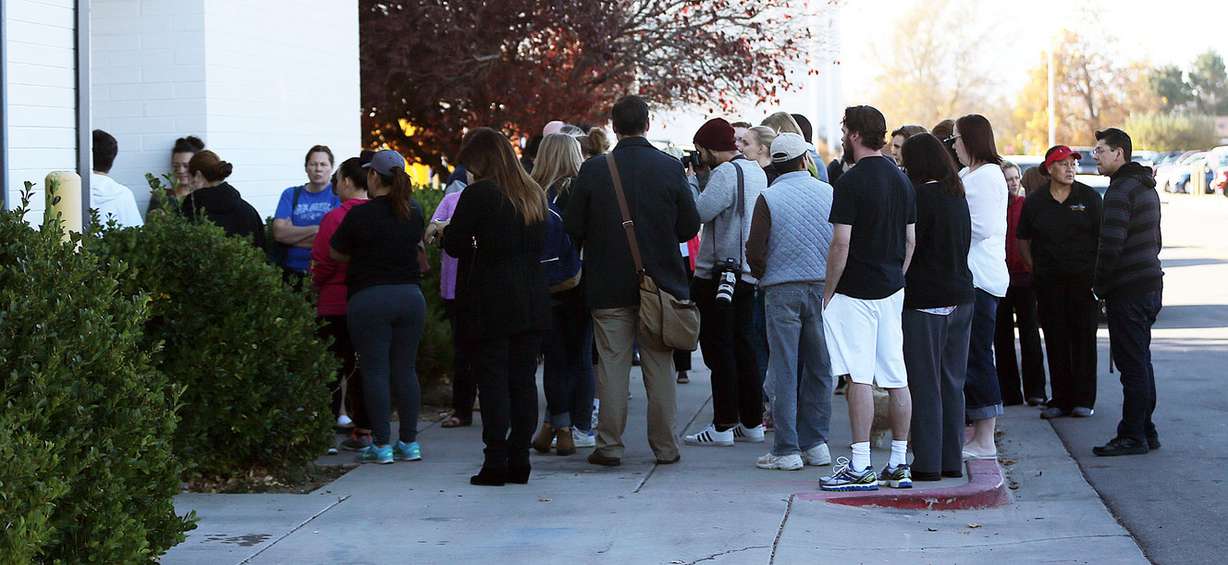 However, a majority of parents opted to pull their kids out of class Tuesday, Bird said. School will resume as normal Wednesday.
Paxton Ransom, a student at the school, said he was in the locker room collecting his belongings when the stabbings occurred. In the midst of the normal hubbub, Ransom said he and many of his classmates didn't realize anything had happened.
As word spread, many thought it was a joke.
"We thought it was kind of funny because, boys, they just like pretending," he said. "Then we looked around the corner and there was someone on the ground that got stabbed."
Ransom said he initially didn't believe the blood he saw was real.
Ransom said he and his classmates were rushed into a weight room. He didn't know any of the boys who were involved and hadn't noticed any tension in the school prior to the attack.
Ransom sent a quick text to his mother, Alicia Ransom, who came to check on her son. The two met outside with a hug among a crowd of other nervous parents streaming in to pick up their children.
"With him being in the room, it could have been him," Alicia Ransom said.
Though her son said he was prepared to return to class, his mother was shaken.
"He said he wants to stay, but we'll see," she said. "I just had to see him and give him a hug."
A boy who claimed to be one of those stabbed, posted on his Facebook page just before 2 p.m.: "Thank you to everyone that supported me and for those who don't know I got stabbed in Mountain View High School in the neck and got sent to the hospital right away, but I'm doing good and everything, thanks to everyone."
×
Photos
Most recent Utah stories