This archived news story is available only for your personal, non-commercial use. Information in the story may be outdated or superseded by additional information. Reading or replaying the story in its archived form does not constitute a republication of the story.
WEST VALLEY CITY — Cody Brotherson loved being a part of the West Valley community.
He grew up in West Valley, attending Robert Frost Elementary, Valley Junior High and Granger High School before becoming a member of the West Valley City police Department.
Brotherson's family says he loved serving others and was compassionate with those he came in contact with in the field.
"Cody was planning his life, always full of ideas, and always thinking of ways to make a difference, which he always did," Darren Richards, Brotherson's uncle, recalled Sunday. "He made an impact on everyone he met."
The next phase of his life was supposed to be marrying his fiancee, Jessica Le, and starting a family. The couple had recently bought a house in South Weber.
"We know he would have been an amazing husband and father," Richards said.
But Brotherson's life was tragically cut short a week ago when he was killed in the line of duty.
A public viewing for Brotherson was held Sunday at Valley View Memorial Mortuary, 4335 W. 4100 South. Representatives from local, state and federal law enforcement agencies from across the Salt Lake Valley paid their respects Sunday.
Before the viewing began, Richards read a statement to members of the media outside the mortuary and shared memories of his nephew.
Even at a very young age, Richards said everyone knew where Brotherson's career path would take him.
"Every time we went to a toy store, he wanted buy handcuffs," he said. "He was always playing with them. And we had all been arrested several times. Back then, he knew then and we always knew that he would become a policeman."
Brotherson was very close to his grandparents, Karen and Fred.
"He loved tagging along to Dee's with his grandpa for iced tea, where you can believe all the waitresses knew him and his grandpa," Richards said.
From his grandmother, Brotherson learned about service to others. From his mother, he learned the value of hard work, Richards said. And after he became a police officer, "he made sure to stop by and check up on her before every shift," he said.
Brotherson and his father shared a love of fast cars, motorcycles and tattoos, Richards said. He also shared a special bond with his brothers, Alex and Brayden.
"He was their protector. Their role model," Richards said.
In addition to serving others, the family also recalled how at a very young age Brotherson had trouble saying the word "girl," which often came out as "grill." His family believes it was more foreshadowing of things to come.
Before getting a job with West Valley police, Brotherson worked in a hospital cafeteria and developed a love of creating food. When he wasn't working, he was hosting friends and family in his backyard and treating them to his latest cooking creations.
"We are all so proud of the man he grew up to be. He was the most loyal, brave and loving person we have ever known," Richards said.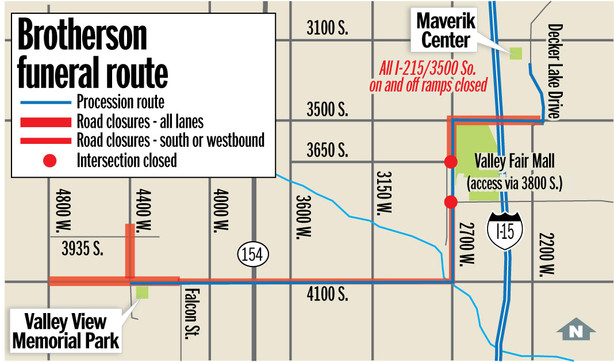 Brotherson was one of the first officers Lee Russo hired after becoming West Valley's police chief. Russo said he recently went back to Brotherson's file and reread the essay that all new recruits are required to fill out about why they want to become an officer.
Russo said Brotherson talked about the positive interactions he had had with police growing up in West Valley. That gave him the inspiration to serve the community where he grew up.
"To see a young man who was so excited about the profession, who was moving forward in such a positive way, to have a career cut short in tragic incident is not just devastating to the police department, but it really is a devastating loss to an entire community," Russo said.
Early on the morning of Nov. 6, Brotherson, 25, was attempting to help other West Valley officers stop a fleeing vehicle believed to have just been stolen. He had gotten a spike strip out of the trunk of his patrol car near the intersection of 4100 South and 2200 West, and had either thrown the strip or was about to when he was hit and killed by the fleeing vehicle.
Three juvenile boys, ages 15, 14 and 14, were arrested and booked into juvenile detention for investigation of fleeing and being in possession of a stolen car. Formal charges were not filed against the boys last week as the Salt Lake County District Attorney's Office decided how to charge them in connection with Brotherson's death and whether they should attempt to certify them to stand trial in adult court.
Among the many tributes honoring Brotherson this week, the U.S. Honor Flag arrived at the West Valley City Police Department on Sunday afternoon.
The U.S. Honor Flag is an American flag that has been used since Sept. 11, 2001, to honor fallen police officers, firefighters and members of the military. In January, it was delivered to Utah for the funeral services of Unified police officer Doug Barney. The purpose of the flag is to bring healing to the officer's family and the police agency he or she represented.
"It's an honor and a privilege. Not everybody gets to see what this honor flag is and what it's used for. For this incident, it's a privilege to have this flag come and be presented and show honor and dignity and respect for officer Brotherson," said West Valley Police Lt. Amy Maurer.
Brotherson's funeral will be held at 10 a.m. Monday at the Maverik Center. It will culminate a week of tributes and vigils for Brotherson. And although Russo has addressed the public several times since his officer's death, he said Sunday, "I'm scared to death of tomorrow."
If there is any positive that can be taken from the tragedy, "the silver lining has been it has helped a community come together," the chief said.
Russo said the outpouring of support his department has received over the past week has made him proud to be the head of West Valley's police force, as well as a resident of the city.
×
Photos
Related Stories