Estimated read time: 3-4 minutes
This archived news story is available only for your personal, non-commercial use. Information in the story may be outdated or superseded by additional information. Reading or replaying the story in its archived form does not constitute a republication of the story.
The Utah football team must have had visions of a 2007 UNLV team dancing in their heads leading up to the 2008 game, because last Saturday the Utes were ready, although it took them until halftime (along with a spirited speech from Head Coach Kyle Whittingham). Once that second half appeared, so did the Utes. The game was tied at 14 at the half, then the Utes proceeded to score 28 points in that second half and 35 unanswered points leading them to a 42-21 blowout. Utah came away with their first conference win of the season and are sitting comfortably at #22 in both the AP and USA Today Top 25 polls.
The Utes are 2-0 on the season so far and head back out on the road just an hour and change north to face a state rival that is the longest rivalry in the state and the 12th longest in the nation, the Utah State Aggies. Utah leads the series at 75 wins, 28 losses, and 4 ties with the last 10 games going to the Utes. In fact, the Utes first ever football game was played against the Aggies in 1892 with the Aggies winning 12-0.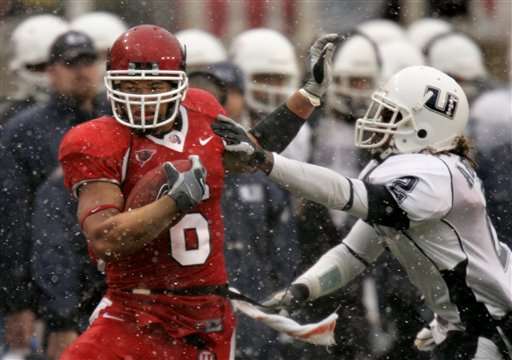 While Head Coach Kyle Whittingham has to be pleased at this point, one concern has to be that his top 2 defensive tackles have been lost due to injury. Kenape Eliapo is lost for 6-8 weeks due to a left foot injury, and Lei Talamaivo is out for the season with a broken right fibula. Senior Aaron Tonga will most likely be stepping in to the starter role as he replaced Talamaivo during the UNLV game. True freshman Seaver Siliga will also see some time along with Dave Kruger. Other notable injuries include Corbin Louks at backup quarterback with a shoulder injury, and offensive tackle Zane Beadles is listed as doubtful against Utah State. Safety Robert Johnson should be back in the starting secondary this week as well.
This is the Utah State Aggies home opener and they have won only 8 of their last 20 home openers. Of those 20, they have opened with Utah seven times and have only recorded one win (1996). Home has also not been kind to Aggie head coach Brent Guy who is only 3-12 and losing his last 7.
The Utes and Aggies have a common opponent early in the 2008 season having both played versus UNLV. The Aggies opened their season in Las Vegas losing 27-17.
So far this year the Aggies have been splitting time between quarterbacks Sean Setzer and Diondre Burel. While Setzer has been statistically the more efficient of the 2 passing, Burel poses as a bigger threat as a passer and a runner. The Aggies are ranked 90th in the nation in total offense at 310 yards a game and 112th in total defense giving up over 520 yards a game.
The Utes are ranked 55th in total offense so far in 2008 and rank 23rd in the NCAA on defense.
One bright spot last week for the Utes had to be the special teams play. David Reed has solidified himself as the Kick returner as he is averaging almost 27 yards (30th in the nation) and John Peel will be returning punts.
Even though statistically speaking this game should not be close, there is always something about in-state rivalry games that bring out the best, or worst in teams.
×
Most recent Utah stories