Estimated read time: 2-3 minutes
This archived news story is available only for your personal, non-commercial use. Information in the story may be outdated or superseded by additional information. Reading or replaying the story in its archived form does not constitute a republication of the story.
PROVO — Coach Dave Rose and the BYU men's basketball team opened its first practice Monday before the 2016-17 season, and though there were no major injuries before the exhibition season opens Oct. 29 against Seattle Pacific, there was one key contributor maneuvering around a scooter on the court.
Assistant coach Terry Nashif broke his foot during a routine game at a local LDS Church building in the fall, and he spent the first day in a walking boot.
"That guy is one of the most competitive guys I've been around, ever," Rose said of Nashif. "He's 35 years old … and he made it through all eight weeks (of summer workouts with the players).
"And 3-4 weeks later, he was playing church ball and breaks his foot. That is kind of an amazing thing."
BYU players don't expect Nashif out for long — especially after he ran a sub-six-minute mile with the active guards on the final day of summer conditioning under new strength coach Erick Schork.
"Coach Nashif is a beast. For an old guy, he's in great shape," BYU forward Kyle Davis said. "He hung in there. It was really impressive. He had to stop once the school year started, but he did great."
With newcomers at every position somewhere on the projected depth chart, the Cougars went to immediate work installing a new offense that will better utilize two scoring posts like Davis, recently returned missionary Payton Dastrup, former Bingham High star Yoeli Childs and sophomore center Eric Mika.
"Right now, we're putting in a new offense, and we're all new to it," said Nick Emery, the Cougars' top returning scorer from 2015-16. "But I think it'll just come with time and playing together. We've been conditioning all summer, and now is the time to finally play together. It'll take some time to learn a new offense, but we made big strides today with it."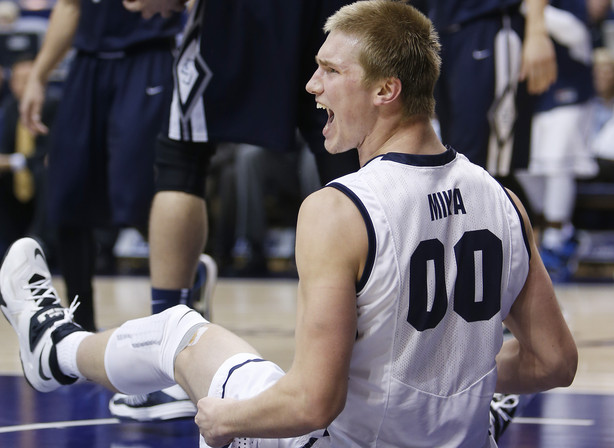 Nashif wasn't the only injury update after practice, though. Houston transfer L.J. Rose missed most of practice after suffering an ankle injury over the summer, but coach Rose expects him back in practice within the next two weeks.
Elijah Bryant, who transferred from Elon University a year ago and sat out after winning CAA All-Rookie honors, missed the first day of practice with a knee injury. Rose said the Cougars considered repairing an undisclosed issue after the season, but decided Bryant was better to undergo a minor procedure before the season began.
Rose expects Bryant to return in "a few weeks," and he's hopeful to have the redshirt sophomore available for BYU's regular-season opener Nov. 14 against Princeton.
"Physically, we are in great shape and ahead of schedule," Rose said. "We just don't have a lot of things in.
"But I like this group, and where we are at."
×