Estimated read time: 4-5 minutes
This archived news story is available only for your personal, non-commercial use. Information in the story may be outdated or superseded by additional information. Reading or replaying the story in its archived form does not constitute a republication of the story.
SALT LAKE CITY — After enduring a total of 29 surgeries by the age of 26, Hope Bevilhymer made one of the most difficult decisions she's ever made: She decided to have her right leg partially amputated.
Almost 15 years later, the Utah local has been selected to play for the USA Women's Sled Hockey Team for the 2016-2017 year.
Born with bilateral club feet, Bevilhymer had her first surgery when she was 2 months old. In 2002, her doctor gave her a choice. She could keep moving forward with the surgeries, or have her leg amputated.
"It was very difficult," Bevilhymer said. "Most people were starting families and things like that, and I was making a decision to remove a limb."
She said that although the decision was not an easy one, the pros outweighed the cons, and that everything would be better for her if she made the choice to be an amputee. She said her doctor even warned her that continuing to treat her pain with medication might result in organ loss.
"The amputation was the better choice," she said. "It was hard, but in the long run, it was one of the best decisions I've ever made."
She said even though it's easy to assume that an amputation might limit someone, she's found quite the opposite to be true. "It's weird, because you think being an amputee would cause you to be limited, but it doesn't," she said. "It doesn't change anything. It's actually encouraged me to do more in this life."
Three years before her amputation, Bevilhymer started playing sled hockey, a sport that was designed to allow people with disabilities to play ice hockey.
---
"It was very difficult. Most people were starting families and things like that, and I was making a decision to remove a limb." — Hope Bevilhymer
---
She started as a goaltender for a local Utah team and played until 2009, when there was a slight halt in her relationship with the sport.
Bevilhymer decided to fly out to Chicago to try out for the men's sled hockey national team, as there was, at the time, no women's national team. When she arrived, she was told that she did not qualify because she was female.
"At that point, I was not wanting to do the sport anymore," she said.
Bevilhymer said she had goals that, at the time, seemed out of reach.
"I wanted to go to the Paralympics and get a gold and, at that moment, it seemed like there was no chance of me doing that," she said. "So, I quit the sport."
In 2016, Bevilhymer was contacted by a player on the women's national team who suggested she should try out for the team.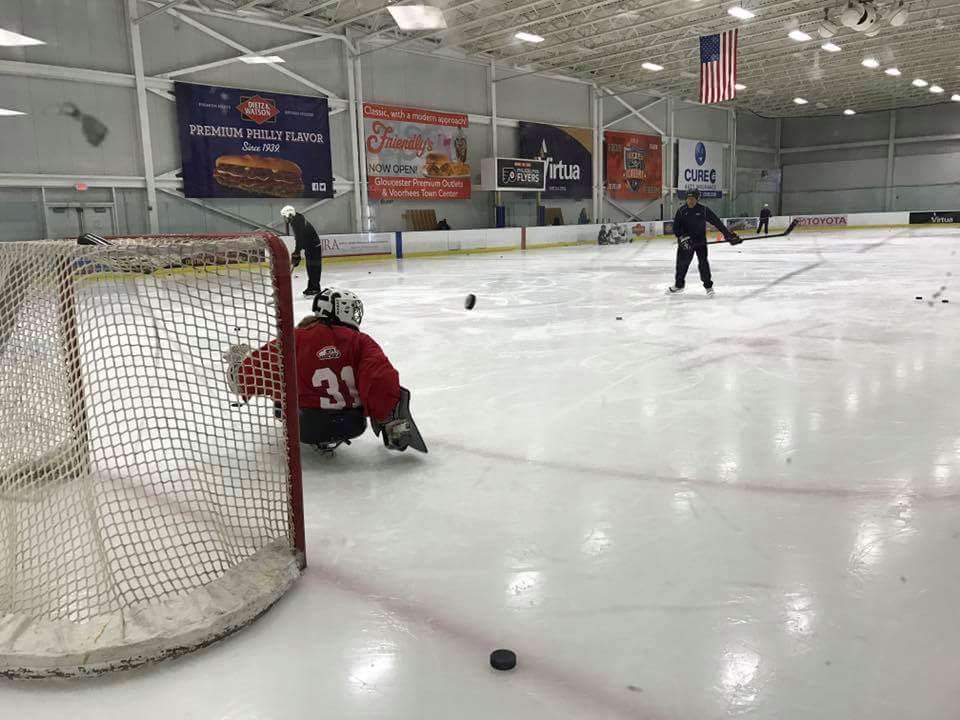 Bevilhymer was hesitant to try out because not only did she feel she was rusty after not playing for nearly seven years, but all her gear had been stolen. Shortly after she was contacted, the whole community of West Jordan pulled together and donated gear and paid for her flight to go try out for the team.
Bevilhymer said she felt that there was a change in the sport since she quit, in that there were more local teams and there was now a women's national team.
"Now there's the women's team, so I have an opportunity to go after the goal that I set back when I was 20 years old," she said.
Bevilhymer was competing against five other goaltenders for one of the two spots open on the national team. She and one other goaltender were chosen.
She said that anyone who has a disability and feels that they cannot reach their goals should remember that there is always hope.
"Your disability doesn't define you," Bevilhymer said. "It doesn't make you who you are. It does add to your character, but it's up to each one of those individuals to find out what will work best for them."
Bevilhymer is traveling to Norway next month with the women's national team and said the team travels once a month. She said she will continue to work toward her goal of earning a gold medal at the Paralympic Games.
"Nobody has to believe in you, you have to believe in yourself. If you believe in yourself and believe that you can accomplish things, nothing should be able to stop you."
×
Photos