Estimated read time: 2-3 minutes
This archived news story is available only for your personal, non-commercial use. Information in the story may be outdated or superseded by additional information. Reading or replaying the story in its archived form does not constitute a republication of the story.
This week's unfolding Republican convention has special meaning for an 85-year-old retired Salt Lake dentist. He remembers well John McCain immediately after the young soldier was released from a prison camp.
When John McCain and other POWs were released from what was then the notorious Hanoi Hilton prison camp, a dentist by the name of George Kiser was there to help fix their smiles.
Dr. Kiser, now retired, is a man of many talents. With his mastery of Jazz and how he moves about, it's hard to believe he just turned 85.
Many years ago, as both a skilled Air Force pilot and a specialty dentist, he met John McCain just after McCain's release from a prison camp. McCain and other POWs had broken teeth, spaces and gaps in their smiles. They were in need of both dental work and comforting words.
"I just took care of them physically so that they would feel comfortable when they got back to Travis Air Force Base," Kiser said.
When McCain saw Air Force wings on Kiser's uniform, the transformation between the two was immediate. "We had an immediate rapport, just immediate," Kiser recalls. "I mean, I was a brother from then on."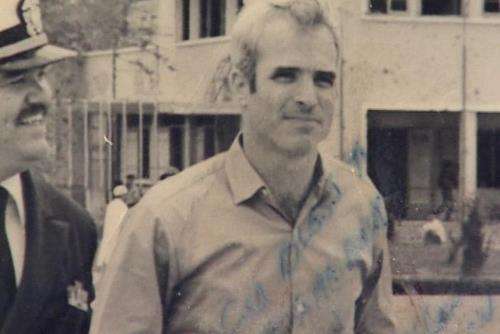 Kiser learned a lot about what happened to McCain in those camps. "They would raise him up and then drop him, so his arms would catch it. Those arms were broken, had been broken, and the pain was immense," Kiser said.
Before McCain left for Travis Air Base, the Navy pilot wrote a light-hearted message on a picture of his release from Hanoi and gave it to Air Force pilot Kiser. What did he write? "He said, 'What are you doing in the Air Force?'" Kiser told us. "He said, 'Come back to the Navy, George.'"
Humor aside, Kiser says he still sees in McCain what he saw in a young soldier many moons ago. "He's a great patriot," Kiser said.
The message on that original photograph faded. So when McCain paid a recent visit to Utah, he met Kiser again and signed a new photograph with the same humorous message.
E-mail: eyeates@ksl.com
×
Most recent Utah stories