This archived news story is available only for your personal, non-commercial use. Information in the story may be outdated or superseded by additional information. Reading or replaying the story in its archived form does not constitute a republication of the story.
MENDON, Cache County — A Cache County company unveiled a piece of farm machinery Tuesday that could change work in the fields forever, and it is definitely not your father's tractor.
Autonomous Solutions, Inc. of Mendon, Cache County, and CNH Industrial unveiled driverless concept tractors at the Farm Progress Show in Boone, Iowa. As they see it, this is the day the farm changed.
Mel Torrie, founder and CEO of ASI Robotics, grew up on a farm in Grassy Lake, Alberta, Canada, cutting hay and alfalfa around the clock.
"You were always in the field," he said. "So, you're driving in circles 18 hours a day." He knew there had to be a better, more efficient way.
"Get a lot of those people out of mind-numbing jobs," he said.
Twenty years ago, he started working with robots at Utah State University. Now, Torrie said, the technology is ready and demand is rising.
"We are getting barraged by people saying, 'We can't get the labor we need. We can't afford the minimum wage hikes happening to us. We are going out of business. We have to have solutions.'"
He believes the tractors they showed off in Iowa are one solution. The concept tractors include the ability for autonomous seeding, planting and tillage, for broad acre and row crop farming. The advanced path planning technology allows farmers to manage fields efficiently and oversee the overall operation of several vehicles at once. The vehicles can also detect obstacles, which Torrie said will enhance safety in the industry. Eventually, the company expects to program robotic arms to pick apples and other fruit from trees.
A driverless tractor could also help some small, family farms stay in business.
"It is coming to the point where they have to shut it down, or have to bring in contractors to handle the work," he said.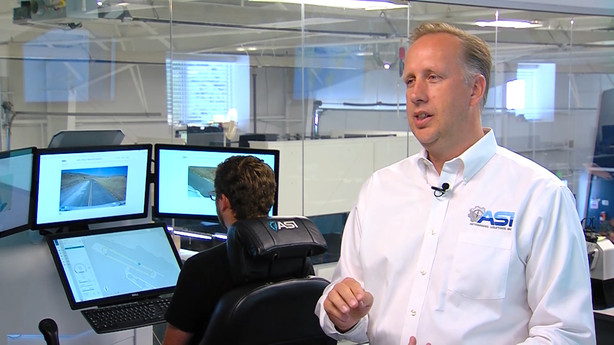 But if the farmer can shift part of the workload onto a driverless tractor, operated by programs inside the farmhouse, he has an extra hand in the field.
ASI is developing autonomous machines for other industries, too. "The technology is converging with the demand," Torrie said.
The company is working on security robots, cleaning robots, buses and mining trucks that are programmed to pick up and dump loads of coal.
"Just about everything that involves a vehicle right now," he said.
Torrie believes the autonomous industry is on the threshold of big changes. "The ability to just make people's lives better and help these companies reach their potential is definitely what drives us," he said.
The driverless tractors are not commercially available, yet. Torrie said that depends on evolving regulations in agriculture and fine-tuning of the technology.
×
Photos
More stories you may be interested in