This archived news story is available only for your personal, non-commercial use. Information in the story may be outdated or superseded by additional information. Reading or replaying the story in its archived form does not constitute a republication of the story.
PROVO — Tanner Mangum was the last BYU football player to leave the stadium following the team's final scrimmage of fall camp Thursday.
After throwing a few extra routes to injured wide receiver Nick Kurtz, he turned to the throng of reporters waiting for him.
But one question took him aback. When asked if he ever considered transferring or leaving BYU after fifth-year senior Taysom Hill was named the starting quarterback, the rising sophomore laughed.
"I love it here," the sophomore who started 12 games in 2015 said. "I'm in a good spot, a good place and I wouldn't even think about leaving."
Whether he's starting on game day or picking the brain of offensive coordinator and Heisman Trophy winner Ty Detmer, Mangum wants to be involved with the Cougars.
"This is a fun team to be a part of," he said. "I love the coaching staff. I love the guys we have on this team, especially Taysom. It's been nothing but good. It hasn't been divisive or hostile, but just a good healthy competition."
With the final practice in the books, the Cougars turn their attention to Arizona — their opponent for next week's season opener at University of Phoenix Stadium in Glendale, Arizona.
It's about time, for some of them, as players reaching the point of being sick of hitting — or being held back — against teammates in practice.
"I think they'd all go play today if they could," said Detmer, who has interspersed game prep with fall camp exercises through August. "The next week is really a formality, because as coaches you've got your game plan and the guys are ready to go. It's not like a normal week."
With the quarterback position decided, the Cougars began laying out their depth chart, as well. Head coach Kalani Sitake will revisit film and tweak a few things during a closed walk-through Friday. But the first-year top brass plans to have his positions solidified by Monday.
Thursday's scrimmage gave him a lot more confidence in many of the decisions.
"It was a really good day to work through game mechanics and get set to the ball," Sitake said. "I feel a lot better now going into this weekend."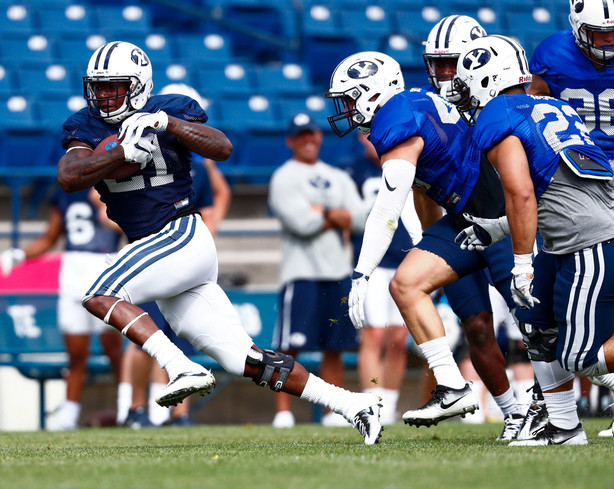 Thursday was a day for maximum gear as the Cougars prepared for the uptempo offense the Wildcats have employed since former offensive coordinator Robert Anae worked in Tucson. That was one of the best parts, linebacker Fred Warner said.
"They are a very fast-paced offense," Warner said. "I think when next Saturday comes around, we'll be confident in what we have."
The regular season is only a week away, and even if Mangum were disappointed, there is no time to sulk.
Football is back.
"It's that time of year and we both knew that the decision was going to be made," Mangum said. "Either way, we were both going to be excited. (Hill) and I talked a lot through fall camp, and we both just want to win games. That's all that matters to us."
×
Photos