Estimated read time: 5-6 minutes
This archived news story is available only for your personal, non-commercial use. Information in the story may be outdated or superseded by additional information. Reading or replaying the story in its archived form does not constitute a republication of the story.
SANDY — Kenny O'Rourke had the sort of childhood, he said, that if something good happened, it was overshadowed by so much trauma and neglect that he really can't remember any good times.
By the time he was a young adult, O'Rourke had lived in poverty, his father died in a drunken driving accident, he'd been homeless, experienced abuse and neglect, was in and out of foster care, in juvenile detention, and later state and federal prison, with much of his criminal activity fueled by addiction. Both of his parents were addicts.
"The people who loved me the most hurt me the most, so the best thing I can do is retreat into my own little world, and that's what I did," O'Rourke said, speaking to criminal justice, human services and education professionals gathered Wednesday for the kickoff of a collaborative coalition intended to help offenders successfully re-enter their communities.
ASCENT, short for Achieving Success through Collaborative Engagement and Navigated Transition, will bring together state, federal and local agencies "to ensure that each and every person leaving incarceration has a fighting chance to overcome the challenges they face," said Rollin Cook, executive director of the Utah Department of Corrections.
O'Rourke said it took him a long time to want a life outside of prison. It gave him things he didn't have on the outside, like a place to sleep and three meals a day. He said he felt a sense of belonging after joining a prison gang and eventually becoming its leader.
"That was everything I was looking for," he said. "I just wanted somebody to love me and for someone to pat me on the back and tell me I was important. I was willing to make some compromises for that."
O'Rourke wanted a different life, one that didn't include the revolving door of prison, addiction, apologizing for his conduct and disappointing people, but he had no idea how to change.
When a friend called him asking for help after he had sexually exploited and killed a teenage girl, O'Rourke thought about his own daughter and had a moment of clarity.
"I did the right thing," he said. "I called the police and told them what happened."
Awhile later, O'Rourke received "a scholarship" to a substance abuse treatment center.
At first, he doubted the program and himself.
"They only reason I didn't give up and run back to the same things was that they believed in me. They loved me," O'Rourke said. "I wasn't going to throw the towel in on these people because this was the first time anyone loved me without expectations. So I stayed with it. I still didn't believe. It wasn't like a light switch turning on."
Bit by bit, O'Rourke realized there was "a sliver of a chance" that he could have a different life.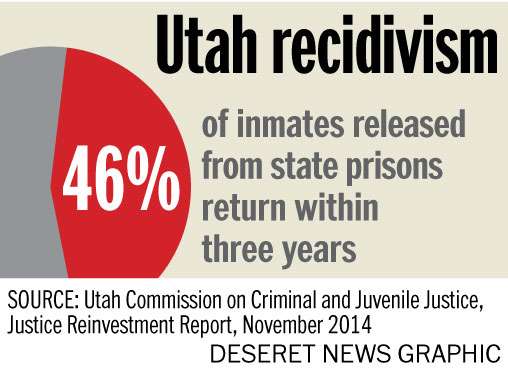 "It grew into a thousand little investments," he said. "A bunch of people showed up for me, and they did it without any expectations."
Today, O'Rourke is a married father of three, with a career at a national financial institution, and he's an advocate for reforming offenders.
It's a world away from his childhood in small towns in Wyoming "where everybody kind of knew what our family was like. Parents fist fighting out in the driveway. We were dirty and we had hand-me-down clothes. There's a lot of shame with that. I carried that shame for a long time," he said.
"To some degree, I still feel like that dirty little kid. I walk into a room and I feel less than the others. The difference is, today, I'm not a slave to that.''
Men and women exiting jails and prisons in Utah and elsewhere need hope that their lives can change, he said.
Cook said 95 percent of people who are incarcerated eventually return to their communities.
"This doesn't mean we don't need correctional facilities. It means we need the right types of correctional settings that not only allow us to incarcerate those who commit violent crimes, but to also manage, program, educate and successfully prepare the majority of the people in our custody to return to our communities," Cook said at the ASCENT coalition kickoff event at the Larry H. Miller Campus of Salt Lake Community College.
ASCENT brings together key agencies and partners to tackle obstacles that keep offenders from rejoining their communities as law-abiding citizens, according to the Department of Corrections.
Some of those obstacles include access to housing, employment, education, treatment and transportation. The initiative also incorporates components of victim assistance and public safety.
U.S. Attorney for Utah John Huber said the federal government is committed to developing strategies that help offenders succeed once they are released from prison.
"The Department of Justice realizes we cannot just arrest and incarcerate our way out these community problems. We can't do it. It doesn't work," he said.
Instead, the criminal justice system and its partners need to explore smarter solutions, Huber said.
"We've got to find a way to succeed," he said. "This ASCENT effort launched today, this is a big deal."
Cook said the measure of success is being able to help someone who wants to turn their life around make a positive, lasting re-entry to their communities.
"A success story is being able to find a safe place for this person to live, for them to be able to find gainful employment," he said.
"It means getting people attached to the services in the community more effectively so they can be a better father or a better mother, so they can provide for their family," Cook said.
While the Department of Corrections has reduced recidivism rates in recent years, parolees who are unable to make stable transitions retreat to drugs or the people they associated with when they committed crimes in the past, he said.
"Hopefully these services help give them that leg up to jump in and become productive members of our community," Cook said.
×
Photos
Most recent Utah stories