Estimated read time: 4-5 minutes
This archived news story is available only for your personal, non-commercial use. Information in the story may be outdated or superseded by additional information. Reading or replaying the story in its archived form does not constitute a republication of the story.
LEHI — Whether they were ninth-graders or members of the senior class, all students at Skyridge High School on Monday morning shared the common experience of finding their way around a brand new school, which opened with 2,350 students and counting.
"When I first walked in, there were people everywhere," freshman Matthew Hinckley said.
But by the end his first day of high school, Hinckley said he liked the size of school and his "super nice" teachers, who are all new to the school, too.
"It's getting adjusted to the mindset. We've got to kick it in high gear because I've got to get A's," he said.
Skyridge High School, home of the Falcons, is one of the latest additions to the booming Alpine School District, which is expected to grow to 76,900 students by the end of the school year, said district spokesman David Stephenson.
By 2020, the school district is on track to serve 80,000 students, compared with 68,275 in 2010.
To help keep pace with growth and address safety issues, the Alpine Board of Education placed a $387 million bond issue on the general election ballot this fall. Bond proceeds would be use to construct nine new schools, including a new high school, two middle schools, six elementary schools and rebuilding Lehi High School and three elementary schools.
Because of the significant growth of the residential and commercial tax base in the area, the bond would require no tax increase, Stephenson said.
A recent analysis by the University of Utah's Kem C. Gardner Policy Institute showed that 1 in every 6 new residential units statewide is in Lehi, Herriman or South Jordan.
Between 2009 and 2015, taxable sales in Lehi and Draper were three times the state average for the same period.
Moreover, Lehi ranks second to Salt Lake City in office construction, according to the analysis.
With the planned development of "Silicon Slopes," the 25-mile corridor from Midvale to Pleasant Grove spurred by the Utah Legislature's decision to relocate the Utah State Prison, the area is primed for even more growth.
As buildable land dwindles, with slightly less than 90,000 acres remaining in Salt Lake, Davis and Weber counties combined, there remains 237,489 acres in Utah County itself.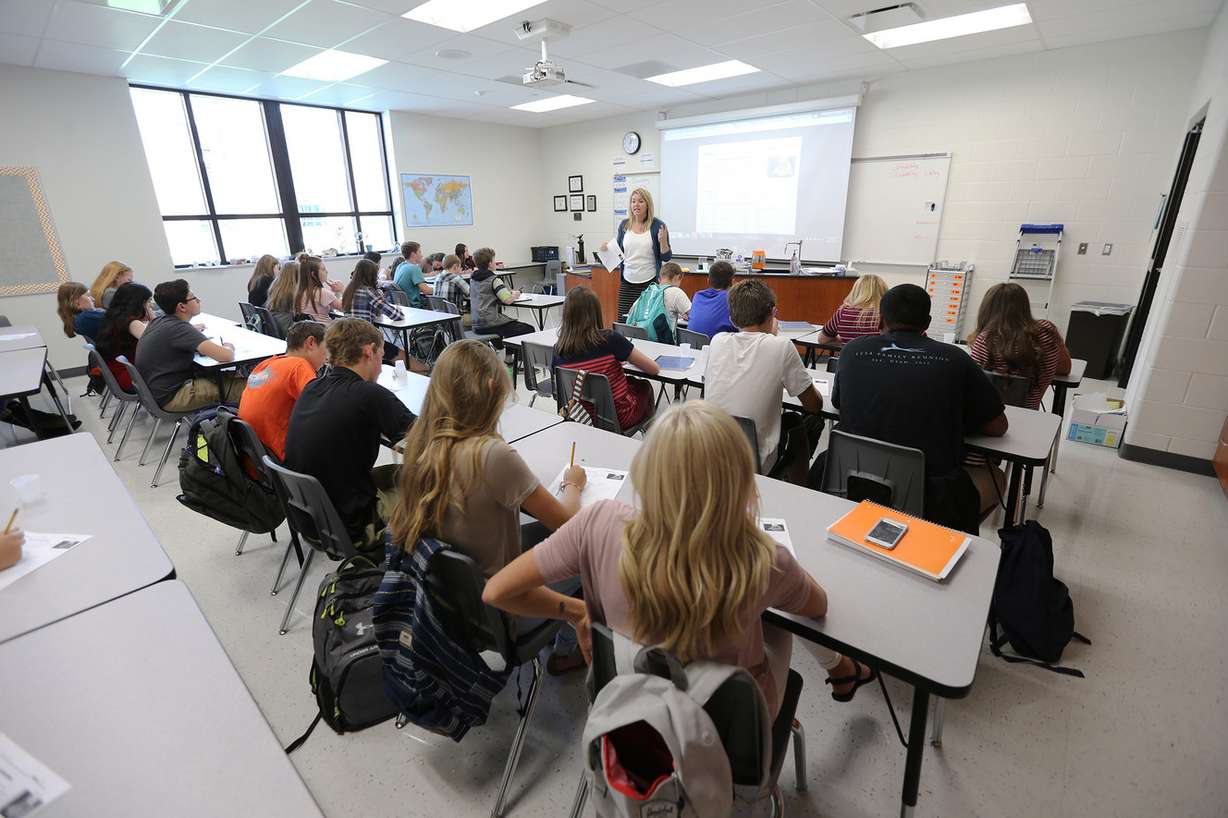 State budget director and chief economist Phil Dean said growth in northern Utah County and southern Salt Lake County is "phenomenal" in terms of commercial and housing sectors.
"We're experiencing very rapid, very strong economic growth in that area. A lot of it is related to it being between two major universities. I think that's one of the strong factors, especially what tech companies find attractive about that area," Dean said.
Rapid growth brings opportunity and challenges for state and local governments, such as "being able to ramp up and provide public services … but also being able to provide the public infrastructure that's needed for all the development taking place," Dean said.
Skyridge High School Principal Joel Perkins, who has guided the school from blueprints to its opening Monday morning, said the first day of school in a new environment was just as exciting for veteran teachers as new freshmen.
"You can feel it in the air. It's a little bit of electricity. That's exciting," Perkins said. "Everybody is coming in and wanting to make a fresh start and wanting to participate. They recognize that they are really the inaugural classes. There's that thought process, 'It's not just my freshman year or my senior year. This is a year we're leaving a legacy.'"
John Brown, who teaches theater, said he's been in the school since July conducting rehearsals for the upcoming play featuring freshmen and sophomores.
Students and staff seemed genuinely excited to start the new year in a new home, he said.
"I think the kids are just excited to be part of something new. I think there's a real desire not only to be part of something different and new, but a desire to be a part of something excellent," said Brown, who is starting his first full year of teaching after working as lawyer.
In Mindy Hinckley's honors biology class, classwork began in earnest Monday, including a homework assignment.
Moving into a new school has meant more logistics to negotiate, but the faculty and administration pulled together to make sure the first day was smooth for students, Hinckley said.
"It is super exciting. There have been a lot of extra things we had to get done along the way, but I wouldn't have traded this experience for anything," she said.
×
Photos
Most recent Utah stories