Estimated read time: 4-5 minutes
This archived news story is available only for your personal, non-commercial use. Information in the story may be outdated or superseded by additional information. Reading or replaying the story in its archived form does not constitute a republication of the story.
LEHI — It's easy to talk about tradition — living up to the past greats — for any program at the start of the high school football season.
Well, most programs.
The first game of the fall will pit Class 3AA newcomers Ridgeline at fellow newcomers to Class 4A Skyridge on Thursday at 7 p.m. MT. The Riverhawks and Falcons are two schools with a brand-new campus, brand-new administration, brand-new coaching staff, and a new assortment of players — many of whom played on rival teams previously in their high school careers.
But for new Skyridge coach, Jon Lehman, that's part of the fun.
"It's been a crazy summer, but it's a really fun process," said Lehman, who is in his first head coaching stop in Utah after eight seasons at American Fork. "We're having a group of guys, some of whom who played together and some who didn't play together. Same with the coaches.
"Blending the personalities, getting to know people and putting it all together has been a fun process, and I've loved the progress we've made so far."
The ability to build a legacy that goes far beyond one year at the school was exciting to senior quarterback Cody Frampton, one of five team captains on this year's squad.
"I think it's a really cool, neat opportunity, to be the first graduating class at a brand-new school," said Frampton, who came to Skyridge from Lehi. "To be able to say that you've built a tradition for years to come and throughout the generations, I think is really unique. Not too many people get to say that."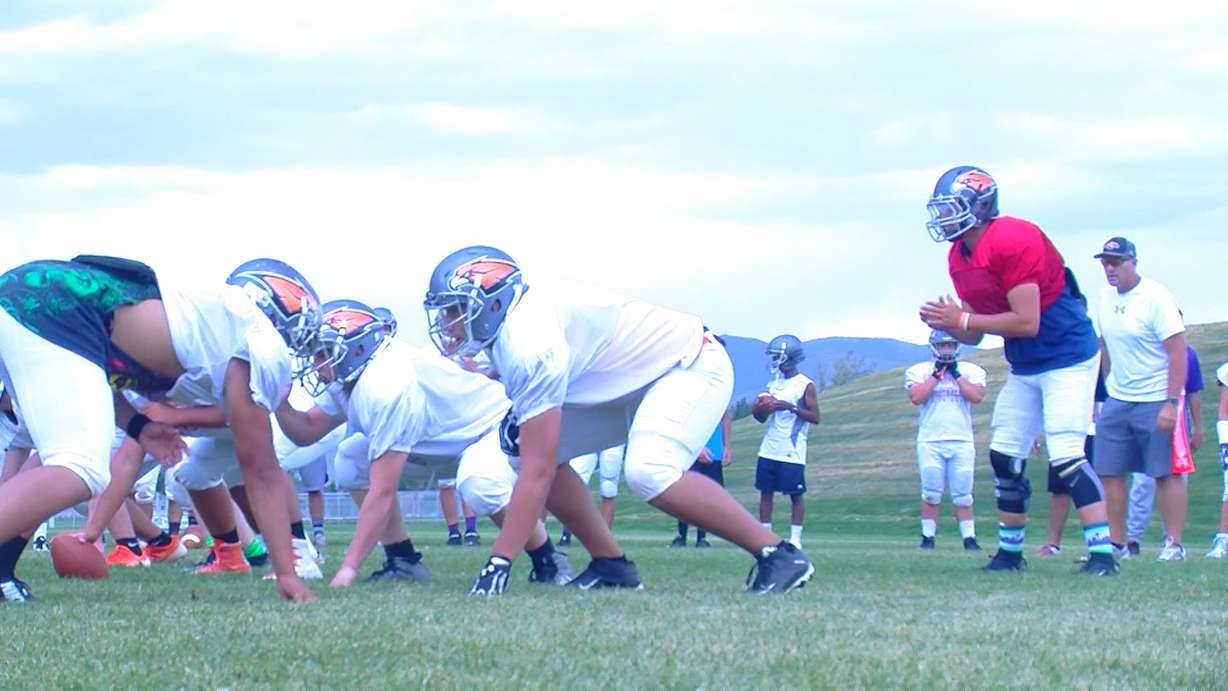 That was part of the pitch of joining a new program for a school that opens this fall. Upperclassmen are typically allowed to choose between migrating to the new campus or finishing at the school where they started. For the seniors at Skyridge, they'll enter Region 7 play as decided underdogs — but each one knows the actions they present on and off the field will have far-reaching ramifications for the school's legacy.
"I think our guys are recognizing that future Falcons will be standing on their shoulders," Lehman said. "If they learn how to work and to commit to and care about each other, then they will open the door for people in the future. We're trying to commit ourselves to doing something for these guys right now so that it can be built on in the future.
"That's the vision that we've had since day one in November: we want to build champions and pursue championships."
Of course, the Falcons have assembled a roster and coaching staff that can build on football success. Lehman presided over American Fork's defense for nearly a decade, leading a squad that was the top scoring defense in Region 4 for several years. His Cavemen finished runners-up in Class 5A in 2014 before falling to Bingham in the final game of coach Dave Peck's career with the Miners.
It's no surprise, then, that defense has been a key factor in the Falcons' 2016 campaign — even with players who may need name tags to introduce themselves.
"We want to play fast, play physical, be relentless and be disciplined," said Lehman, whose team has been working together since reserving a crossfit gym Jan. 4 for workouts. "If we can do that, it's going to be a good result. I want our guys to play smart and play for each other … and they've been buying into that in every phase. We're starting to see them figure out what that means."
The offense won't be bad, either, under new offensive coordinator Joe Lira.
"Our offense moves really fast," said senior quarterback Conner Meinzer, another captain. "We're a very fast tempo offense, and try to get as many plays as we can. We have deep threats. But we also want to win in the 5-7 yard plays."
Frampton knows the Falcons will be decided underdogs in a lot of their games this year, especially once Region 7 play starts against top programs like Timpview and Alta.
But he is standing by his guys, even if he has only known half of them for eight months.
"I think we can shock the state this year," Frampton said. "We were ranked seventh in our region, and we're underdogs. I really think we can do some damage later on in the season."
×
Photos
Related stories
Most recent Sports stories