Estimated read time: 4-5 minutes
This archived news story is available only for your personal, non-commercial use. Information in the story may be outdated or superseded by additional information. Reading or replaying the story in its archived form does not constitute a republication of the story.
MIDVALE — Hillcrest High School's graduation rate last school year was only 76 percent, according to statistics reported in a U.S. News and World report.
In an effort to bump up graduation rates there, the Canyons School District launched a new initiative this year with a seven-week summer boot camp at Hillcrest, 7350 S. 900 East, for about 80 incoming freshmen.
Fifty-four of the students received certificates of completion last week, according to Sarah Newberry, assistant principal intern at Hillcrest High School. Twenty-eight of those students graduated from the boot camp with perfect attendance. And overall, 70 of the 80 students attended regularly, Newberry said. The progress of each student will be tracked and monitored throughout the school year to make sure they are still getting the individual help they need.
The 13- and 14-year-old students spent 33 full school days receiving instruction in math, science, language arts and social studies to help prepare them for their first year of high school.
With extra pressure from a new school, teachers and higher expectations, some freshmen find their first year of high school very challenging. Studies show that freshmen have lower grade-point averages, more absences and more failing grades than older high school students.
Gregory Leavitt, principal of Hillcrest High School, said it is important for students to learn study habits early on as they enter high school.
"Students who really fail three or more classes their first quarter in high school are in jeopardy of graduating," Leavitt said.
He said his short-term goal for these students is to bring their grade-point averages from below 2.0 to above by helping them achieve passing grades during their first three quarters of ninth grade.
"Long-term goal," Leavitt said, "we want them to graduate."
"We heard from the students themselves that (the boot camp) in itself was a very good stepping stone for them," Leavitt said. "They enjoyed it."
About 10 percent of Hillcrest High School's upcoming 680 freshmen were selected from the high school's feeder middle schools, Midvale Middle School and Union Middle School. The students were invited to sign a contract in which they committed to attend each day of class.
Leavitt said it was a sacrifice for many of the students to give up summer jobs and their summer breaks to attend the boot camp.
"Twenty kids gave up their vacations so they were here every day," Leavitt said. "They really became committed to it."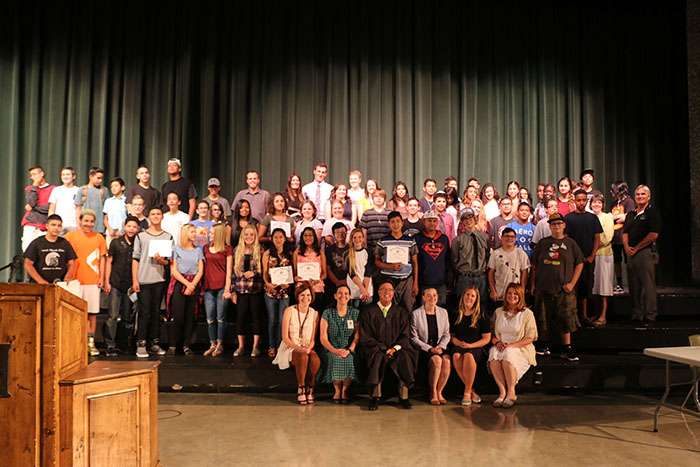 Many other summer school programs include a "prescribed curriculum" meant to "fill gaps" in the students' ability to achieve in an exam, he said, adding that filling these gaps in with content from the previous year doesn't really give students the "boost" they need for the next year.
Leavitt said the boot camp at Hillcrest High School is meant to cover what students will be learning the first two months of the upcoming school year, to help struggling students get ahead before they can fall behind. The students wrote two essays on a novel they will be reading later on in the year and learned biology vocabulary to prepare them for their first quarter of ninth grade.
"We can't do their work for them. But we're definitely going to support them and encourage them all we can," Leavitt said. He added that he knows the students can do the work because of how many students he saw complete the program and finish their work on time.
Because of the boot camp's success, Leavitt plans to grow the program next year to include close to 150 students. But he said the program isn't for everyone because not everyone needs such intensive help and the program requires extra funding.
The students who attended all sessions of the boot camp and completed their work by the required deadlines received cash stipends of up to $400 from the United Way of Greater Salt Lake.
Hillcrest High School administrators are partnering with an AmeriCorps employee who was involved in teaching at the boot camp to follow up with the students throughout the 2016-17 school year. These tutors will meet with the students individually twice a month and conduct meetings with parents of the students once per quarter.
Newberry said she believes the boot camp was a good way of boosting not only grades, but the morale of the students.
"These are kids that maybe have not had a chance to be celebrated in this way," she said. "They've always kind of been middle of the road or lower achieving, and so what we're hoping is that they have seen the importance of the things that they learned over the summer."
×
Photos
Most recent Utah stories