Estimated read time: 3-4 minutes
This archived news story is available only for your personal, non-commercial use. Information in the story may be outdated or superseded by additional information. Reading or replaying the story in its archived form does not constitute a republication of the story.
LOGAN — Utah State opens the 2016 season Sept. 1 at home against Weber State, and the Aggies' latest recruit will be unveiled to thousands of fans.
It's not a four-star quarterback from California or a three-star wide receiver from Texas. The biggest addition to the Mountain West school fresh off its fourth-straight bowl appearance are the renovations to Maverik Stadium.
The Aggies' 6-7 season is not the way they wanted to finish the year, with a loss to Akron in the Famous Idaho Potato Bowl in Boise. But with a new season springs new hope, and that hope springs eternal in the 85,000-square-foot, $36 million facility with new club seating, suites and a brand-new press box.
"I think it's just a byproduct of the last few years, and the commitment from our administration, starting with president (Stan) Albrecht and our athletic administration," Utah State coach Matt Wells said. "It shows commitment, when you put dollars and time and effort into something like this.
"The plan has been done right. Everything that touches these players was done first, but this is the icing on the cake."
It's been two decades since Wells suited up at quarterback for the Aggies, and the changes on campus in his time as head coach have blown him away.
"It's a little surreal," he said. "Sometimes you walk out on the turf and look up at this amazing structure. Those of us who have been going here for a long time wonder how this is happening in this stadium."
Wells and athletic director John Hartwell gave KSL Sports a private tour of the new facility, which you can see in the video above.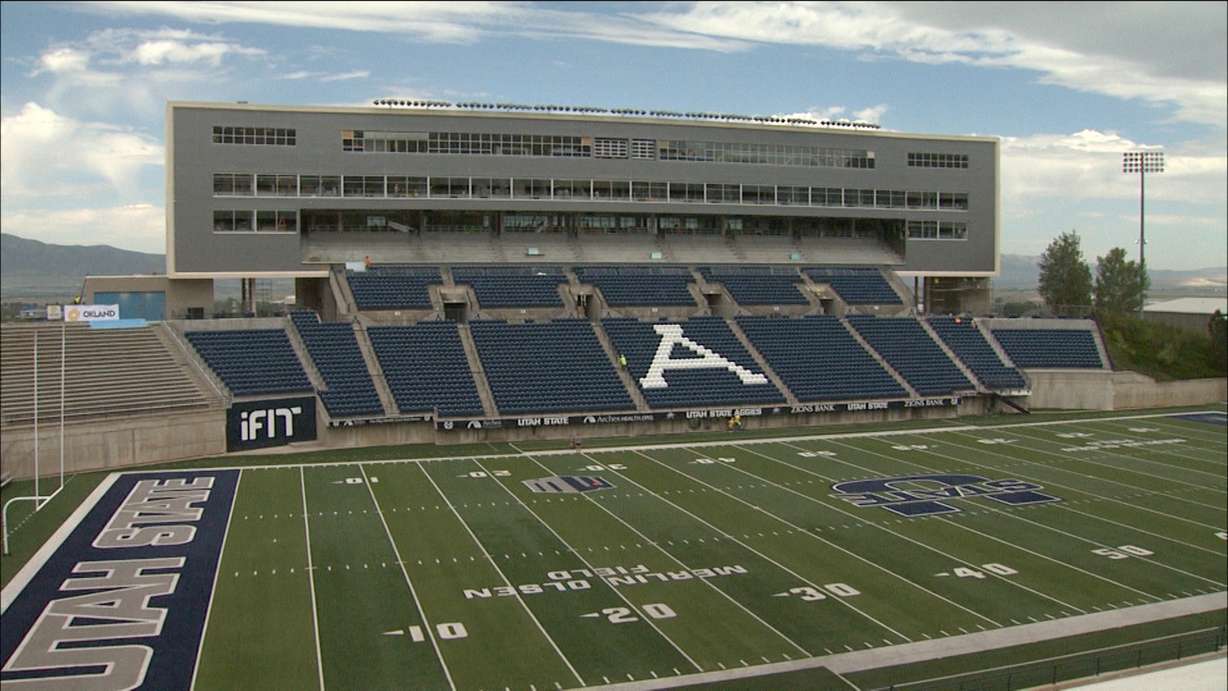 One player familiar with the old stadium — and the new one — is quarterback Kent Myers. The junior signal caller knows 2016 is his time to shine with the Aggies.
"I like that we have a lot of receivers, and I feel like this year coming back with an incredible offensive line gives us good depth," Myers said. "I'm just excited for the season.
"I'm just trying to get the entire offense in the same rhythm. I'm not the young guy anymore, and I feel like I've been playing quite a bit where the game is slowing down. I'm learning a lot from the new coordinators."
Travis Seefeldt returns at nose guard for the Aggies, a year after being injured in car accident that could have been tragic.
"I just put my head down, grinned and kept digging every day," Seefeldt said. "Now I just have to come out and prove myself every day. I guess I'm here for a reason."
Seefeldt will be called up for major leadership in a defense that lost all but three starters, including NFL draft picks Kyler Fackrell and Nick Vigil in April.
"You start by leaning on other groups like the defensive line and the back end," he said. "We're going to show a lot there."
Having Seefeldt back is a big deal for the defense, senior center Devon Centers said.
"It's really cool to see," Centers said. "It's amazing he's here; anybody who saw the pictures of the truck and how mangled it was, they wonder how he made it out alive.
"The fact that he is out here is a big deal."
Click the videos above to see the complete CFB Preview, as well as the 2016 Aggie Hype Video.
×
Photos
Most recent Sports stories