Estimated read time: 3-4 minutes
This archived news story is available only for your personal, non-commercial use. Information in the story may be outdated or superseded by additional information. Reading or replaying the story in its archived form does not constitute a republication of the story.
SANDY — Over 2,000 individuals wearing circuit board badges learned and talked about all things open source this past weekend at the South Towne Expo Center. The OpenWest conference is the largest regional tech conference promoting all things open— hardware, software, data, standards and more.
The conference is put on by Utah Open Source and sponsored by V School, Electronic Frontier Foundation, Podium and Protocol, among others.
Open source refers to software that anyone can see and edit. Open-source code is typically created in collaboration with both online and real-life communities. Liz Sands-Adams, OpenWest's Director of the Privacy Education Track, said, "OpenWest survives because of a volunteer community that believes in empowering the open-source communities around them."
A notable example of open-source software is Mozilla's Firefox, a free and open-source browser. Jeff Beatty, Head of Localization at Mozilla, was one of the keynote speakers at OpenWest and discussed adapting sites so they meet the needs of their local audience and are available in multiple languages.
Other keynote speakers included Josh Simmons, a program manager at Google's Open Source office, who spoke about "failing well." The open-source community celebrates failure.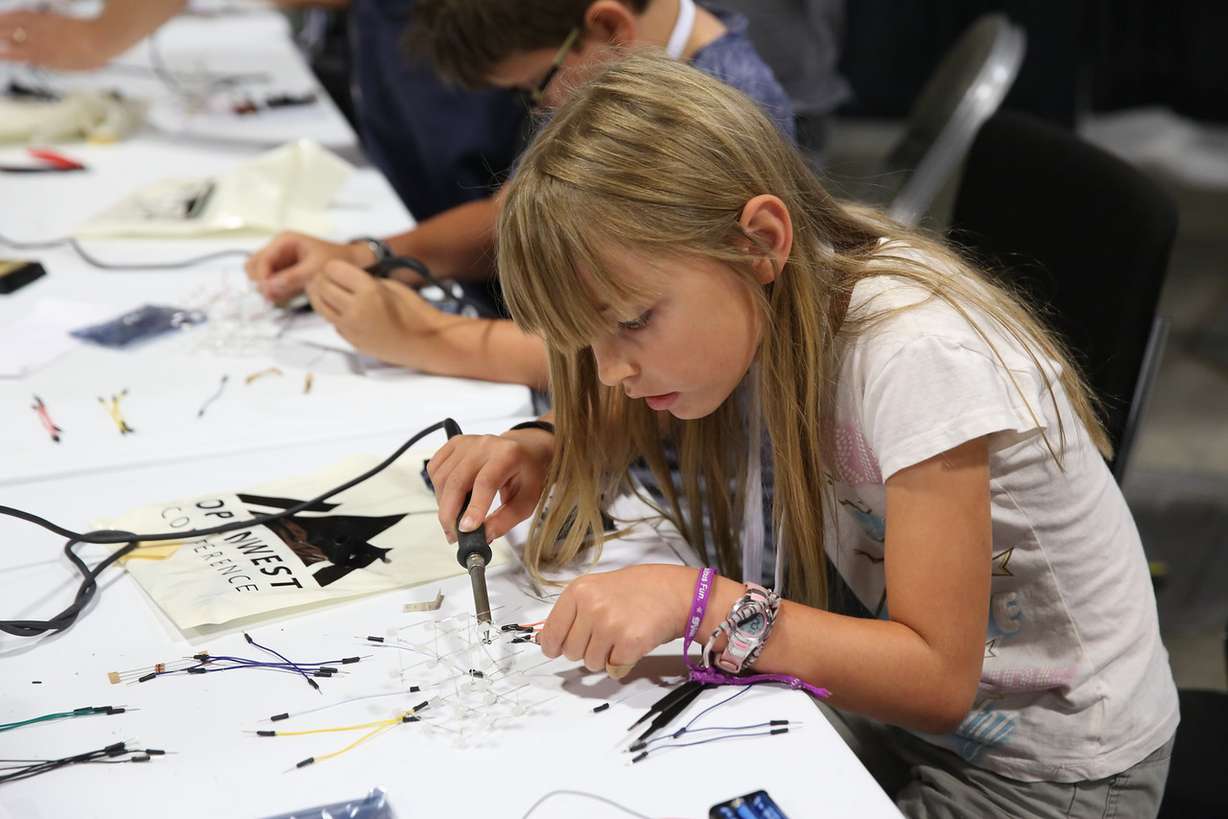 Each year at OpenWest there is a popular hack center, and this year, Beehive StartUps and UT Ignite hosted a "Internet of Things" challenge, encouraging teams to come up with creative solutions. Simmons went on to encourage collaboration saying, "We don't value non-coding contributions enough. Open source needs designers, writers, marketers . . . embrace all contributions."
A non-coding keynote speech was given by Lindsay Kneuven, Chief Impact Officer at Cotopaxi, who encouraged the audience to give back to the community and "do good."
Steve Meyers, the Speaker Coordinator for OpenWest, said they have "a very diverse conference with lots of topics." Over 500 proposals were submitted for this year's conference, which were then narrowed down in a public voting period to about 200 different sessions.
In addition to adult professionals, youth were also given an opportunity to present at OpenWest. They presented on Saturday during the Young Technologists session of the conference. The student panelists presented on a wide range of topics from learning Python, 3-D design, graphic design, Java and more. Youth participants also were able to create a 3-D LED cube.
Sisters Kaylee and Megan Myers said of both the cube and the Young Technologist session, "It's very cool."
OpenWest has grown from 200 attendees in 2007 to over 2,000 in 2017. Some attendees went to learn, some to compete and others to network. First-time attendee Julia Shaefermeyer said, "I thought overall it was a really great conference," and that she found it valuable to "meet more people, create relationships and also talk to companies."
Tiffany Villa, the event organizer, said, "We'd like to continue to make the conference inclusive for everyone: women, beginners, youth and anyone who wants to attend and learn. The main goal is education. . . to make education available that will provide opportunities for people to learn and grow."
If you want to know more about the OpenWest Conference, click here. To learn more about Utah Open Source, click here.
---
×
Photos
Most recent Utah stories