Estimated read time: 4-5 minutes
This archived news story is available only for your personal, non-commercial use. Information in the story may be outdated or superseded by additional information. Reading or replaying the story in its archived form does not constitute a republication of the story.
SALT LAKE CITY — One of the greatest but little-known stories about Utah history is now a big part of This Is the Place Heritage Park.
At the top of the hill, to the east, the new Native American Village shows off some of the culture of Native Americans in Utah. The expanded exhibit portrays the joint contributions of Shoshone, Piute, Ute, Goshute and Navajo tribes that are still very much a part of the landscape of the state.
"We were the original ancestors to this area, and a lot of people don't know that," said Shelly Willie, a 23-year-old member of the Navajo tribe who has been working at the park for several years.
Willie said her motivation is to teach visitors, many of whom are children, about her culture and help dispel misconceptions that arise from a general lack of knowledge.
"We are not all from the same tribe," she said. "We wear outfits, not costumes."
The Native American Village houses two hogan structures amid a fabricated red rock landscape, with a 52-foot teepee at the apex, in a wooded hillside of granite, much like where they would have been found decades ago in Utah. They stand to educate the public about various Native American habitats and their ceremonial purposes, including authentic music and dancing offered there daily.
On any given day — the park is open year-round — visitors can experience authentic Native American storytelling, educational tours, weaving on a loom, dance and music, a demonstration on teepee setup and more. It's a fascinating part of Utah history, and it is interactive, said Zac Palmer, employee supervisor at the village.
"It's exciting and long overdue," Palmer said.
The Native American presence at the park was a quarter the size it is now and "didn't have the ambience that it does now," he said.
"The five tribes of Utah are still very much here," Palmer said, adding that many live in the Salt Lake Valley and are proud to help educate others on their unique heritage.
Willie, of Orem, is a dancer at the park and also showcases her own hand-sewn and beaded outfits with intricate accessories and animal-skin moccasins she acquired in a trade. Each piece of clothing has a story behind it, she said, as she shares how her father crafted the belt around her waist.
"Being Native American is pretty cool because of the culture," Willie said. "I'm very proud of where I come from."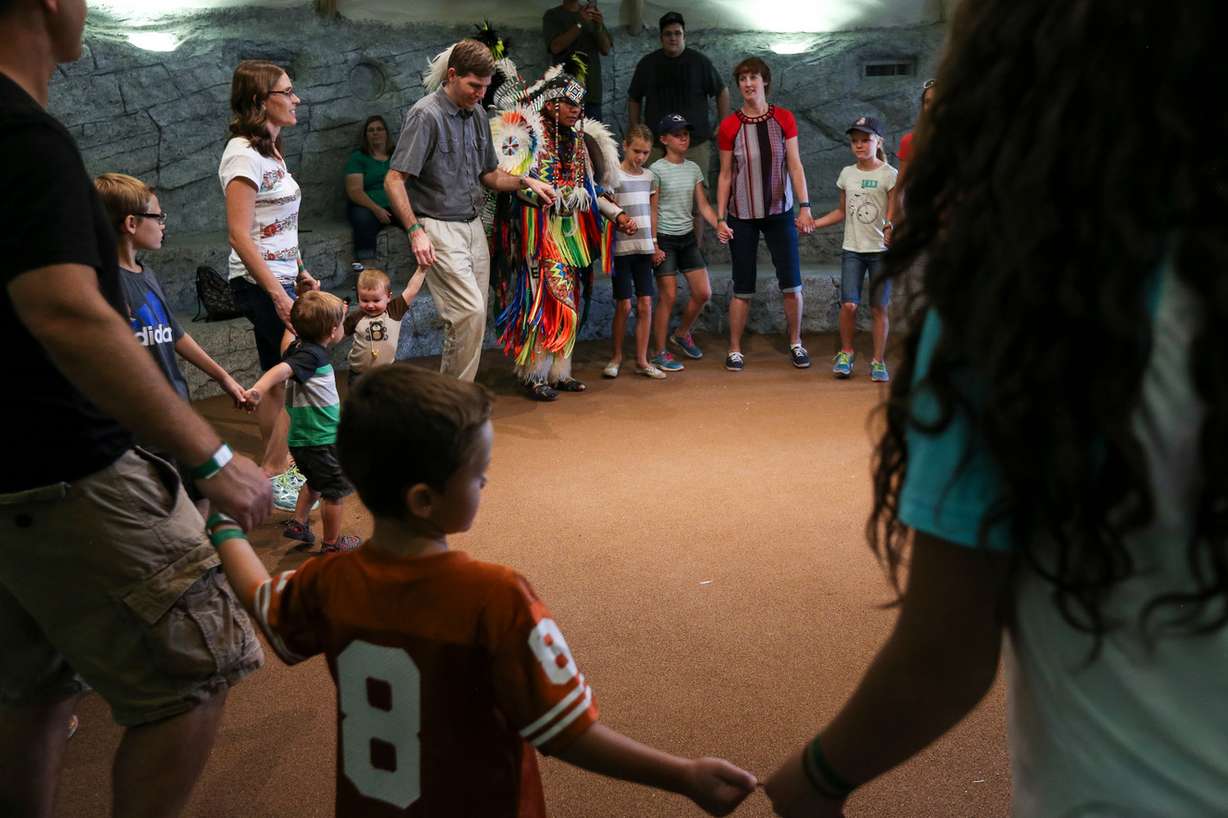 And the more Willie learns about her heritage, the prouder she is. She tries to implement as much of the culture in her daily life as possible. Working at the park is helpful, as well, and she plans to become a teacher to continue educating people about the history of her people.
"I've been dancing since I was 4," Willie said, adding that she competes on the powwow circuit. "Being in a powwow gives me a feeling of passion and love that I have a hard time comparing anything to."
Leading a group of visitors in a friendship dance inside the teepee Wednesday, Willie's passion and dedication to her Native American culture were apparent.
In addition to the structures, the village is home to a hand-etched medicine wheel, or sacred hoop, that portrays various spiritual beliefs common to Native American cultures — aligning with the forces of nature and living a good life.
While some work is ongoing and there is further potential for expansion if funding becomes available, the Native American Village is now open to the public. It is the newest addition to the more than 50 historic homes and buildings sitting on about 450 acres at the mouth of Emigration Canyon.
"(Native Americans) are such an important part of the story here in Utah," said Tresha Kramer, public relations director at This Is the Place Heritage Park. "They were the first settlers here. Without them, the pioneers would not have made it in those first years."
Native Americans were also represented in the coalition of locals who erected the iconic statue at the park in 1938.
"History can be boring," Kramer said. "We bring history to life."
×
Photos
Most recent Utah stories