This archived news story is available only for your personal, non-commercial use. Information in the story may be outdated or superseded by additional information. Reading or replaying the story in its archived form does not constitute a republication of the story.
SALT LAKE CITY — Utah women's soccer player Katie Rogers loves summers in the Beehive state.
A New Jersey native, the fifth-year senior central defender enjoys the weather, the outdoors and the high-intensity training at altitude.
And a chance to win a title is nice, too.
Rogers and her summer team Real Salt Lake Women wrap up their first regular season the semipro United Women's Soccer league Thursday when they host the Colorado Storm (1-3-2) at 6 p.m. MT at East High School. A win would give RSL (3-2-2) a vital three points, putting the Salt Lake outfit in the driver's seat for a Western Conference title with a five-point lead on second-place Houston for the top spot in the division. The Aces (3-3-0) have two matches remaining, holding a one-point advantage on third-place Santa Clarita.
"We all want it," said Rogers, one of three current Utes on the team. "We're all ready for it. Nothing is handed to you, and it will be a battle. But I wouldn't want to do that battle with anyone but these girls."
Winning titles isn't new for RSL Women; the team won a WPSL Elite title last season before opting to join UWS for the semipro league's inaugural season. But the team has continued to win despite the turnover that is common among many semipro soccer outfits.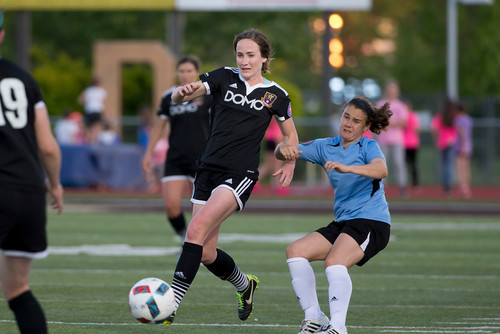 Rogers joined RSL Women after centerback partner Natalie Norris, a Utah State alum, introduced her to first-year RSL Women head coach Mark Davis. The inaugural Salt Lake Community College soccer coach assembled a roster that includes a pair of Utah defenders in Rogers and Baylee Neilsen, as well as players from Utah State, Weber State, Utah Valley, Oregon, Arizona — and the Utes' rival in Provo — BYU.
But far from a contentious Holy War-based issue, the 10 players with BYU ties have grown into some of Rogers' good friends through summer workouts. The rivalry doesn't bother Rogers, who recently married BYU baseball player Hayden Rogers, in large part because of the friendships she's made with RSL Women.
"It's exceeded my expectations. It's so fun; the girls are awesome, and the coaches are willing to work with every athlete and our crazy lives during the summer," she said. "The passion behind them is what is really driving them. It's awesome to play with girls who have that drive and motivation to win."
Rogers and Neilsen were even paired with BYU standouts Michele Murphy Vasconcelos and Bizzy Phillips Bowen on a road trip with RSL, and the roommates have grown to be friends.
"It's been fun to get to know different players from all other," Vasconcelos said. "Once you're on the same team, it all goes away."
---
We're all ready for it. Nothing is handed to you, and it will be a battle. But I wouldn't want to do that battle with anyone but these girls.
–RSL Women defender Katie Rogers
---
Rogers has proven to be a defensive rock for Davis and RSL, while Vasconcelos has jump-started the squad's offense with a team-high three goals and three assists on the season.
"There have been games where we've had her slide into different roles and play different positions for us, and she just smiles," Davis said of Vasconcelos. "She's super coachable, and her work rate is amazing. It doesn't matter if it's the first minute or the 94th minute, she works extremely hard.
"She's super technical, but her work rate on and off the field is one of the hardest on the field."
The senior-to-be has taken to the new league well, and credits her immediate impact to her teammates.
"I really enjoy the team, and the competition that we play," Vasconcelos said. "I didn't know what to expect, and I feel like I was pleasantly surprised how good some of the teams have been."
Vasconcelos was one of five current BYU players to joined the team at the start of this summer along with Elena Medeiros, Bizzy Phillips Bowen, Madie Lyons and Stephanie Ringwood Ney, and her work rate has stood out as much as her nose for the goal.
Former Weber State goalkeeper Becca Ritchie, who briefly played professionally in the Boston Breakers' organization, boasts a 1.2 goals-against average to lead the team between the pipes.
This year's RSL Women have come together to overcome various differences, including age. The roster boasts former professionals in the 30s, four players with pro experience, as well as Alta High sophomore and BYU commit Brecken Mozingo.
"For someone like Brecken, it's awesome to get that confidence at the higher level and learn what it takes to compete at that level," Rogers said. "I think for girls who are aspiring to go professional, it's good to get their feet in the water. The girls in college mesh with the girls that are veterans and know a lot about the game."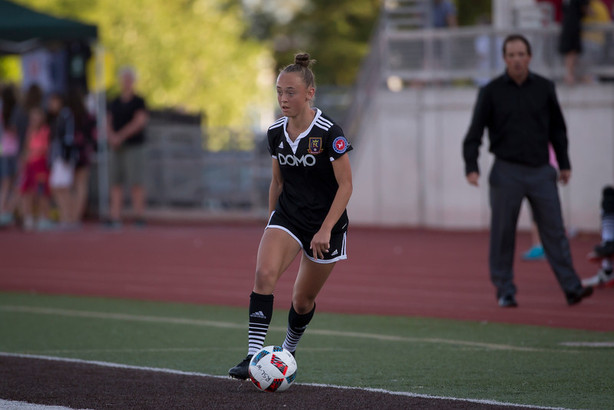 Every minute has mattered in RSL's eight-game regular season, which includes home-and-away games with each of the four other teams from the West. The conference champion will host the champs from the East in a one-game final July 30 for the inaugural UWS title.
To get to this point, RSL has played well, but Davis also admits they could've played better. The squad took six points from a pair of road wins at the Colorado Pride and the Storm, which they defeated 2-1 on June 19. But they also fell on a stoppage time winner at Santa Clarita just last week.
That should prove to be plenty of motivation to take advantage of their final regular-season game Thursday.
"Every minute matters so much," said Davis, who will coach both the men's and women's teams at SLCC this fall. "The competition has been extremely stiff, and we really hope we can play July 30 in the UWS final.
"We'll see what happens," he said.
×
Photos
Related Stories