Estimated read time: 5-6 minutes
This archived news story is available only for your personal, non-commercial use. Information in the story may be outdated or superseded by additional information. Reading or replaying the story in its archived form does not constitute a republication of the story.
PROVO — Andrea Clara Darais joked that she'd only consider selling her home in Provo's Pleasant View neighborhood to David Hall if he offered her $5 million and a small island.
"Perhaps Gilligan's Island," she laughed. "But even then, (I'd) have to think about it."
But in all seriousness, Darais said she'd never sell him her home, which her father — who was an art professor at BYU — designed and built in 1958.
"It's just not going to happen," she said. "My father designed every corner of this house. And to think that David Hall's dream should somehow devastate my father's lifetime work is appalling."
Hall, an LDS businessman who inherited and built up his father's synthetic diamond-making business, is causing quite a stir in Provo's quiet Pleasant View subdivision.
Like Darais, many Pleasant View neighbors are up in arms over Hall's plan to buy out — and eventually bulldoze — all of their homes to turn the community into a high-density, modernized village.
Hall has already purchased 20 homes in the neighborhood, about half of the community's lots, and he plans to buy more.
Within the next 15 years, Hall aims to eventually purchase the entire subdivision by offering sellers significant, sometimes double-appraised values for their properties.
"It's deplorable," Darais said. "It's dismantling (the neighborhood) piece by piece."
Darais and about 100 other neighbors filled the intersection of 500 East and Lambert Lane, on the edge of some of Hall's properties, to protest Halls plans Thursday night.
"We don't want to commercialize a family feel that we've developed for decades," said neighbor Lisa Leach. "Old neighborhoods like this are something that you can't get back once it's gone."
At the same time of the neighborhood rally — just a down the street — Hall was serving hot dogs, welcoming residents to come learn about his project.
His vision for Pleasant View, located north of BYU and northeast of LaVell Edwards Stadium, is inspired by LDS Church founder Joseph Smith's 1833 Plat of the City of Zion.
It wouldn't be the only community of its kind. In Vermont, Hall has also purchased more than 2,000 acres near Sharon, Smith's birthplace, where he plans to build a similar community.
Hall has described the project — deemed NewVistas — as an "experimental village" meant to challenge today's "urban sprawl" of single-family homes, which he believes are "ecological disasters" because, he said, they have created wasteful and environmentally damaging commuting habits.
To Hall, single-family neighborhoods unnecessarily "segment" people's lives, requiring residents to commute everywhere — to work, to church, to the store. He wants to test a new "model for society" by building a community where residents could live, work and play, and access nearly everything by walking, not driving.
He said the village would be "self-sustaining," compacted to house 20,000 residents within the square mile. Residents would rent, not own, and have only 200 square feet of personal space each, while sharing parks facilities and other communal areas with the rest of their village.
"Our whole objective is to make the standard of living for everybody much higher than it is now," he said. "You give up your stupidity, leave suburbia and start a much higher quality life."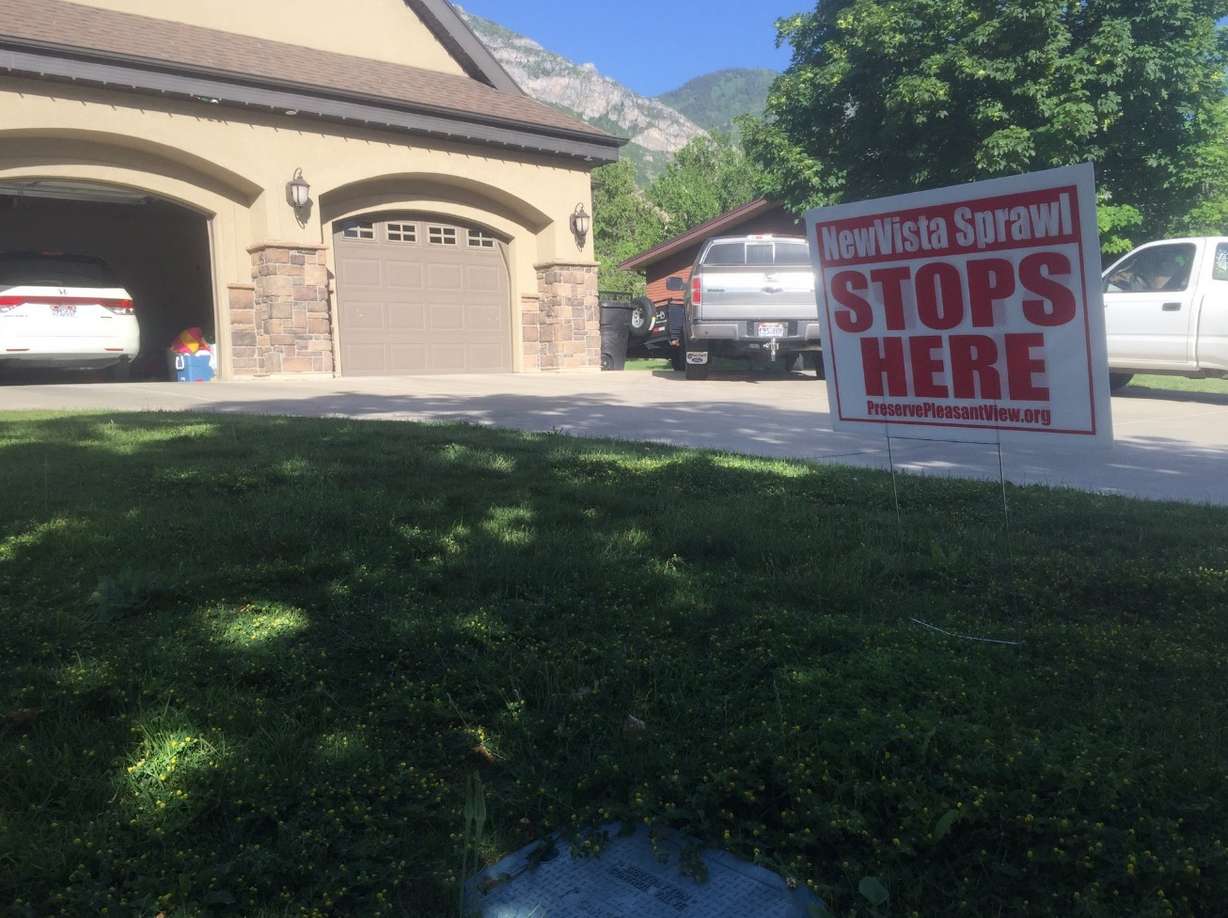 But Paul Evans, chairman of the Pleasant View Neighborhood Council, said Hall's plan, and the fact that he's already bought 20 homes and turned them into rentals, is creating uncomfortable change within the neighborhood, mostly because neighbors have absolutely no control over what's happening to their community.
"Generally neighborhoods, cities and communities make changes by consensus," Evans said. "The biggest concern is the impact it has on individual homeowners and their futures. That's totally in the air right now. They can't count on their neighborhood being the same five years from now or 10 years from now."
More than 500 people have signed a change.org petition demanding Hall place the 20 homes he has already purchased in the area back on the market and take his NewVistas plan elsewhere.
Provo leaders have also thrown their support behind upset Pleasant View neighbors. Their statements, which were previously sent to the Pleasant View Neighborhood Council, were read by neighbors at Thursday's rally.
"I think it is very sad that one man envisions destroying a long-established neighborhood and replacing it with a grand social experiment," said City Councilman David Sewell.
Councilwoman Kim Santiago said "single family neighborhoods in Provo need to be protected like an endangered species."
Hall said he respects residents' right to protest his plans, but added that he's been working on making NewVistas a reality for the past 15 years, and he's not about to stop now.
"I'm a disruptive change agent. I've constantly battled against the status quo my entire career," he said.
He also pointed out that he hasn't forced any neighbors to sell their homes — he only makes offers. In fact, Hall welcomed Pleasant View's protests, because he said the media coverages has brought "all kinds of owners to me who are willing to sell."
"I'm negotiating with 10 other people right now," he said.
Darais, however, said she is hopeful that most Pleasant View neighbors understand the negative impact that selling their homes to Hall would have on the neighborhood.
Evans said the neighborhood is currently protected by city zoning ordinances that designate the neighborhood for single-family residential use, and given city leaders' opposition to Hall's plans, it's unlikely those plans will be approved anytime soon.
Hall acknowledged that, but said he's confident his plans could eventually find support, even if it takes 40 years or more.
He said he's prepared to fight an uphill battle with Pleasant View residents because, first, the neighborhood is right in the middle of BYU property, which would supply the 20,000 jobs in walkable proximity to NewVistas.
Building in undeveloped areas, he said, only adds to the "urban sprawl."
"When we do that, all we're doing is requiring more roads and even more environmental damage," he said. "We've got to be a responsible society and simply improve what we've already screwed up."
×
Photos
Related links
Most recent Utah stories