Estimated read time: 2-3 minutes
This archived news story is available only for your personal, non-commercial use. Information in the story may be outdated or superseded by additional information. Reading or replaying the story in its archived form does not constitute a republication of the story.
Democrats will soon open a Utah office for Barack Obama's presidential campaign, as part of its much-heralded 50-state strategy. We went to find out more about it, but the campaign's new state director apparently isn't doing interviews.
The Democrats have adopted a 50-state strategy, wanting to compete and open offices in every state, including Republican strongholds like Utah. I'm told the party plans to open Obama's Utah campaign headquarters in the office building which once housed Pete Ashdown's 2006 Senate campaign against Orrin Hatch.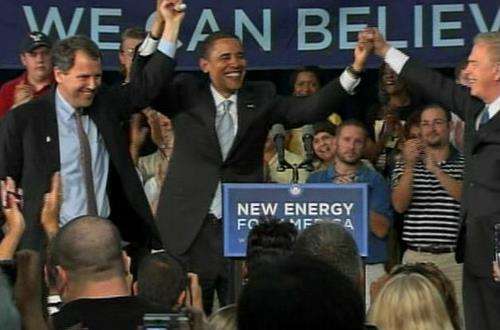 We asked twice in the last two days to speak to new Obama state director Suzanne Gelderman. We were told the campaign wanted to wait until after the convention to show off its new headquarters, and that Gelderman was hunkering down, doing a lot of organizing.
We called the state Republican Party office to ask when the McCain campaign would open an office here. We were given a number to call -- it had a 602 area code -- and we never heard back.
The state's party chair, Stan Lockhart, says what the candidates say is more important than any strategy.
"It's not as much about the public relations as it is about the message from candidates and from the party. What do you believe in? What do you stand for? What are your values?" he said.
Kirk Jowers, director of the Hinckley Institute of Politics, said, "I think the Democrats are sincere about this 50-state strategy. But that doesn't mean they anticipate even having a chance of winning some of the states; Utah, Oklahoma, Wyoming. But they want their presence to be there and they want to build for the future."
You can expect a lot more political activity once the Olympics are over. Then next week, the Democrats hold their convention in Denver. The week after that it's the GOP's turn in Minneapolis.
E-mail: jdaley@ksl.com
×
Most recent Utah stories