Estimated read time: 3-4 minutes
This archived news story is available only for your personal, non-commercial use. Information in the story may be outdated or superseded by additional information. Reading or replaying the story in its archived form does not constitute a republication of the story.
Team coveragePolice found a body in a canal believed to be the woman missing after a house fire in West Valley City. Investigators say that fire was intentionally set. But there are still a lot of unanswered questions.
Police believe it's the body of 37-year-old Nichi Edwards, who turned up missing after the house fire. Police are trying to figure out who started the fire at the house and how Nichi Edwards ended up in a canal behind it. Her husband isn't talking publicly, but his attorney says he doesn't have any answers.
This neighborhood is in a state of shock and disbelief. In a matter of 24 hours the mood and scene have changed dramatically. As investigators dig through the home for clues, friends, neighbors and family members try to deal with what is already a lot to take in.
Family members, including Nichi's husband, Matt, have been visibly absent from the neighborhood and search today. But an attorney hired by Matt Edwards in the last day relayed a message to the media.
"He loves her very much. He is very distraught about the fire and her missing," said attorney Mark Ethington.
Ethington says Edwards wanted some legal guidance. "He did not have anything to do with the setting of this fire. He would not do anything or cause any harm to his wife," Ethington said.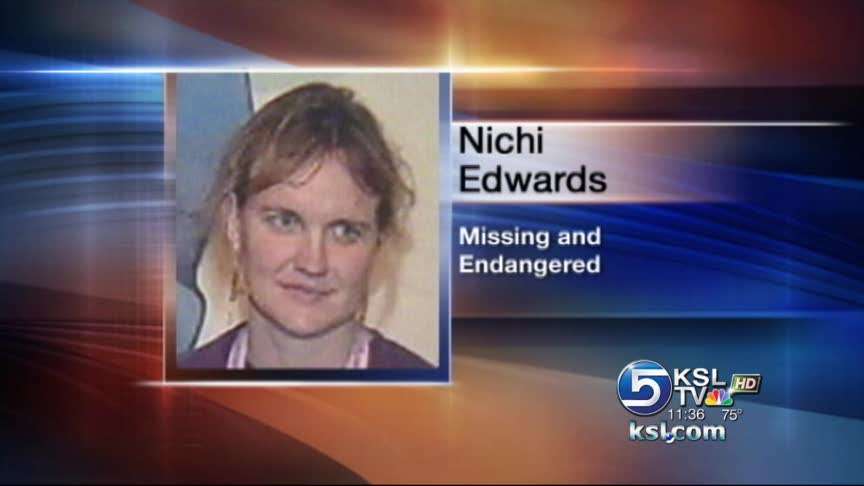 Friends and neighbors have been out on the street of the neighborhood all day. They told us Nichi kept to herself, and that her death will be extremely difficult for her husband.
"He really helps her a lot. He's always there for her all the time. He'll go nuts without her. He really will," friend Virginia Mitchell said.
Neighbor Janet Jensen described Nichi as "very quiet, very shy, not very outgoing but nice, you know, a nice person."
Nichi's death follows a strange chain of events that began yesterday with a house fire. Her husband told investigators that he left Nichi home alone for 10 minutes and returned to find their house on fire and his wife missing.
A search was launched, and police found what is believed to be Nichi's body this morning. It was almost completely submerged in a canal about 75 yards away from Mark and Nichi's house. A Utah Department of Public Safety helicopter actually spotted the body while searching the area.
Asst. Chief Craig Black, of the West Valley City Police Department, said, "The condition of the body showed no obvious signs of trauma or injury."
At this point, authorities believe the body is Nichi's, but they have not made a 100 percent identification. Still, her family has been notified.
Earlier this afternoon, police and fire held a press conference to discuss the condition of the body. They have not been able to determine how she died, but firefighters say the fire yesterday was intentionally set.
"Our thoughts are with the family at this point, and our efforts are focused on trying to come to a conclusion as to what happened here," said West Valley Assistant Police Chief Craig Black.
Nichi's husband is cooperating with police in the investigation.
The medical examiner removed the body and will conduct an autopsy either tonight or sometime tomorrow morning. Police are now awaiting those results. They did say this is not a criminal investigation and the husband is not a suspect.
Fire investigators have also sent some evidence to be tested at a lab. We should have more information in the coming days.
E-mail: wjohnson@ksl.com
E-mail: corton@ksl.com
E-mail: tcallan@ksl.com
E-mail: syi@ksl.com
×
Photos
Related links
Most recent Utah stories