Estimated read time: 2-3 minutes
This archived news story is available only for your personal, non-commercial use. Information in the story may be outdated or superseded by additional information. Reading or replaying the story in its archived form does not constitute a republication of the story.
A deadly accident claimed three lives in southwestern Wyoming Sunday. It's the third fatal plane crash in our area in three days, and it leaves many questions unanswered.
Wyoming investigators have released very few details about the incident, other than the obvious: Two planes collided, exploded in flames and fell to Earth. All three people aboard the two planes are dead.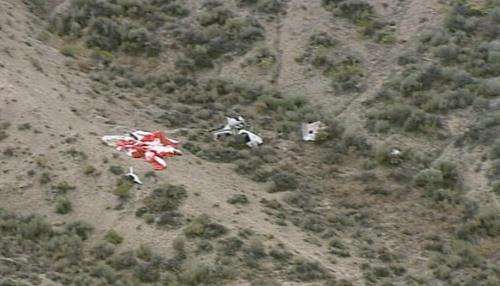 Debris rained down on a rugged area just five miles from Rock Springs. It's an oil and gas field just north of Interstate 80.
"A number of people who called in were actually on the interstate in vehicles and called in, observed what they called an explosion in the sky," said Detective Dick Blust, with the Sweetwater County Sheriff's Office.
The mid-air collision involved two private planes just five miles from the Rock Springs-Sweetwater County Airport. All three people aboard apparently died almost instantly.
"There was a tremendous amount of damage. The wreckage was severely damaged by fire, and it's scattered out over quite a large area," Blust said.
A large, colored parachute was visible in the wreckage. It's not the type someone would use to bail out. It's a bigger chute designed to save an entire plane. "When an engine or an aircraft parachute deploys, the descent of the aircraft is slowed down," Blust explained.
A source in Salt Lake told us one of the planes was on approach to the Rock Springs airport. It was reportedly being handled by an air traffic controller in Salt Lake. Wyoming officials won't release details until they confirm identities of the three victims and notify relatives.
Some relatives did show up at the airport, which suggests the three victims are from the Rock Springs area. "There's information that's brought them here, but we're still working on making the official identifications," Blust said.
The Federal Aviation Administration (FAA) is now reporting that the plane on approach was a Cirrus SR22 that took off from was approaching the Rock Springs airport from Polson, Mont. That aircraft does contain a parachute.
The other plane was a Cessna 172 with a student pilot practicing near the airport.
Federal investigators arrived Sunday night and will be at the crash scene Monday.
This was the third plane crash in three days. Saturday two people from Washington state died when their plane crashed at Bear Lake. On Friday, Blanding lost two of its city council members and another community leader in a crash near the Monticello airport.
E-mail: jhollenhorst@ksl.com
E-mail: aadams@ksl.com
×
Photos
Most recent Utah stories