Estimated read time: 3-4 minutes
This archived news story is available only for your personal, non-commercial use. Information in the story may be outdated or superseded by additional information. Reading or replaying the story in its archived form does not constitute a republication of the story.
SANDY — Three-year-old Ruby Thackeray hopped behind her mother, who carried a giant stuffed giraffe outside to play. Ruby's bright spirit and sunny blonde hair bely her circumstances. But some friends make you want to reach higher, like Ruby's new pal, Gerald the giraffe.
"Do you think Gerald is ticklish?" asked Ali Thackeray, Ruby's mom. Ali Thackeray makes the most of every day. She has three beautiful girls, and now she faces the possibility of losing one of them.
Ruby has cancer and Gerald is a comfort. He's helping her be a little braver and imagine what's possible. Even though he doesn't say much, Gerald is a good friend to a family that needs one.
"I was pretty calm during the appointment. I was there by myself, and then I went to the parking lot and cried," Thackeray said, remembering her 20-week ultrasound that showed something growing on the back of Ruby's neck. "It was about the same size as her head when she was born."
The bumpy mass shrank slowly, and no biopsies showed malignancies. But then when Ruby was 18 months old, "It started growing rapidly," Ali Thackeray said.
So surgeons removed it. But a routine CT scan just two months ago found something troubling on her lungs. The news was devastating.
Ruby got Gerald the day before from the Make-A-Wish Foundation. Though she looks healthy, she's actually got 40 tumors on her lungs.
"These are melanoma," said Dr. Holly Spraker-Perlman at Primary Children's Hospital, pointing to a scan of Ruby's lungs. It's metastatic melanoma, which is extremely rare in a child as young as Ruby. "I've seen probably a handful of cases in my career."
Her cancer is stage 4.
"I'm hopeful," Spraker-Perlman said. "I think statistically it's not great. I'm hopeful, but I worry."
Knowing the cancer has spread to Ruby's lungs is hard for a mother to take.
"To have that much joy in your life and know it might be taken away is hard," Thackeray said. "I don't question it. I don't worry too much because I think things happen for a reason, and better to have had her than not at all. It's hard to think about this bundle of joy, this spirit in our home not being here anymore."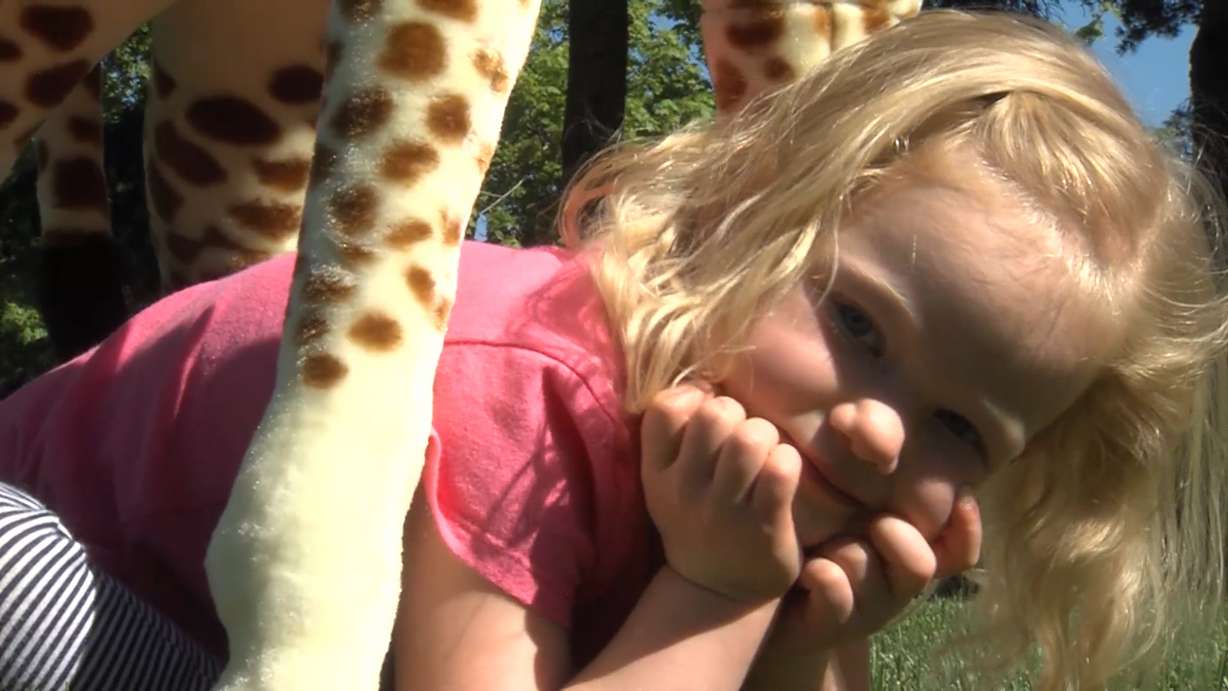 Doctors are trying an experimental treatment called immunotherapy, using Ruby's immune system to fight her cancer. Though it has been successful in adults, it's new in kids. At the hospital, Ruby gets regular infusions of the medicine researchers are using in clinical trial, and they don't know if it will work.
But their one chance and their one hope is that the medicine will work.
Some friends make you want to reach higher. Be braver. Imagine what's possible. And never give up hope. Ruby crawled under Gerald and he tipped over. "Timber!" Thackeray said.
Doctors will know by the end of the month if Ruby's immunotherapy is working.
Family and friends are planning a rally for Ruby June 11. Rally for Ruby, a 5K and bike parade, will take place from 9 to 11 a.m. at the fields behind Butler Middle School, 7530 South 2700 East, in Cottonwood Heights. You can also learn more about the event on their Facebook page.
×
Photos
Most recent Utah stories