Estimated read time: 2-3 minutes
This archived news story is available only for your personal, non-commercial use. Information in the story may be outdated or superseded by additional information. Reading or replaying the story in its archived form does not constitute a republication of the story.
Athletes participating in the Games stay at the Olympic Village. It's under heavy security and access is very restricted. However, we were able to get in (by invitation) and found a Utah man who has the job of looking after all the competitors.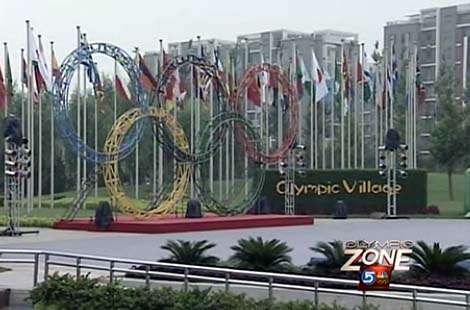 The Olympic Village is home away from home for the 205 nations that come to compete in the games. All those coaches and athletes need a place to sleep, eat, and relax, and that's Dan Merkley's job. The athletes may have no idea who Merkley is, but if it wasn't for people like him, they wouldn't have a place to sleep.
"I love my job," he says.
Merkley is a housing adviser for the Beijing Olympic Committee.
"Actually, my experience began in Atlanta," he said. "I was working for Salt Lake Village and Torino Village."
He's already working full time on the 2010 Vancouver Winter Games but took a month off to help in China.
"This is a fantastic Games. The village here is a jewel, an absolute jewel. The facility is top-notch," he said.
He took us on the tour of the Village Plaza and showed us all the facilities available to athletes.
"Here's a nail salon," he pointed out. You can get a haircut or massage too. There's a post office, a camera shop, a general store, and an Olympic store.
"All the services an athlete might want if they were living outside, we try to contain that here. Imagine a cruise ship that's landlocked," he said.
Merkley says what makes this village so special is there are stores unique to China: one that offers handmade Chinese arts and crafts, and a tea house, where dancers come in and perform traditional tea ceremonies.
"It's great. I think it's honestly better than Greece's Olympic Village. It's better and the rooms are better," he said.
Athletes stay in these buildings, separated by country, and entrance is by invitation only. "Sixteen-thousand beds, about 3,300 apartments, 9,000 rooms and 42 buildings," he said.
Merkley says the goal of any Olympic Village is to make sure the athletes are comfortable and safe, so they can perform their best in competition.
"That means good nutrition, a nice place to sleep, a place they can sleep in quiet and darkness, and of course good transportation," he said.
Before we left the village with Merkley, I asked him if he gives the U.S., specifically Utah athletes, any special treatment, like the top-floor rooms with the best views. "I'm completely impartial!" he answered.
In a couple of weeks, Merkley goes back to Vancouver to finish up planning for the upcoming Winter Games. He says that village will be spectacular.
E-mail: abutterfield@ksl.com
×
Related links
Most recent Utah stories