Estimated read time: 6-7 minutes
This archived news story is available only for your personal, non-commercial use. Information in the story may be outdated or superseded by additional information. Reading or replaying the story in its archived form does not constitute a republication of the story.
The Cougars are into their first day of two-a-days, with a fully-padded session this morning to be followed by a shorter, no-pads session this afternoon. BYU will then hold its first scrimmage of camp tomorrow morning.
*******
By clicking Bronco's interview link to the right, you can hear him talk about his plans for that scrimmage, and in perhaps the most interesting (non-injury) news to come out of camp so far, Bronco is changing the way redshirts are awarded.
And, the key word really is "awarded," because Bronco believes a redshirt is to be "earned," and not just given. In the interview, he spells out the why and the how, and it will certainly change the way players are evaluated in camp. The coach's hope is that it also changes the way players perform and comport themselves, too.
*******
Bronco's post-practice comments begin with him addressing WR Bryce Mahuika's absence from practice--another day dealing with quad strains for Mahuika. He is also expected to be held out of tomorrow's scrimmage.
In other injury news, NT Rick Wolfley remained out (quad contusion), and NT Mo Foketi (hip flexor) was also missing today.
RB Fui Vakapuna was dressed and took part in some drills, but was held out of the majority of practice as coaches and trainers "manage" his hamstring injury.
LB Matt Bauman (foot) and WR Austin Collie (stress fracture, leg) were once again dressed, but only watching from the sidelines as they recover from their respective injuries. While Bauman should be back on the field in a matter of days, there's really no update on Collie, other than to say he continues to rest and treat the injury with rehab activities and bone stimulation. The guesswork recovery time frame of anywhere from 2-5 weeks still holds until further notice.
*******
DL Bernard Afutiti's paperwork finally arrived, so Afutiti was on the field for the first time today--but as part of the NCAA's 5-day acclimatization rules, he was in a helmet only, and was essentially just an observer. He won't be in full pads until early next week. Bronco addresses Afututi's need to "catch-up" in the post-practice interview.
*******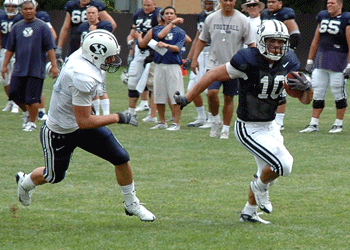 Without both Mahuika and Collie, BYU's kick holders today were Brenden Gaskins and C.J. Santiago. As Bronco detailed in his interview, Mahuika and Collie are joined by Gaskins as primary holders, and the kickers will help make the decision on a final pecking order.
Speaking of kickers, today's other interviews are with freshman kicker Justin Sorensen and kicking coach Paul Tidwell--who also doubles as BYU's inside linebackers coach.
Sorensen talks about the kicking competition, grades his first week (C-), and tells us how he hurt a foot that required him to go five full months without kicking leading into the month before camp.
Coach Tidwell and I start by addressing the kicking competition, then get to the personnel situation at inside backer. Hope you enjoy both interviews...
*******
Mitch Payne and Justin Sorensen took their final two field goal attempts from roughly 40 yards out today. Payne's first attempt was blocked by Vic So'oto (hand slap congrats from Bronco on that one), and his second attempt was wide left. Sorensen was good,and good.
As you will hear Tidwell say, Sorensen is essentially a lock to kick off this season, so the competition is for place kicks and field goals, and that competition continues. What I should have asked (and didn't), is whether he can envision using the two kickers situationally, based on field goal length. I'll follow up with Coach Tidwell next week.
*******
We also saw our first kickoffs of camp today. Each kicker got 2 shots, and Payne's kicks landed at the 2 and 4 yard line, while Sorensen's two kicks "only" got to the goal line. Sorensen was ticked, and Tidwell was mildly surprised, since Sorensen boomed 9 out of 10 kickoffs through the end zone the day before camp started.
*******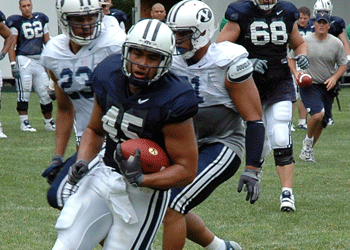 In this morning's "Team" session of practice, with Fui held out, FB Isaac Taylor got the first snaps alongside Harvey Unga in a split backfield. Taylor is a player with experience who has earned the respect of his fellow backs.
*******
Max Hall found Andrew George for a pair of long completions (30 yds, 20 yds) in the first session of "Team." The series ended with Bronco whistling dead a J.J. DiLuigi run on first-and-goal from the 5-yard line.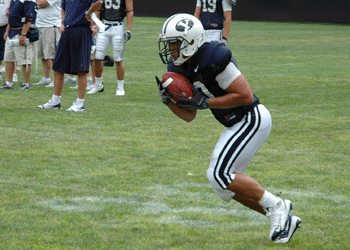 Hall later hooked up with O'Neill Chambers on a 40-yard sideline strike.
*******
WLB Vic So'oto spent more time cross-training at SLB today (in place of David Nixon). When So'oto moves over, Coleby Clawson moves up with the 1s at WLB. So, on a number of snaps today (and earlier in the week), So'oto and Clawson have been on the field at the same time, at "Sam" and "Will," respectively.
*******
OL R.J. Willing saw some first-team snaps at LT in place of Matt Reynolds, but the first-string offensive line combo remains unchanged.
*******
Heading into tomorrow's scrimmage, here's an updated three-deep:
(*indicates injured but otherwise occupies listed spot in depth chart)
OFFENSE
QB: Hall (1), Gaskins (2), McEuen (3)
TB: Unga (1), DiLuigi (2), Latu (3)
FB: Vakapuna (1*), Taylor/Kariya/Friel (2)
Note: backs generally carry designation of RB, but in some two-back sets, a TB/FB split can be applied. Unga and DiLuigi are often lined up in the same backfield, although both are technically TBs.
TE: Pitta (1), George (2), Friel/Brown (3)
LT: M. Reynolds (1), Reden/Taufi (2), Tenney (3)
LG: Feinga (1), Brown (2), Freeman (3)
C: D. Reynolds (1), Willing/Reden (2), Hartung (3)
RG: Bright (1), Speredon (2), Pico (3)
RT: Oswald (1), Aletto/Taufi (2), Stringham (3)
WR-X: Reed (1), Kozlowski/Hafoka (2), Jaussi (3)
WR-Z: Collie (1*), Mahuika*/Ashworth (2), Chambers (3)
WR-H: White (1), Marshall (2)
Note: Kozlowski and Mahuika can play both X and Z.
*******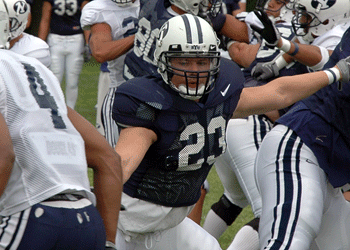 DEFENSE
LE: Dulan (1), Denney (2), Luekenga (3)
NT: Tialavea (1), Foketi*/Richardson (2*), Wolfley*/Hola (3)
RE: Jorgensen (1), Putnam (2), Richardson/Kafu (3--Kafu also plays NT)
SLB: Nixon (1), So'oto/Alisa (2), Wagner (3)
MLB: Bauman (1*), Ah You (2), Pritchard (3)
BLB: Doman/Ah You (1), Hadley (2), Van Sweden (3)
WLB: So'oto (1), Clawson (2), Court/Tuitama (3)
CB (Field): Howard (1), Pittman (2), Nicholson (3)
Safety (Kat): Tafuna (1), Pendleton (2), Te'o (3)
Safety (Free): Fowler (1), Rich (2), Thomas (3)
CB (Boundary): Johnson (1), Bradley (2), Nagy (3)
---
PK: Payne/Sorensen (1)
P: Santiago (1)
PR: Mahuika (1), White (2), Ashworth (3)
no KR yet (Chambers, Thomas and Nicholson back to catch kicks, but no full KR to this point in camp)
Holder: Mahuika/Collie/Gaskins
Snapper (PK/FG): Pace (1)
Snapper (Punt): Muehlmann (1)
*******
The weather today was... let's see, what's the right word?...let's try: perfect. Cloud cover, felt like mid-to-high 70s. A "Lavell" day if there ever was one.
*******
I will not be attending this afternoon's short, helmets-only practice. I will of course be on hand for tomorrow morning's scrimmage, and you can look for my report and post-scrimmage interviews sometime in the noon hour.
*******
×
Photos
Most recent Sports stories