SALT LAKE CITY — Tad Jensen has had better mornings.
In front of him is the 499-page document he just printed — a copy of the Food and Drug Administration's long-awaited rules that bring e-cigarettes under federal oversight for the first time.
For Jensen, the director of operations at a well-known vape shop in Murray, the sweeping new regulations are a blow to his business and the e-cigarette industry as a whole.
To many public health officials, the rules — which give manufacturers two years to submit their products to the FDA for approval — are a necessary step toward regulating an industry they fear will lead teens back to traditional tobacco.
'A good thing'
The Utah Department of Health praised the federal regulations Thursday, citing the skyrocketing rates of teen e-cigarette use in Utah, which have nearly tripled since 2011.
"We definitely see them as a good thing," said Brittany Karzen, with the health department's tobacco prevention and control program.
Karzen said e-cigarettes threaten to overturn decades of work spent wrestling the U.S. smoking rate to all-time lows, particularly among youths.
The battery-powered devices heat up cocktails of nicotine and flavoring to create water vapor that imitate the act of smoking.
Many doctors agree that e-cigarettes are likely safer than tobacco because they don't contain the cancer-causing tar and chemicals in traditional cigarettes, but they worry about the use of nicotine, which is addictive.
The $3.5 billion e-cigarette and vapor industry has divided experts over whether e-cigarettes are a legitimate medical device for people who want to quit smoking or a gateway for youths and adults back to traditional tobacco.
The products, which became popular a few years ago, have not been well-studied.
Some early studies in the U.S. suggest a link between e-cigarette experimentation and traditional tobacco use among teens.
Where 'the mood is very dark'
But a major medical panel in the U.K. said last month that 10 years of data on e-cigarettes prove that their public health benefits far outweigh the risks. The researchers said most adults and children who use e-cigarettes in the U.K. are either current, past or experimental smokers and called "gateway theory" fears unfounded.
Under the FDA's regulations, e-cigarette manufacturers have two years to apply for approval for their products. The cost of pushing a product through the process has been estimated at anywhere between $1 million to $10 million per item.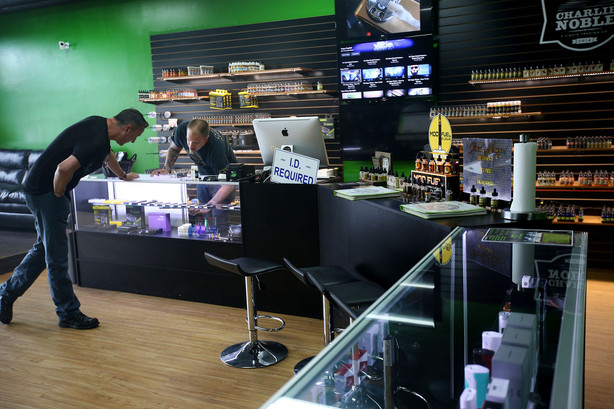 Aaron Frazier, executive director of the Utah Smoke-Free Association, said the rule will be "devastating" for the small businesses.
The vapor industry employs about 1,000 people and 75 businesses in Utah, Frazier estimates. He predicts most of them will be wiped out by the new regulations.
"The mood is very dark right now because these are blue-collar workers who have essentially followed the American dream (and) started a business," Frazier said. "These regulations now threaten the very existence of their business."
Frazier said industry leaders are still sifting through the lengthy and complex regulations to assess how they will impact businesses. That will likely take days or weeks, he said.
An amendment approved by the House Appropriations Committee last month may lessen the blow to the industry by allowing all current e-cigarette products to be grandfathered in.
But the e-cigarette industry is facing local pressure as well.
The Utah Department of Health recently approved a set of regulations that go into effect in July. Many of them are similar to the FDA regulations and focus mainly on improving the safety and standardization of e-cigarette products by requiring labels and tamper-proof caps on e-liquid products.
Utah already bans sales of e-cigarettes to anyone under the age of 19.
State legislators also proposed several bills targeting the industry in the 2016 legislative session, including a tax on e-cigarette products and a proposal to raise the legal age to buy tobacco products and e-cigarettes to 21.
Rep. Paul Ray, R-Clearfield, the sponsor of one of the tax bills, said he plans to propose the measure again next year.
"You never want to see an industry fail, but when they're out selling this kind of stuff, I have a hard time feeling sorry for them," Ray said.
"If an adult wants to use (e-cigarettes), great, give them the warnings, let them know what they're doing. Other than that, let them go at it," he added. "But don't let them market these things to kids."
The federal regulations will take effect in about three months. Starting them, producers have two years to submit an application to the FDA for approval of an item. Items can stay on the market for another year after that while they wait for approval.
For Jensen, that means he first has to read through the 3-inch stack of regulations on his desk.
"We have a very short window to figure out what options we actually have," Jensen said. "It's going to be an eventful 90 days for sure."
Email: dchen@deseretnews.com Twitter: @DaphneChen_
×
Photos
Related Stories