Estimated read time: 1-2 minutes
This archived news story is available only for your personal, non-commercial use. Information in the story may be outdated or superseded by additional information. Reading or replaying the story in its archived form does not constitute a republication of the story.
Three city leaders in Blanding were killed in a plane crash early Friday morning. Saturday morning, federal investigators will try to determine why the plane went down. But what we know now is Blanding has lost three of its finest.
The wreckage shows a violent crash. All that's left of the Piper Cub aircraft is scattered pieces. A wing was severed from the single-engine plane. The crash left Blanding city council members Eric Johnson and Brian Bayles, and former council member Kim Acton, dead.
"These men were the best we had," said Blanding Mayor Toni Turk. "It's almost surreal. It's hard to grasp the enormity of the impact."
The three went scouting for elk and game around 6:30 Friday morning. It's a mystery why the plane crashed only a half hour after it took off from Blanding airport.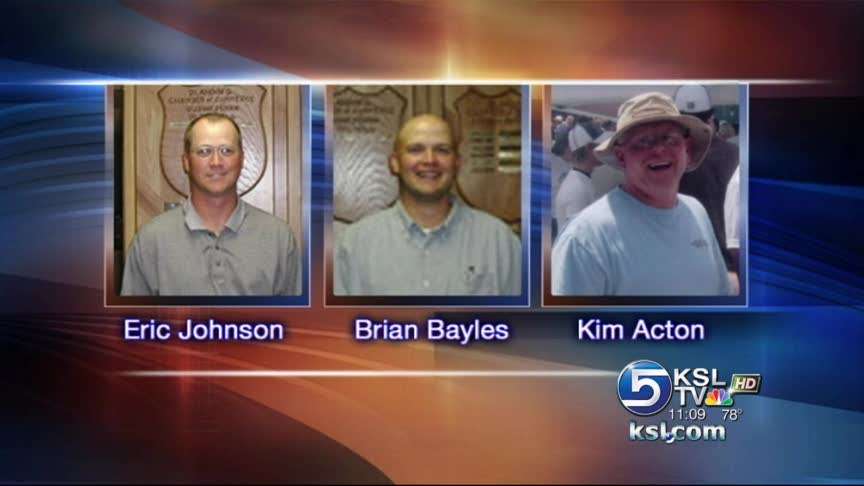 Eric Johnson was the pilot. He leaves behind four children. "Some of the children are young enough they don't understand their dad didn't come home," said David Johnson, Eric Johnson's uncle.
They were guys who grew up together, were in the same LDS ward, and always called the small town of Blanding home.
Just a few months ago, Brian Bayles bought a popular burger drive-in. The business thrived.
As for Kim Acton, David Johnson said, "The kids in the community absolutely loved him."
Now, love for leaders lost. The town where everyone knows everyone is coming together to grieve, while at the same time searching for an answer to what went wrong.
"Through the grace of God, we move forward," David Johnson said.
Federal aviation investigators have a press conference scheduled for 10:00 Saturday morning. We're hoping that will at least know some preliminary answers as to why the plane crashed.
E-mail: gkennedy@ksl.com
E-mail: aadams@ksl.com
×
Photos
Most recent Utah stories