Estimated read time: 5-6 minutes
This archived news story is available only for your personal, non-commercial use. Information in the story may be outdated or superseded by additional information. Reading or replaying the story in its archived form does not constitute a republication of the story.
CHICAGO — Nick Vigil was selected with the 87th overall pick Friday by the Cincinnati Bengals during the NFL Draft, and teammate Kyler Fackrell was the 88th pick by the Green Bay Packers.
Vigil was the 24th pick of the third round, and the third pick of the draft by the Bengals, who also picked up Houston cornerback William Jackson III and Pitt wide receiver Tyler Boyd.
Fackrell was the Packers' third pick, the 25th of the third round, and one pick after Vigil. Green Bay also selected UCLA's Kenny Clark and Indiana's Jason Spriggs.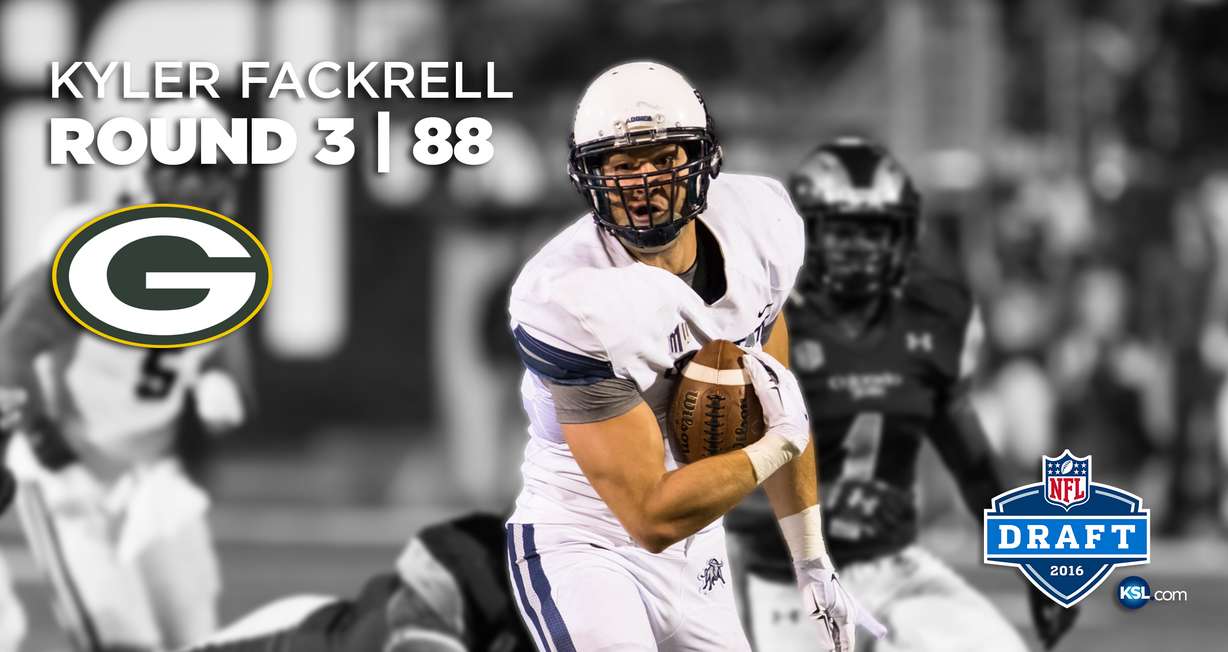 Vigil became the highest drafted Aggie since Bobby Wagner went to the Seattle Seahawks in 2012. A total of nine Utah State football players have found pro careers through the NFL Draft in the past six years.
Utah State coach Matt Wells congratulated both of his players on Twitter.
So proud of Kyler & Nick 4 the men they are on & off the field!Proud of them for earning everything coming to them! #Back2Back#NFLDraft2016 — Matt Wells (@CoachWellsUSUFB) April 30, 2016
A two-time first-team all-Mountain West linebacker in 2014 and 2015, Vigil declared early for the NFL Draft after finishing a degree in sociology with hopes of joining older brother Zach, who played in three games and posted 15 tackles as a rookie for the Miami Dolphins in 2015.
Bengals coach Marvin Lewis said the team drafted Vigil in part for his versatility and ability to contribute in multiple positions.
"Nick Vigil gives us another player that showed a lot of versatility," Lewis said. "He's been an inside, downhill linebacker at Utah State in the middle of the defense, scraping, playing over-the-top and through blocks, and he's done a great job. He's a smart kid, you can tell he understands the passing game, playing in passing lanes, and he has been productive there. He's a good fit for us.
"He brings the ability of speed on special teams and playmaking and all the things that you want of a young linebacker as he comes in the National Football League."
Vigil finished first in the conference with 144 tackles in 2015, and also finished eighth in the league with 13.5 tackles for loss. He leaves Utah State ranking third all-time with 38.5 tackles for loss and 13th all-time with 324 tackles.
The 6-foot-2, 235-pound Vigil was the only player in the country to record at least nine tackles in every regular-season game of 2015.
The former Fremont High standout, Vigil earned Class 5A MVP and Region 1 MVP honors while helping the Silverwolves to a 5A state runner-up finish in 2011. He rushed for 1,309 yards and 19 touchdowns, including a 256-yard playoff game.
Vigil's experience in multiple sets — as well as on offense as a brief college running back — made the Bengals want to jump up and get him before Friday's third round ended.
"He's a fit for us," Bengals defensive coordinator Paul Guenther said. "There are certain players, you say, 'Eh, it may take this guy a year.' But this guy's done it, it's on tape. The evidence is there. It's the same front that we play. So I would say, yes, he's going to come in and pick it up fairly quick."
Fackrell was on the phone with the Packers when he saw Vigil's name called at the draft, and the senior texted his longtime teammate congratulations, a response that was quickly reciprocated.
"I looked at my wife, then texted him and said 'congrats.' He said the same," Fackrell said during a teleconference with Green Bay-area reporters. "It was kind of funny that we went 88 and 89. I'm very excited for him, and I think he's excited for me."
Fackrell rebounded from a season-ending knee injury in the first game of his junior season to start all 13 games as a senior in 2015. The first-team all-Mountain West linebacker ranked first in the nation with five fumble recoveries, and also finished with 82 tackles, 15 tackles for loss, four sacks and a school-record 12 quarterback hurries.
"It got stronger as the season went on," Fackrell said of his knee. "It continues to feel better and I look forward to this next year."
A semifinalist for the Dick Butkus Award honoring the nation's top linebacker, Fackrell ranks tied for 10th all-time in Utah State history with 125 career interception yards. He is one of just 15 players in school history to earn first- or second-team all-conference honors three times during his career.
Fackrell started every game of his career except the injury-shortened 2014 season, bursting onto the scene as a first-team all-Western Athletic Conference pick as a freshman in 2012. His 87 tackles in 2012 ranks third all-time in tackles by a freshman in Utah State history, trailing just Del Lyles in 1988 and Terrance Washington in 2003.
A former high school quarterback and wide receiver, as well as linebacker, Fackrell led Mesa (Arizona) High School to a 9-5 record and runner-up finish in the Arizona Class 5A-I state playoffs as a senior, when he posted 68 tackles, eight pass breakups, two interceptions and one forced fumble.
A former basketball and volleyball player, Fackrell and his wife Elizabeth are the parents of one daughter. All three are excited to move to Green Bay, and for the chance to play in the Packers' 3-4 defense alongside future Hall of Famer Julius Peppers and Clay Mathews.
"It's what I am familiar with, and it's an incredible opportunity. The town is my speed, our speed as a family, and we are very excited," Fackrell said. "Those are guys I'm looking forward to learning from. There are a lot of great players, and it's a great team. I'm so excited to learn and contribute anything I can."
×
Photos
Related stories
Most recent Sports stories