This archived news story is available only for your personal, non-commercial use. Information in the story may be outdated or superseded by additional information. Reading or replaying the story in its archived form does not constitute a republication of the story.
SALT LAKE CITY — April is Child Abuse Prevention Month, and for the second year in a row, The Church of Jesus Christ of Latter-day Saints is giving a public show of support to community efforts to not only prevent abuse but to support those who have been abused.
"Children are so precious and dear to us and to our families and we want to do everything we can to keep them safe," said Sister Bonnie Oscarson, General Young Women's President.
On Thursday, Sister Oscarson welcomed child advocates, including the executive director of the National Children's Alliance headquartered in Washington, D.C., to offer the church's support to their efforts on a difficult issue that many are uncomfortable talking about.
Sister Oscarson presented $100,000 donation to the National Children's Alliance and $25,000 to the Children's Justice Centers.
"I think it is important to note that child abuse exists in every community," said Teresa Huizar, executive director of the National Children's Alliance. "And just to know that they are not alone, that so many families have struggled with this and there is a genuine desire for the community to reach around families struggling with this issue and provide help."
Help often comes from the Children's Justice Center. Last year in Utah, the Children Justice Center was the first step in helping 5,500 child victims begin the healing process.
"They leave feeling a sense of hope, that healing can occur, that they can recover from their experiences," said Susanne Mitchell of the Salt Lake County Children's Justice Center.
Every day, Mitchell sees the relief children and their families feel, once they come forward to the Children's Justice Center.
"When someone has been the victim of a crime, they fear people will judge them negatively or blame them, and they need to know, that no one is going to judge them," Mitchell said. "No one is going to blame them. They are still the same wonderful person they always were."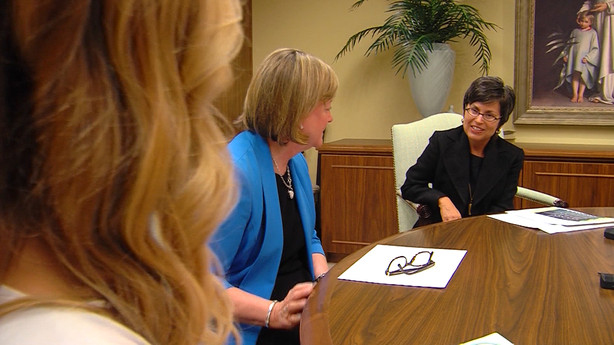 There are 22 Children's Justice Centers throughout Utah. Each works closely with police and prosecutors to minimize the emotional toll victims can feel when they report abuse.
"If there is an allegation of abuse, each child is then brought to one of the centers where he or she is interviewed by trained professionals, they receive support services from a trained staff that treats them with tremendous care and compassion," said Tracey Tabet of the Utah Attorney General's Office.
Church officials also released a summary of the safeguards the church takes in its congregations to prevent abuse and leaders are encouraging anyone who may be suffering in silence, to simply ask for help.
"Just know there are people out there who are willing to help," said Oscarson.
A statewide resource that is available to anyone who is concerned about possible abuse is onewithcourageutah.org. The site lists warning signs as well as a hotline people can call for help.
Additional Resources
The Utah Department of Human Services has a statewide, 24-hour hotline for victims of domestic violence at 1-800-897-LINK (5465) and a child abuse and neglect hotline at 1-800-323-DCFS (3237).


The Utah Division of Child and Family Services offers counseling, teaches parenting skills and conflict resolution and can connect families with community resources. Its goal is to keep children with their family when it is "possible and safe." Visit dcfs.utah.gov/questions/ or call 801-538-4100.
×
Photos
Related Links
Related Stories