Estimated read time: 3-4 minutes
This archived news story is available only for your personal, non-commercial use. Information in the story may be outdated or superseded by additional information. Reading or replaying the story in its archived form does not constitute a republication of the story.
SANDY — The last of the equine stars of Cavalia's "Odysseo" arrived in Utah for their stay under the White Big Top, part of a caravan of 110 semitrailer trucks moving the biggest touring show on Earth.
A few of the horses ambled out of a shiny, silver trailer onto red carpet Friday for a media meet and greet, pausing, posing and primping like Hollywood stars for the cameras.
There was Ripple, an 11-year-old quarter horse from the United States; Grecko, a big Spanish purebred; and Drago, a gray Lusitano.
They are among 65 horses that will perform in Cavalia "Odysseo," the largest Canadian-owned cultural enterprise that is making its first stop in Utah as part of a North American tour.
Founded by Norman Latourelle, the show combines equestrian showmanship with theater, acrobats and music against the backdrop of a complex stage, life-size carousel and projection screen.
The show is beginning a three-week run in Utah — perhaps longer if the shows are popular — before the touring company moves onto its next venue.
Darren Charles, the show's artistic director and choreographer, said it has been a dream of Latourelle's to bring a performance to the public that captures the bond between horse and man, and shows the beauty of that connection.
"A lot of people don't get to see the magic a horse and human can create," he said. "It's been his dream to show that friendship and that control that goes back and forth between the horse and the human. Because it is both."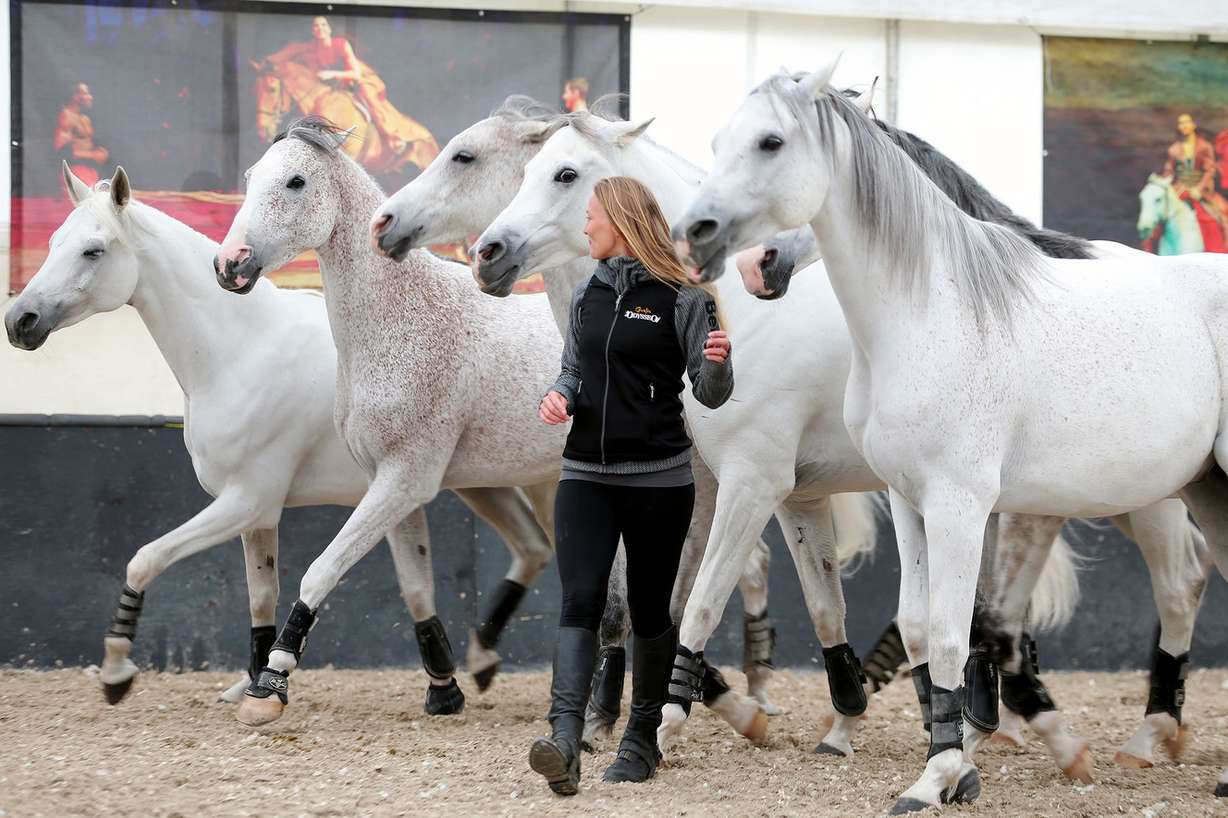 Charles is the man who transforms that dream into reality, fusing the talents of acrobats, aerialists and horses for "Odysseo."
"It is a machine and I have to keep it ticking," he said. "You will cry, you will laugh, you will hold your breath and you'll be repeating 'wow, wow, wow' the entire time."
In fact, Liberty — a fluid performance in the show that features riderless horses performing only with verbal commands — is an exercise in trust and respect directed in the ring by Elise Verdoncq.
Charles said the symmetry of the display was achieved only after practicing each day for hours on end for more than a year.
The show does not use whips, and each horse is cared for by a 20-person stable team made up of trainers, a veterinarian, health technicians and grooms. During the run of the performances — each horse performs roughly 12 minutes — the animals are housed in separate stables and treated to eight meals a day.
The equines even get their own showers, as well as massages.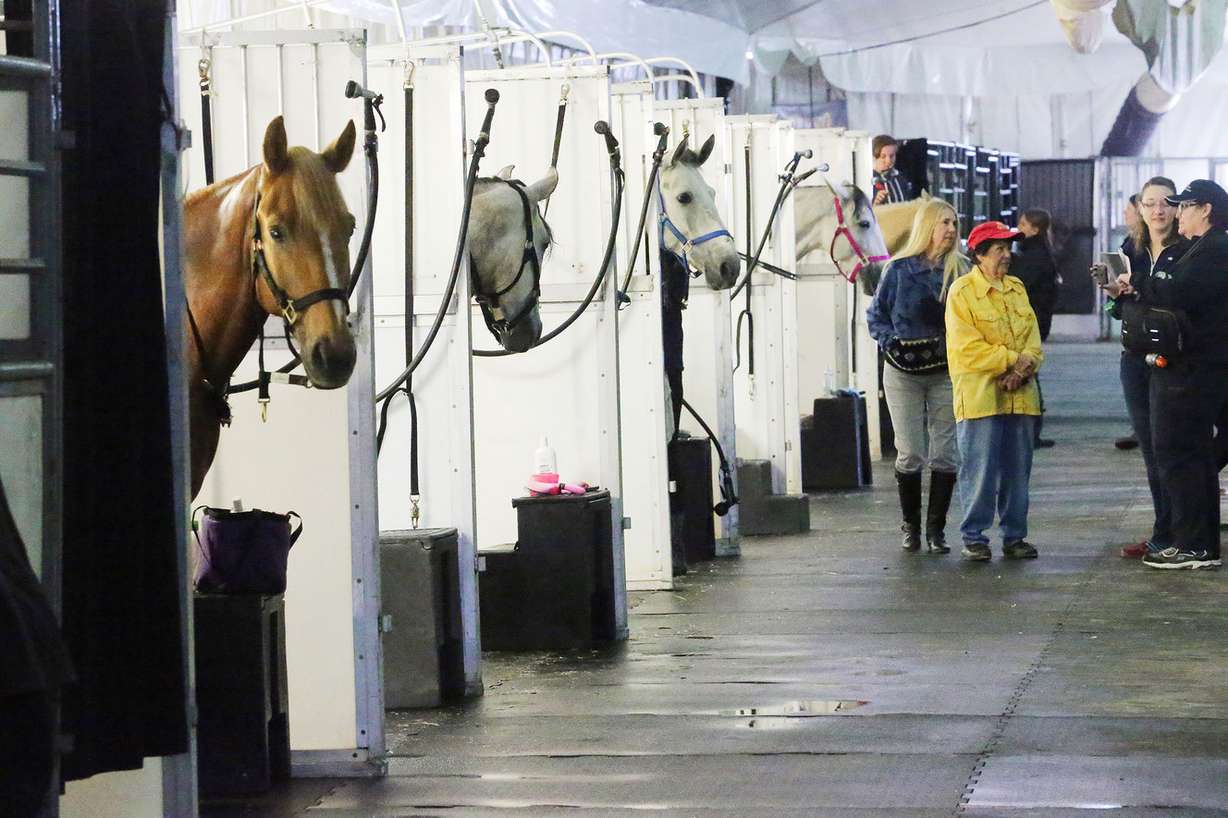 "It really comes down to the horses," said Claire Beer, an aerialist and rider from Detroit. "The beauty, the connection and the energy. People come away from the show touched, as we do. That's why we are here."
Each rider gets three or four horses they care for and work with.
Beer was standing next to Bud and Fabuloso, two of the horses she routinely uses for performances.
Riders and performers hail from Canada, France, Russia, Spain and the United States, to name a few.
Beer, 22, said the show is perfect for her because it allows her to combine her love of riding with the theatrics of the circus.
For Majolie Nadeau, a young woman from Quebec, Cavalia turned the trained acrobat into a horsewoman.
After 20 days of training with horses, Nadeau had her equestrian debut in front of the crowds.
"I was standing on a horse cantering," she said, beaming. "That was the first thing I did on stage after 20 days."
Cavalia "Odysseo" premiers Wednesday under the White Big Top adjacent to the Shops at South Town in Sandy and continues through May 8.
More information is available at cavalia.net.
×
Photos
Related links
Most recent Utah stories