Estimated read time: 4-5 minutes
This archived news story is available only for your personal, non-commercial use. Information in the story may be outdated or superseded by additional information. Reading or replaying the story in its archived form does not constitute a republication of the story.
PROVO — For BYU men's volleyball, Saturday's match against UC Irvine is about more than a three-match winning streak against the Anteaters.
It's about more than two of the blue bloods of college volleyball.
It's about more than a game.
It's about a chance at a title.
In the end, Saturday's match against UC Irvine is as important as top-ranked BYU's professed goal of winning the national championship.
Because that's all the Cougars are promised.
"This is the next match, and it's all we have guaranteed," said BYU coach Shawn Olmstead, whose squad hosts eighth-seeded Irvine (10-19) at 7 p.m. Saturday in the Smith Fieldhouse. "We just need to focus on our opponent, and in reality, that's all that is given to us. After that, you go play and compete to survive and live another day."
BYU (23-3) has been able to control what it has controlled for most of the year, though. The Cougars are riding a six-match winning streak, and boast two of the top middle blockers in the nation in Price Jarman and Michael Hatch. The only senior in the usual starting lineup, Hatch ranks No. 2 nationally among middle blockers with 1.47 blocks per set. But Jarman, a sophomore, is right behind him at No. 4 nationally with 1.41 blocks per set.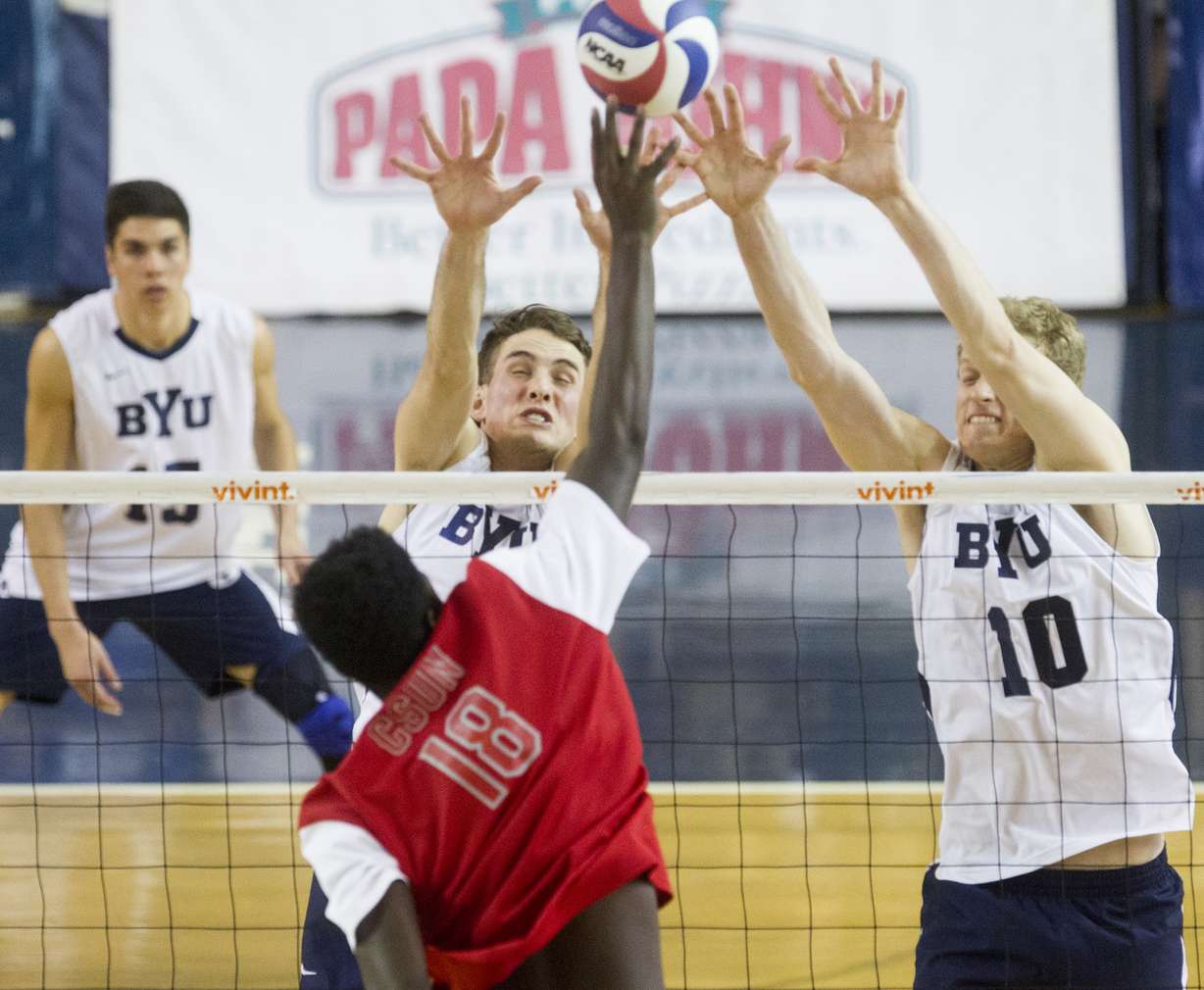 Jarman doesn't like to admit it, but blocking probably doesn't mean a whole lot to a team's win-loss ratio. Still, the energy and momentum of a defensive stop can make all the difference in a tight match.
"As far as giving the team energy, it's probably the biggest thing," Jarman said. "It just gives everyone a bigger mental edge after getting a big block. Everything else tends to go better after that."
A horrible post-block celebrator by his own admission, Jarman promised to change that — "maybe take some lessons," he quipped. But the underclassman from Las Vegas is more focused on celebrating wins — like they have all year.
"I feel like our mentality hasn't changed," Jarman said. "We've tried to stay hungry and to win every match. We've had that mantra all year.
"We've been preparing for this since August. It didn't start this week."
The Cougars come into the MPSF Tournament as prohibitive favorites, the consensus No. 1-ranked team in the latest AVCA Coaches' Poll and Off the Block national media poll.
But BYU also comes in clicking on all cylinders. Opposite Ben Patch leads all hitters with a .384 hitting percentage, averaging a team-best 4.31 kills per set, while Jake Langlois averages 3.11 kills per set at a .321 clip.
"Our block is humongous," Langlois quipped, before adding (only half joking), "It's got to be the biggest block in the nation."
BYU has also benefitted from a group of players that does more than just its assigned roles. Jarman is hitting at a team-high .527 hitting percentage, while Langlois contributes 0.99 blocks per set
In addition to his 3.12 kills per set, Brenden Sander also has 24 aces on the season, while Langlois leads the Cougars with 28 strikes from the service line.
MPSF Tournament
Quarterfinals
No. 8 UC Irvine at No. 1 BYU, 7 p.m. MT
No. 5 UC Santa Barbara at No. 4 Stanford, 7 p.m. PT
No. 6 Pepperdine at No. 3 Long Beach State, 7 p.m. PT
No. 7 Hawai'i at No. 2 UCLA, 7 p.m. PT
"In every practice, we focus on two-three things we want to get better at. For most of us, it'll be blocking or passing or serving," Langlois said. "We end up going through all of the skills, and at the end of the season, we're seeing the hard work put in each of those weeks pay off."
The Cougars know the No. 14 Anteaters well, and from more than just a pair of sweeps to end the month of January. UC Irvine has been one of the top teams in the MPSF, second perhaps only to BYU in terms of wins and national championship appearances over the past decade.
Looking across the net is like looking in a mirror, too.
The Anteaters boast four blockers who stand 6-foot-7 or taller, hitting at a .265 percentage with 1.92 blocks per set.
"They're similar to our guys. These are two big, strong teams going at it," Olmstead said. "I remember thinking they were a team we'd see again; but I thought that about a lot of MPSF teams. I think the fans will see that, too."
The next match is the only one that matters for top-ranked BYU, and that's the one that has all their attention.
Just like it's been through the season.
"It's the same thing we've always done," Langlois said. "Each, we set a goal of winning every match, and we go and try to play as hard as we can."
×
Photos
Related stories
Most recent Sports stories