This archived news story is available only for your personal, non-commercial use. Information in the story may be outdated or superseded by additional information. Reading or replaying the story in its archived form does not constitute a republication of the story.
SALT LAKE CITY — With Jerry Sloan's diagnoses this week revealed, it's been a natural time for me to begin thinking about Sloan's legacy as a coach in the NBA. The great news is that Sloan's already been recognized in all of the various ways a successful coach can be: he was inducted into the Basketball Hall of Fame in 2009. The Utah Sports Hall of Fame inducted him and long-time assistant Phil Johnson in 2011. And the number "1223" was raised into the rafters at Vivint Arena, indicating the overwhelming number of wins Sloan accumulated with the Utah Jazz.
But still, I sometimes feel like people overlook what an incredible mastermind Sloan was coaching on the court. We often share stories of his incredible toughness, his work ethic, his leadership, his grit and his industry. We share videos of him getting into it with players and referees alike. But how often do we talk about just how effective his teams were?
Let's say you were designing a scientific experiment to see how effective Jerry Sloan was as an NBA head coach. Ideally, like any experiment, you'd have a control group: essentially, you'd have the Jazz play a season with Jerry Sloan, then have the same group of players play a season without Sloan and see how the two seasons compare. This, unfortunately for our truth-seeking, is impossible. Even at the bookends of Jerry Sloan's Jazz career, enough changed on the rosters that it's hard to directly compare the seasons in this way. And even if you do, it's fairly favorable to Sloan.
The next best thing, though, would be if you had multiple different cores of players to compare. After all, any coach would have been at least relatively successful with legendary talents like John Stockton and Karl Malone.
But Sloan brought success to three different "cores." Let's look at each:
Stockton and Malone
Coaching Stockton and Malone for nearly 20 years is an incredible slice of good fortune for Sloan, no doubt. But it's a little bit incredible what he did with those teams despite the lack of useful talent around them. For example, from Dean Oliver's 2004 book "Basketball on Paper," here are the top offenses in NBA history to that point: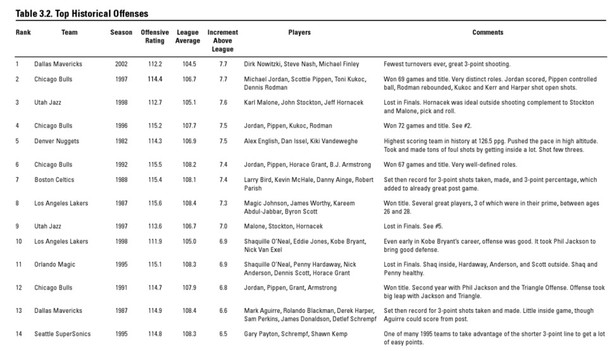 The Stockton, Malone, and Jeff Hornacek offense, even with only Adam Keefe and Bryon Russell as complements, was the third best offense of all time!
The Andrei Kirilenko season
The following 2003-04 team was led in minutes by the following six players: Andrei Kirilenko, Greg Ostertag, Raja Bell, Carlos Arroyo, Jarron Collins, Raul Lopez, and DeShawn Stevenson. That is a terrible offensive lineup: honestly, I'd describe only Kirilenko there (and maybe Arroyo, but only maybe) as a player who's capable of doing anything on offense besides catching the ball and immediately shooting or dunking.
And yet, they finished as a nearly league-average team offensively. With 42 wins, they blew away expectations that they'd challenge for the worst team in NBA history. That Sloan didn't win Coach of the Year honors for this performance (Hubie Brown of the Memphis Grizzlies did) is mindboggling.
The Deron Williams, Carlos Boozer, and Mehmet Okur years
This team was also elite offensively, finishing first in the league in offensive rating. Unlike the Stockton and Malone years, they also did it without a single elite star: yes, Deron Williams and Carlos Boozer were good, but their drop off after leaving Sloan's system is not a fluke.
So much of their success was as a result of the flex system Sloan implemented. While Williams and Boozer were a PG/PF combo, like Stockton and Malone, the two offenses were wildly different in how they used the star players. The willingness to use so much of Okur, one of the league's first stretch centers, was a legitimate revolution as well.
Because of the toughness and grit Sloan espoused, many consider Sloan to be a defense-first coach. But he was an offensive genius, first and foremost. His adaptability to different sets of personnel was a lot of what made his coaching career so successful.
If imitation is the sincerest form of flattery, then coaches around the league are sending a great amount of praise towards Sloan. Of course, no team has ever used the pick and roll as effectively as Stockton and Malone did in the '90s, but even those teams didn't run the set as much as every team in the league does today, when nearly offensive possession features some form of pick and roll.
And the flex system that Sloan drove in the '00s finds adopters everywhere: all of the backscreens, the UCLA cut, and more are being used frequently in essentially every NBA game to get players open. What the league figured out is that there was a reason Sloan's sets were so hard to guard, and copied all of the best elements to fit their own players.
In other words, it's not just the intangibles and leadership that made Sloan one of the best basketball coaches of all time. It's his status as a legitimate pioneer in the industry. Let's remember both as his legacy.
×