This archived news story is available only for your personal, non-commercial use. Information in the story may be outdated or superseded by additional information. Reading or replaying the story in its archived form does not constitute a republication of the story.
SALT LAKE CITY — The Church of Jesus Christ of Latter-day Saints' annual general conference is approaching, and each of the six sessions will be broadcast live, according to the LDS Church.
The general women's session began the conference Saturday at 6 p.m. Three more sessions will follow next Saturday, April 2, at 10 a.m., 2 p.m. and 6 p.m., with the general priesthood session concluding the day. The final two sessions will take place Sunday, April 3, at 10 a.m. and 2 p.m.
The general women's session includes females who are at least 8 years old. The general priesthood session includes LDS males who are at least 12 years old.
During general conference, "General authorities and general officers of the church deliver spiritual messages about a variety of subjects related to the gospel of Jesus Christ," according to the LDS Church.
This general conference will be the first to be broadcast to the entire continent of Africa. Those interested in viewing the conference live can do so at LDS.org, BYUtv,BYUtv International,the Mormon Channel on YouTube,Roku and Facebook.
To attend the conference in person, individuals must obtain tickets. Certain items are not allowed, such as cameras, recording devices, weapons, food, backpacks, packages and large bags. Those without tickets may wait in a standby line beginning at the north gate of Temple Square.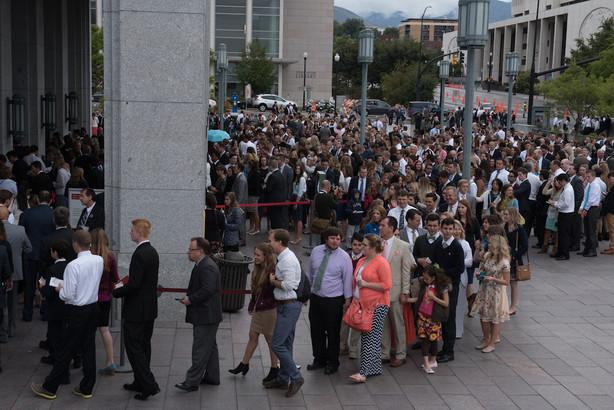 Due to limited parking in downtown Salt Lake, those attending conference may carpool or ride public transportation. Drivers should plan on extra time for travel. Those attending conference cannot park at the Conference Center parking lot and should not park in front of houses or downtown residential areas.
"Cars parked on neighborhood streets may be ticketed or towed at the owner's expense. Disability parking is located at the northwest corner of West Temple and North Temple, but it is limited and available on a first-come, first-served basis," according to the LDS Church.
First Presidency Easter message
The First Presidency of the LDS Church recently released an Easter message about Jesus Christ, calling him the Son of God, Jehovah of the Old Testament and Messiah of the New Testament.
"At this Easter season we give our sure witness that Jesus is the Christ," part of the message said. "Though He was crucified, He rose triumphant from the tomb to our everlasting blessing and benefit. He stands as our Advocate and Savior. He has done for all mankind that which no other could have done. God be thanked for the gift of His Beloved Son, our Savior, the Redeemer of the world, the Lamb without blemish who was offered as a sacrifice for all mankind."
Temple open houses
Two temples outside the state of Utah will be dedicated later this year.
The Star Valley Wyoming Temple open house will run from Friday, Sept. 23, to Saturday, Oct. 8, excluding the evenings of Sept. 24, Sept. 25, Oct. 1 and 2. The temple will be dedicated in three sessions on Sunday, Oct. 30. The day before the dedication, there will be a cultural celebration.
The Hartford Connecticut Temple open house will run from Friday, Sept. 30, to Saturday, Oct. 22, excluding Oct. 1, 2, 9 and 16. The temple will be dedicated in three sessions on Sunday, Nov. 20. A cultural celebration will take place the day before.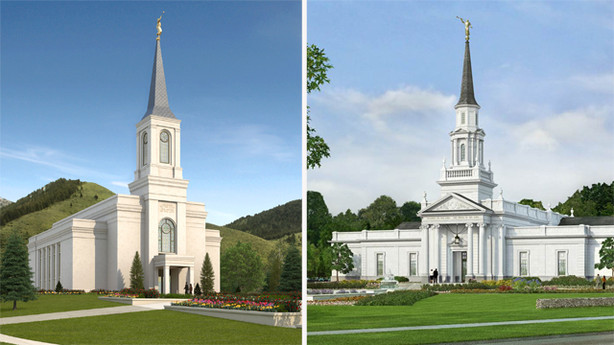 BYU forum
Catholic Archbishop Charles J. Chaput of the Archdiocese of Philadelphia spoke to Brigham Young University students March 22 and urged them "to help defend faith and religious freedom," according to the LDS Church.
"We need to wake each other up to see the world and our nation as they really are — the good along with the evil. We need to support each other in the work for religious freedom we share," he said at a forum in the Marriott Center.
He said he was there because he believes the friendship between the LDS community and the Catholic community is important.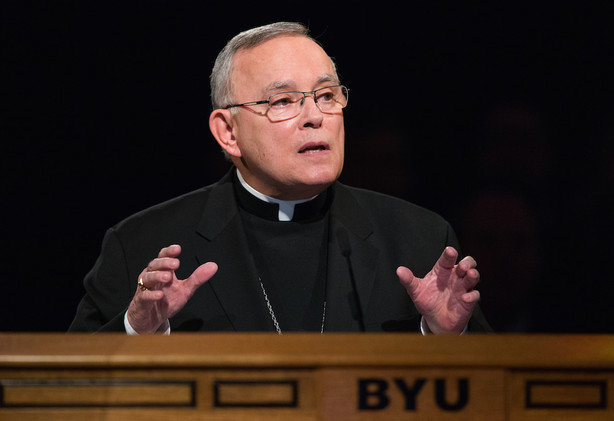 "It's important for our own integrity and the integrity of our country to fight for our convictions in the public square," Archbishop Chaput said. "Anything less is a kind of cowardice. But the greater task is to live what we claim to believe by our actions — fidelity to God, love of spouse and children, loyalty to friends, generosity to the poor, honesty and mercy in dealing with others, trust in the goodness of people, discipline and humility in demanding the most from ourselves."
No society is able to sustain itself for very long if marriage and family fall apart on a mass scale, he said.
"Faith in God is the road to life," he said. "And to borrow a line from the Gospel of Luke, the soul of this university, and the soul of each and every one of us here today, should 'magnify the Lord.'"
To view his speech, visit BYUtv.org.
Virtual 'Hallelujah' chorus
The world's largest virtual "Hallelujah" chorus featuring the Mormon Tabernacle Choir and other singers was recently posted online, and the LDS Church said the video is "powerful and unifying, combining different faces, ages, nationalities and experience levels all joining together to sing the well-known and powerful oratorio."
A well-known musician on YouTube, Peter Hollens, said, "I feel like this kind of project brings back who we are as people. It gets us to use technology for the better to come together instead of to separate us. I love that."
With his wife, Evynne, Hollens created the sing-along videos for the "Hallelujah" chorus. He encouraged their YouTube followers to participate in the chorus.
"We were so honored to take part. It's such an historic thing. It's just so epic being in the Tabernacle, singing with the choir. … It's kind of unreal," Hollens said.
BYU student Daniel Lima was also involved.
"I never actually thought (my video) would be chosen or that it would be featured so prominently in the final video. … It was just such an honor to be able to sing with them," he said. Additional participants include Utah Gov. Gary Herbert, Alex Boyé, BYU's Vocal Point and Donny Osmond.
According to the LDS Church, "Mormon Tabernacle Choir fans will have another opportunity to sing with the world-renowned choir and celebrate Easter by joining the live-stream 'Messiah' Sing on Friday, March 25, 2016."
More information, including live stream instructions, is available on www.mormontabernaclechoir.org.
×
Photos
Related Links
Related Stories