This archived news story is available only for your personal, non-commercial use. Information in the story may be outdated or superseded by additional information. Reading or replaying the story in its archived form does not constitute a republication of the story.
SALT LAKE CITY — For Bingham to have a shot at being the best, it first had to beat the best Friday night.
And seeing as it was Layton standing in the Miners' way, the team that knocked them out of the quarterfinals in last year's tournament, the victory was that much sweeter.
Bingham routed the Class 5A defending champion Lancers, 71-42, in the state boys basketball tournament semifinals.
"The last three years we lost to them three times," Bingham head coach Jake Schroeder said. "We had a really close-knit team last year. Our seniors thought we had a chance to do some special things last year. I think our seniors this year wanted to make sure we won that for them."
Layton was down just four points with the clock ticking down to halftime before Yoeli Childs decided Bingham's lead wasn't big enough. The senior, who signed with BYU, stepped back on his defender and splashed home a 3-pointer at the buzzer to give the Miners momentum and a 29-22 lead.
"We kind of struggled a little bit early," Schroeder said. "It's kind of like we did yesterday — running in mud, it felt like — but once we got a couple stops we kind of started flowing a little bit. And we really defended."
Bingham outscored Layton 23-11 in the third quarter to extend its lead to 52-33 entering the final period.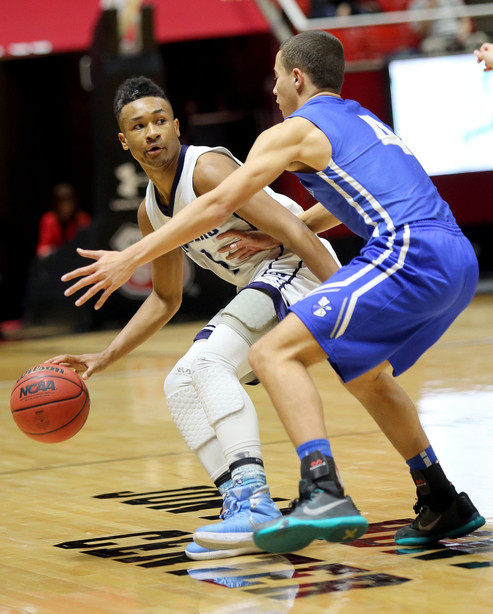 "Last year we kind of had a little lead going into halftime against the same team," Childs said. "We knew they were a team that can get right back in it. I think a big thing for this team is we're always focused. We can be up 20, up by 30 and our mentality doesn't change."
Childs led all scorers with 20 points to go with his game highs of 11 rebounds and six blocks.
"He was phenomenal tonight," Schroeder said of Childs. "He's played a lot of minutes for me the last three games. He's been beat up. He's been knocked down. But he just keeps growing and getting better and better."
In order to avoid a second consecutive year of elimination at the hands of the Lancers, Schroeder said his message to his team at halftime focused on crashing the boards.
"We take a lot of pride in our rebounding," he said. "Last year the only team that beat us in the rebounding battle was Layton. They beat us by, I think, six or seven. That was our main focus tonight."
In addition to going 15 of 23 (65.2 percent) from the field after halftime, the Miners ended with a rebounding edge of 43-32.
"Since the beginning of the year we've treated every game the same," Childs said. "We've said, 'treat this like it's the state championship.'"
On Saturday they'll be able to do just that but for real this time, as Bingham meets Copper Hills at 3 p.m. in the Huntsman Center for the state title.
The Miners are seeking their first boys basketball championship since 2006.
---
Kyle Spencer is a freelance journalist residing in Orem. You can find him on Twitter @kyledspencer or reach him by email at kspence04@gmail.com.
×
Photos