Estimated read time: 4-5 minutes
This archived news story is available only for your personal, non-commercial use. Information in the story may be outdated or superseded by additional information. Reading or replaying the story in its archived form does not constitute a republication of the story.
SALT LAKE CITY — Critics insist the latest version of what's been dubbed the "Rocky Mountain Power" bill at the Utah Legislature would mean lights out for any more rooftop solar development in the state and pull the plug on existing solar power generation.
The massive Sustainable Transportation and Energy Plan Act passed the Utah Senate on a 20-7 vote Friday and now awaits action in the House.
SB115, sponsored by Senate Majority Whip Stuart Adams, was amended Thursday afternoon to include a provision critics say allows Rocky Mountain Power to deal with its solar customers without taking rate cases to the Utah Public Service Commission.
The practical effect, said Kelly Curtis of South Jordan-based Solaroo, would be to kill any of the residential incentives to install rooftop solar and wipe out savings for existing customers.
"It is a way to squash solar generation," said Curtis, who is chief executive officer of the locally owned company.
Rocky Mountain Power spokesman Paul Murphy said the bill's provisions have been "completely misconstrued."
"Environmentalists should be cheering STEP instead of protesting it," he said. "STEP will improve the air and add additional renewable energy without raising electricity rates."
Murphy added that the net-metering provisions in the bill simply deal with the case already before the Public Service Commission.
But Curtis said he fears the bill's practical effects are for Rocky Mountain Power to corner the market on solar power generation.
"It is a way to monopolize solar," Curtis said.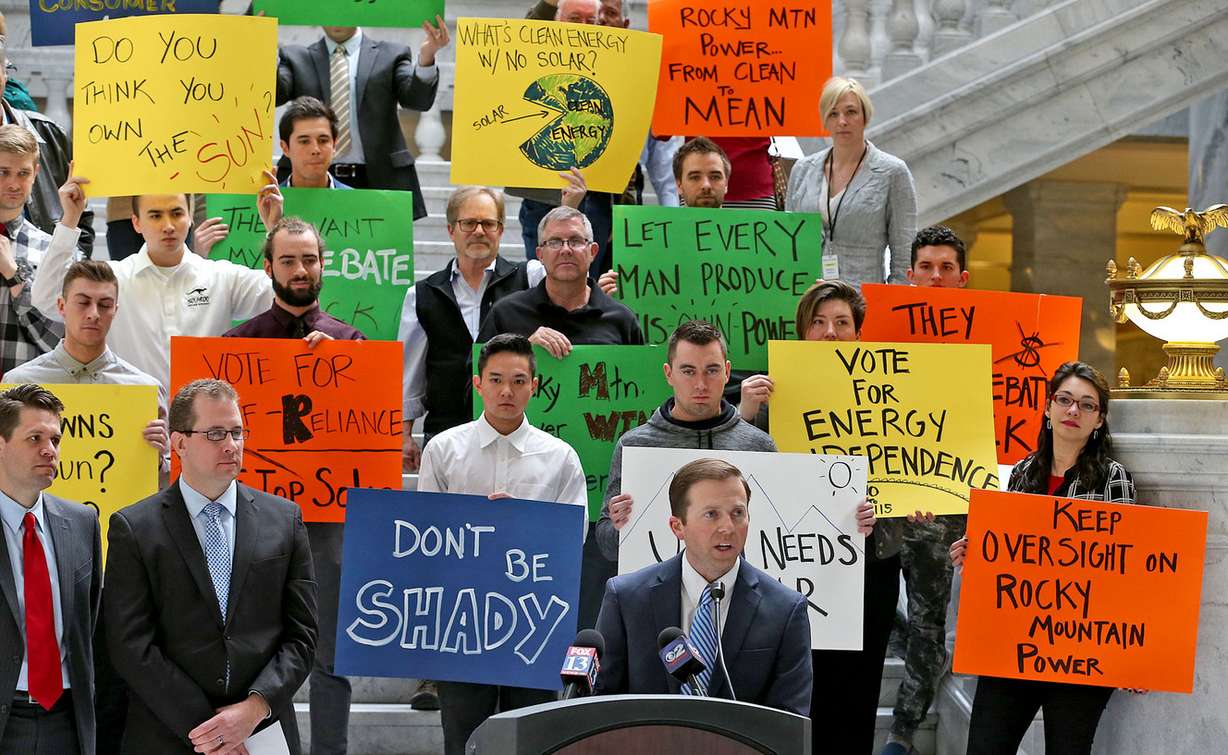 Curtis was among those in a frenzy Friday at the Utah Capitol, peppering members of the Senate with pleas to hold the bill prior to the vote.
Utah Clean Energy attorney Sofie Hayes said the problem with Adams' latest version of the bill is that it signals to the Public Service Commission that benefits of rooftop solar do not have to be accounted for when its members consider rate cases proposed by the utility company, putting net-metering customers at risk of being financially penalized.
Curtis said a similar measure was approved in Nevada at the end of 2015, and the result has been an exodus of solar jobs and industry from the state.
"Solar City left and took 550 jobs with them, and the total count will be 1,000," he said.
Under the measure involving NV Energy — owned by Berkshire-Hathaway, the same parent company as Rocky Mountain Power — the utility company can boost its solar fees for customers and pay them below market rates for the power it then takes and puts back into the grid.
Nevada solar customers filed a class action lawsuit in January against NV Energy, alleging the utility company committed "consumer fraud" by abandoning the old rate structure and is trying to cripple the solar industry in the state.
Rocky Mountain Power has pushed for a monthly surcharge on solar customers as a way to ensure those customers continue to pay for costs associated with maintaining the "grid" and delivering electricity. Those fixed costs, it argues, remain regardless of how much power is being pulled — or returned — to their system.
Critics call it a "sun tax," but utilities argue net metering amounts to a subsidy for solar customers because they pay retail rates when they could buy the power — even renewable energy — at a cheaper wholesale rates. Nonsolar customers, they add, are paying more for those fixed costs, while solar customers pay less.
Adams' measure, billed as a clean energy proposal, includes $500,000 for investment in clean coal technology, nearly $4 million for "innovative utility programs," and $2 million for an electric vehicle incentive program, all funded in-house by the utility company.
The Sustainable Transportation and Energy Plan is a Rocky Mountain Power initiative that the utility company says allows it to streamline the way it recovers costs and provides it greater financial flexibility.
A number of groups, including consumer advocates, are critical of the legislation, asserting it frees Rocky Mountain Power from the tether of any oversight by the Public Service Commission and is chock-full of components that will amount to additional fees on a ratepayer's bill.
Hayes said Utah Clean Energy will continue to push to have any provision dealing with net metering excluded from the bill.
"The language we are seeing is very similar to what we saw happen in Nevada," she said, "and within a week, the market was just decimated."
×
Photos
Related links
Most recent Utah stories