This archived news story is available only for your personal, non-commercial use. Information in the story may be outdated or superseded by additional information. Reading or replaying the story in its archived form does not constitute a republication of the story.
While the price of oil is retreating, oil and the price of it remains a big topic of conversation these days, and talk of oil is growing in Central Utah, where word is that a major oil reserve has been discovered.
We reported back in April that a drill rig in Central Utah may have hit oil. Those who really know the status of the well won't talk about it, but from Chopper Five we were able to see something is happening at the site.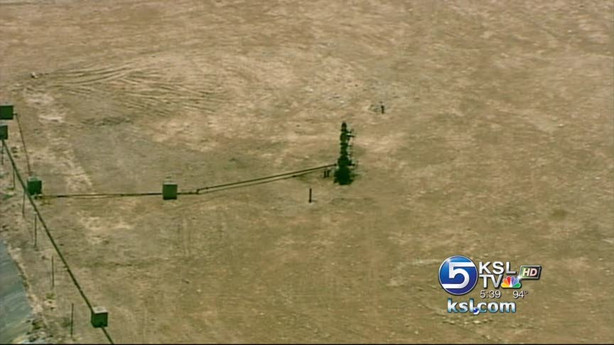 Where an oil rig once stood, we caught pictures of an operational oil well. And while the company isn't confirming or denying what is going on at the well, it signals that oil has been discovered in Sanpete County.
Major oil companies did seismic studies and even began drilling in Central Utah in the 1970s and early 1980s but never struck oil. The big players in oil exploration later abandoned the Mountain West. But a small, independent company bought Chevron's research and leases in 1999, and it appears to have paid off.
Wolverine Gas and Oil hit oil at the field in nearby Sevier County in late 2003. It appears Wolverine has unlocked the secret to where the oil is and, more importantly, how to recover it.
Other independent oil companies are taking notice too. There has been a frenzy of companies going after mineral rights or buying land in the area in recent months. Plans to drill at least two other wells in Sanpete County are said to be in the immediate future.
Some industry insiders call the Central Utah find the biggest discovery in the Rocky Mountains in 30 years and believe it could yield billions of barrels of oil. Community leaders of the small county are trying to prepare for what oil could bring.
Sanpete County Commissioner Mark Anderson said, "We have gone to other counties, such as Sevier, Uintah, Duchesne and asked them about the impact they have felt from oil discovery. And we've learned a few things from them. So we think we are ahead of the curve, and we're excited for the discovery, and we think it is a real plus for us."
The Utah Division of Oil, Gas and Mining is monitoring the well, but companies are afforded one year of confidentiality to protect their proprietary information, so we won't officially know what is happening there until next spring. Also, oil discoveries take time to develop, so it could be years before the extent of the discovery is really known.
E-mail: spenrod@ksl.com
×
Related Links