Estimated read time: 4-5 minutes
This archived news story is available only for your personal, non-commercial use. Information in the story may be outdated or superseded by additional information. Reading or replaying the story in its archived form does not constitute a republication of the story.
VIDEO: View the DA Press ConferenceView the Formal Charges - Court Document (PDF Files)
KSL Team Coverage
New details emerge about the murder of five-year old Destiny Norton, and prosecutors charge the man accused of killing her.
Peter Brooks: "I hope he's a stand up man and admits to his crime and takes his punishment like a man."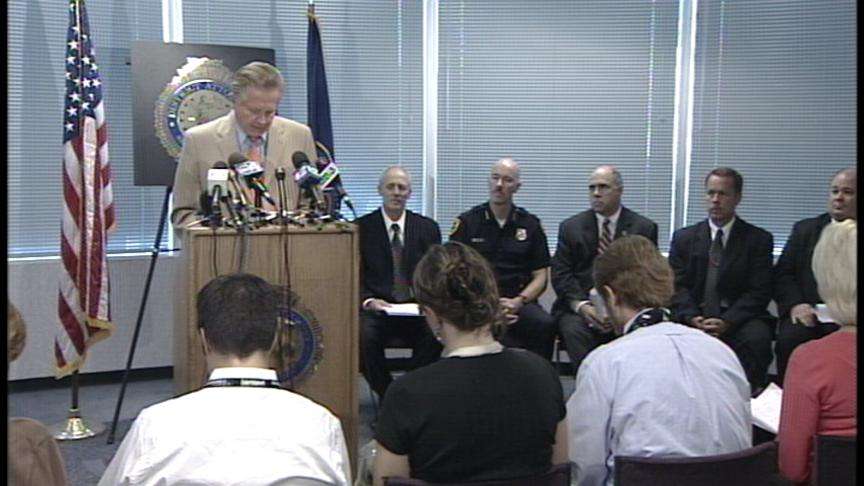 Twenty-year old Craig Roger Gregerson faces one count of aggravated murder and one count of child kidnapping. Because of the aggravated murder charge, Gregerson could face the death penalty.
Court documents today revealed difficult details of the crime. We learned, for the first time, that Craig Gregerson suffocated Destiny almost immediately after he kidnapped her, then sexually abused her dead body.
A family friend read this statement, from the girl's parents.
Peter Brooks: "They are very pleased on the outcome of the charges that were filed today."
Though difficult to hear, family and friends now have some answers, about what happened to Destiny.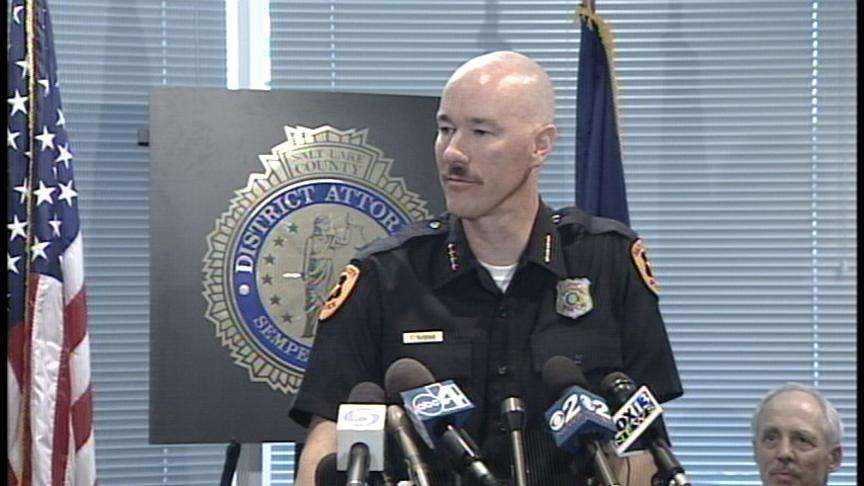 Peter Brooks: "It gives me a rock to stand on because I know Destiny is standing next to God."
Prosecutors say, on Monday, Craig Gregerson confessed to the crimes. Charging documents reveal, on July 16th, Gregerson saw Destiny playing in her backyard and persuaded her to go inside his house. Once she was inside, Destiny wanted to leave and began to scream. Gregerson put his hand over her mouth and squeezed. Destiny went limp.
Bob Stott, Prosecutor, S.L. Co. District Attorney's Office: "The defendant then carried Destiny's deceased body into his basement and later engaged in sexual activity with Destiny's body."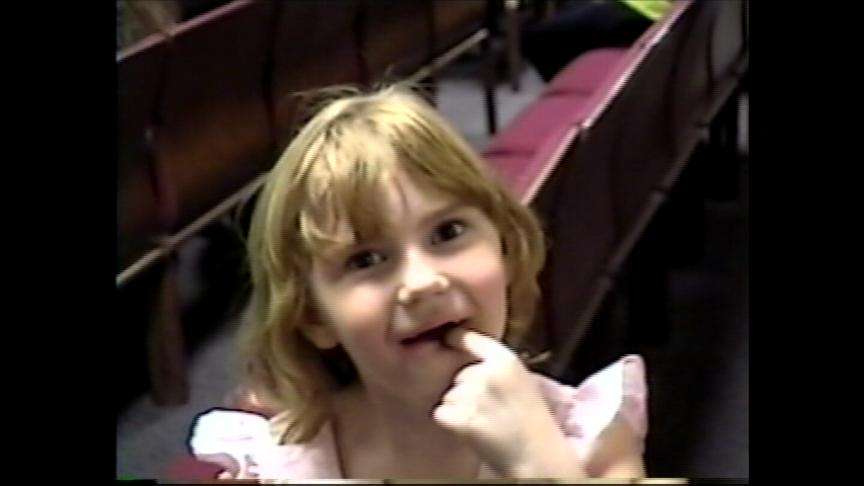 It was a scene of anger Monday night, when police announced they found Destiny's body.
Jeannie Hill: "They have betrayed our trust. They told us they looked. They didn't look."
Family friends demanded to know why police didn't find Destiny sooner, when she was only 50 feet away from her home. Police said they searched Gregerson's house last week, but there were no signs of a crime. Today, prosecutors revealed Destiny's body was in the suspect's basement, well concealed in a storage container.
Bob Stott: "My understanding is that it's a very tight, confined basement with a lot of material down there, and this was a plastic container that is closed."
Family and friends find some comfort knowing Destiny is home, and that they may see justice.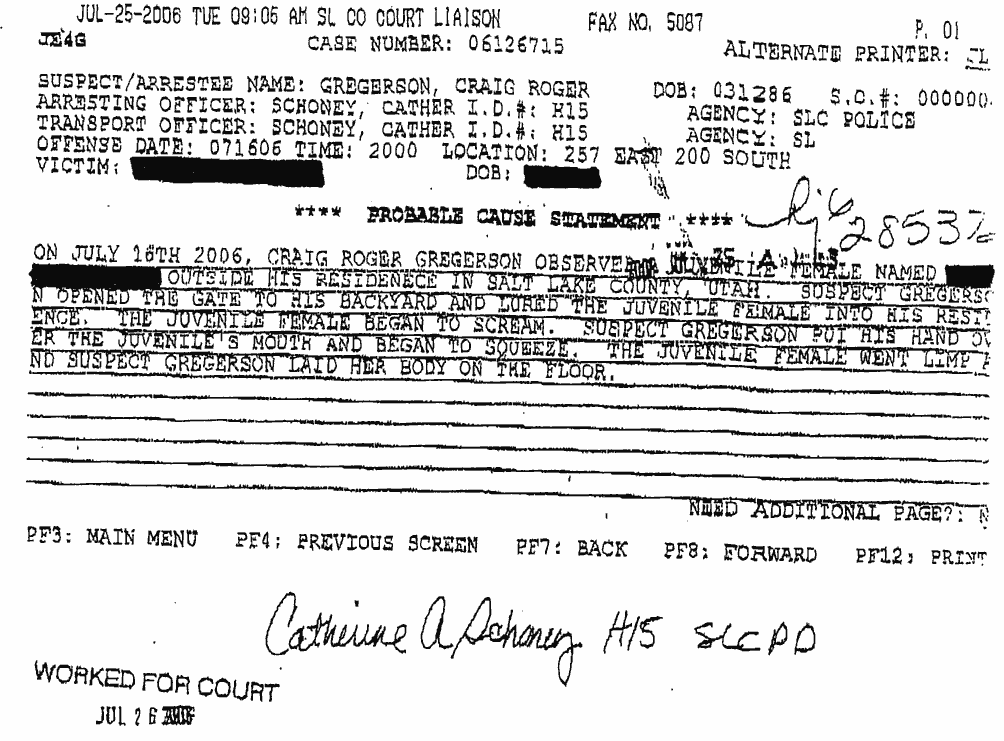 Peter Brooks: "No human being deserves to walk on this planet after doing that."
Gregerson will make his first court appearance tomorrow morning, at nine o'clock. He'll appear on video from the Salt Lake County Jail.
Salt Lake County prosecutors in this case say new state laws will allow them to seek a harsher punishment. One law deals with the treatment of victims after they die. And the changes came, in part, because prosecutors couldn't seek the death penalty in another murder case.
Fifteen-year old Tricia Autry was raped and killed in 1999. Her family learned her body had been dismembered and then dumped in Cache County. Cody Nielson was convicted in the death. Prosecutors wanted to enhance their charges and needed an aggravated murder charge.
Legislator Scott Wyatt, a prosecutor in the Autry case, sponsored two laws last year.
Rep. Paul Ray, (R) Clearfield: "I think we realized when we were doing this that it was a major change. It was a policy change that we were making that we were going to go out and aggressively go after these perpetrators."
Both bills passed the Legislature almost unanimously.
Salt Lake's Police Chief says authorities interviewed over 200 people in the case and were able to eliminate 76% of them as suspects, but that Gregerson's name remained on the list throughout.
Both police and FBI deployed extensive resources to this case. The FBI tells us they had about 100 FBI employees involved, including some from out of state. FBI employees also included the behavioral assessment and the child abduction rapid deployment team.
As shocking as the graphic details of today's charges have been to all of us, they have been even more devastating to the family of the victim and the accused. We heard from the Norton family earlier. A Gregerson family spokesman spoke to KSL Newsradio earlier today.
"The family is obviously devastated by the news that was released today. Their hearts are going out to the Norton family. At this point, they want the Norton's to get resolution to this as soon as possible."
Gregerson's parents have not spoken to him since he was arrested; they hope to be able to do that on Saturday.
Utah Senator Orrin Hatch said Destiny Norton's death is a dark reminder, we need to do more to protect our children. And he said with a law passed today, we will.
President Bush signed into law Hatch's bill calling for improvements to track down sex offenders. The "Adam Walsh Child Protection and Safety Act" creates a national database of convicted sex offenders and makes them register their whereabouts every month in person.
Elizabeth Smart and her father Ed also attended the signing.
×
Related Links