Estimated read time: 2-3 minutes
This archived news story is available only for your personal, non-commercial use. Information in the story may be outdated or superseded by additional information. Reading or replaying the story in its archived form does not constitute a republication of the story.
Pharmaceutical researchers are launching a new attack against deadly drug resistant staph. The bacteria are abundant in our environment, but in hospitals where patients are already compromised, drug resistant strains of staph can overwhelm the immune system. The world is paying a penalty now for our overindulgence in the use of antibiotics.
To cut infection rates in animals we eventually slaughter and eat, we gave them antibiotics. To prevent infection in humans, we've used the drugs like a prophylactic.
In nature's survival of the fittest, pathogens like staph, or strep, or others must evolve in order to survive. Genetically, they have to change or mutate. And they have, becoming drug resistant against many antibiotics.
Right now, the deadly drug resistant staph or MRSA (methicillin-resistant Staphylococcus aureus), is getting the most attention.
Biochemist Nafsika Georgeopapadakou says, "MRSA is sort of the poster bug for resistance. In the last year, it has killed more Americans than AIDS."
During a satellite interview, Dr. Nafsika Georgopapadakou talks of a new attack against these pathogens with non-antibiotic, anti-microbial compounds designed to wipe them out before they become systemic. She says, "The goal is to kill staph in its tracks before it enters the body."
The new compounds are called aganocides. A small company called NovaBay Pharmaceuticals has tested them on animals. So far the data looks good. In fact, the data is so good, researchers are preparing to move into the next phase of clinical trials. She says, "From the studies that have been carried out, resistance has not developed."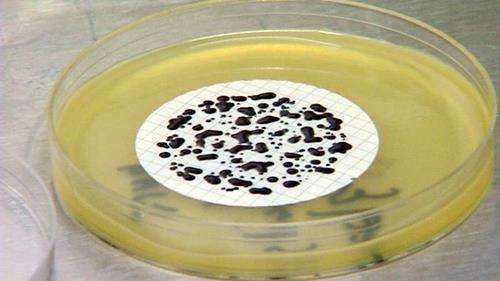 The compounds could be sprayed in the nose. As ointments or creams, they could be applied in the ears or in wounds or incisions in an operating room.
They won't replace antibiotics, but could preserve the few left that still work by attacking and killing these pathogens in a different way and in a different environment.
The compounds appear to be less toxic than conventional antiseptics. They target specific pathogens and they work faster.
But will testing prove them out? Will they prove as effective in humans as they do in animals? We won't know until all phases of the study trials are finished.
E-mail: eyeates@ksl.com
×
Most recent Utah stories