Estimated read time: 3-4 minutes
This archived news story is available only for your personal, non-commercial use. Information in the story may be outdated or superseded by additional information. Reading or replaying the story in its archived form does not constitute a republication of the story.
PROVO — Josh Hinton wheels himself into a room full of waiting doctors and nurses, a feat that didn't seem possible just over four months ago when he was on a ventilator, wearing a neck brace and in critical condition.
"I don't know how you can say 'thank you' for saving a life," he said, Thursday to the medical staff at Utah Valley Regional Medical Center.
His mother placed a basket full of treats on his lap. He handed it to one of the doctors. "This is a basket of all of my favorite things to say, 'Thanks for saving my life.'"
His mother, Jen Hinton, pushed back tears, as one by one members of the trauma team who saved him shook his hand, gave fist bumps and hugs.
He broke his neck Aug. 29, 2015, in a freak, catastrophic bounce house obstacle course injury at BYU orientation.
He spent 3 1/2 week in the ICU at Utah Valley Regional Medical Center, followed by three months at the Craig Hospital in Denver.
"Tell them who your physical therapist was at Craig," prompted his mother.
He answered with a smile, "Miss Colorado 2007." The room erupted in laughter, as staff members agreed that must have been "highly motivating."
The rapport at the reunion was instant; as he reached out his arms and did a little shimmy he called his new dance move. "It's what I got," he said.
Hinton was a ballet dancer who spent time training at the Anaheim Ballet. He still hopes to minor in dance when he returns to BYU in the fall. He also wanted to be a doctor before the accident, but those plans changed.
"Now that I've spent time in a hospital, I don't want to be a doctor," he said with a smile. There was more laughter.
Adam Phillips, his physician assistant who spent the most time with him joked, "So you're saying we're insane?" "Yeah, a little bit," Hinton said.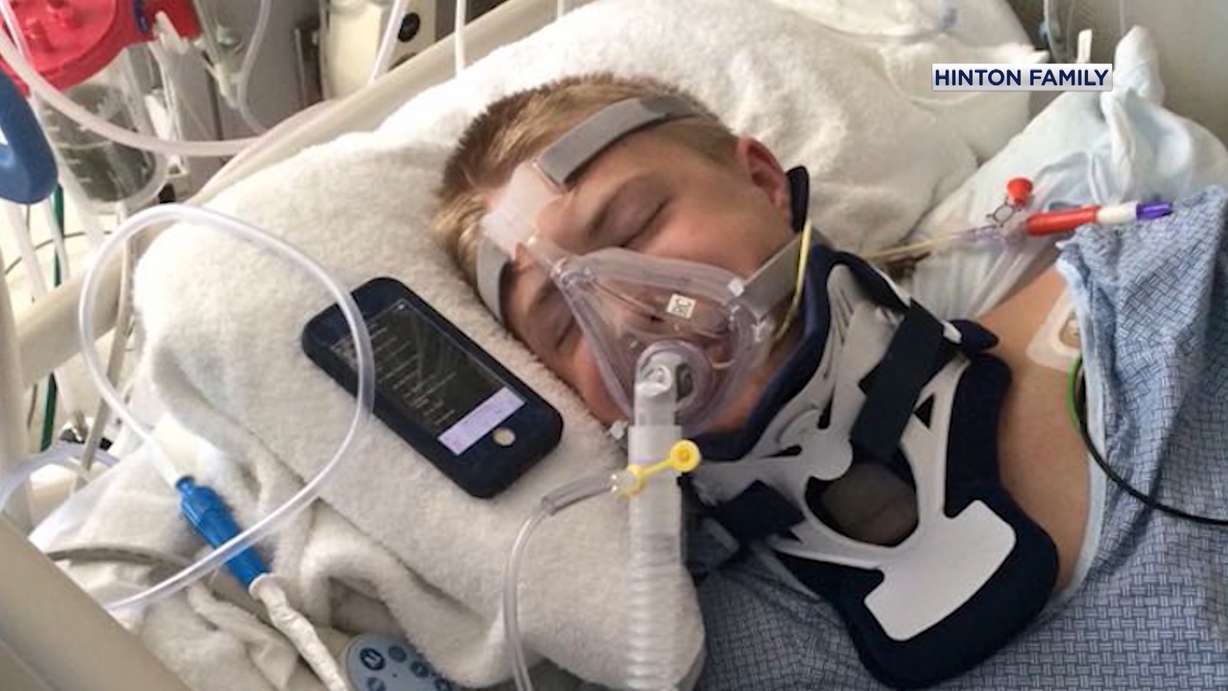 His sense of humor seems to have gotten him through an incredibly challenging road.
While he said he didn't recover any more muscle movement at Craig Hospital in Denver, all his abilities are stronger, like moving his arms and wrists. He also has muted feeling all the way down to his feet, he said, and which doctors agree is a very good sign. At Neuroworx in Sandy later the same day while suspended in a harness and with assistance, he walked on a treadmill. He spends five days a week there doing physical therapy.
It all adds up to baby steps of steady progress. Another important part of his recovery is his family support. His sisters lift him up when he's feeling down without even knowing it, he said.
As he hugged a hospital technician, his mother wiped away tears. "It is amazing to talk to people who saved your child. How do you ever thank someone for that? You know? I will love them forever," she said.
With 3,500 members of Team Hinton on Facebook, Josh has become an inspiration.
And he is not shy about sharing the final element that has made all the difference in his recovery: his Mormon faith.
"So much of it comes from the faith that I have that God is in control. I believed in God before the accident and I still believe in God. I just rely on him more now," he said.
×
Photos
Related stories