Estimated read time: 2-3 minutes
This archived news story is available only for your personal, non-commercial use. Information in the story may be outdated or superseded by additional information. Reading or replaying the story in its archived form does not constitute a republication of the story.
SALT LAKE CITY — Keep your fingers crossed.
A new water outlook report shows Utah is sitting pretty when it comes to the snowpack in the mountains, thanks to the big storms that swept through in December.
But with 75 percent of the snow accumulation season yet to go, water managers can't afford to relax and are hoping 2016 doesn't behave like 2015 did.
"Last year is one we really don't want to repeat, even though it started with a big late December storm, it ultimately ended up with record low snow in many locations," said the report issued Thursday by the Natural Resources Conservation Service.
The precipitation since the start of the water year on Oct. 1, across the state, is sitting at just about normal. But at the two ends of the state, the differences are dramatic.
Along the Wasatch Front, the Bear River Basin, the Ogden-Weber Basin and the Provo, Utah Lake and Jordan basins are hovering in the below average range of mid-80s for seasonal accumulation since Oct. 1.
The southern end of the state, meanwhile, is awash in water, with seasonal accumulations that range from 135 percent of normal in the Dixie area to 170 percent of normal in southeastern Utah.
"We're feeling really really good about southern Utah because the long range climate center predictions were spot on," said Randy Julander, supervisor of the service's Utah Snow Survey.
The southern and central portion of the state is benefitting from El Nino, a weather phenomenon caused by warm water conditions concentrated in the western Pacific Ocean.
December precipitation in that region of Utah produced dramatic results, with as much as double the amount of what is the average accumulation in some areas.
Julander said it's much less predictable if any of the El Nino effect will impact the northern half of the state.
"Northern Utah is one of those coin tosses. We could benefit from El Nino conditions or it could go dry on us," he said.
Julander said the state needs to have a continuous stream of good mountain storms to happen into April to pump up reservoir storage and help ameliorate the impacts of a four-year drought.
Statewide, reservoirs are on average just over half full, but some regions remain worse off than they were last year at this time. Reservoirs in the Weber Basin system, for example, sit at 43 percent of capacity, compared to 47 percent in January of 2015.
"It is still a long, long ways to go," he said. "The snow in the mountains is what really counts."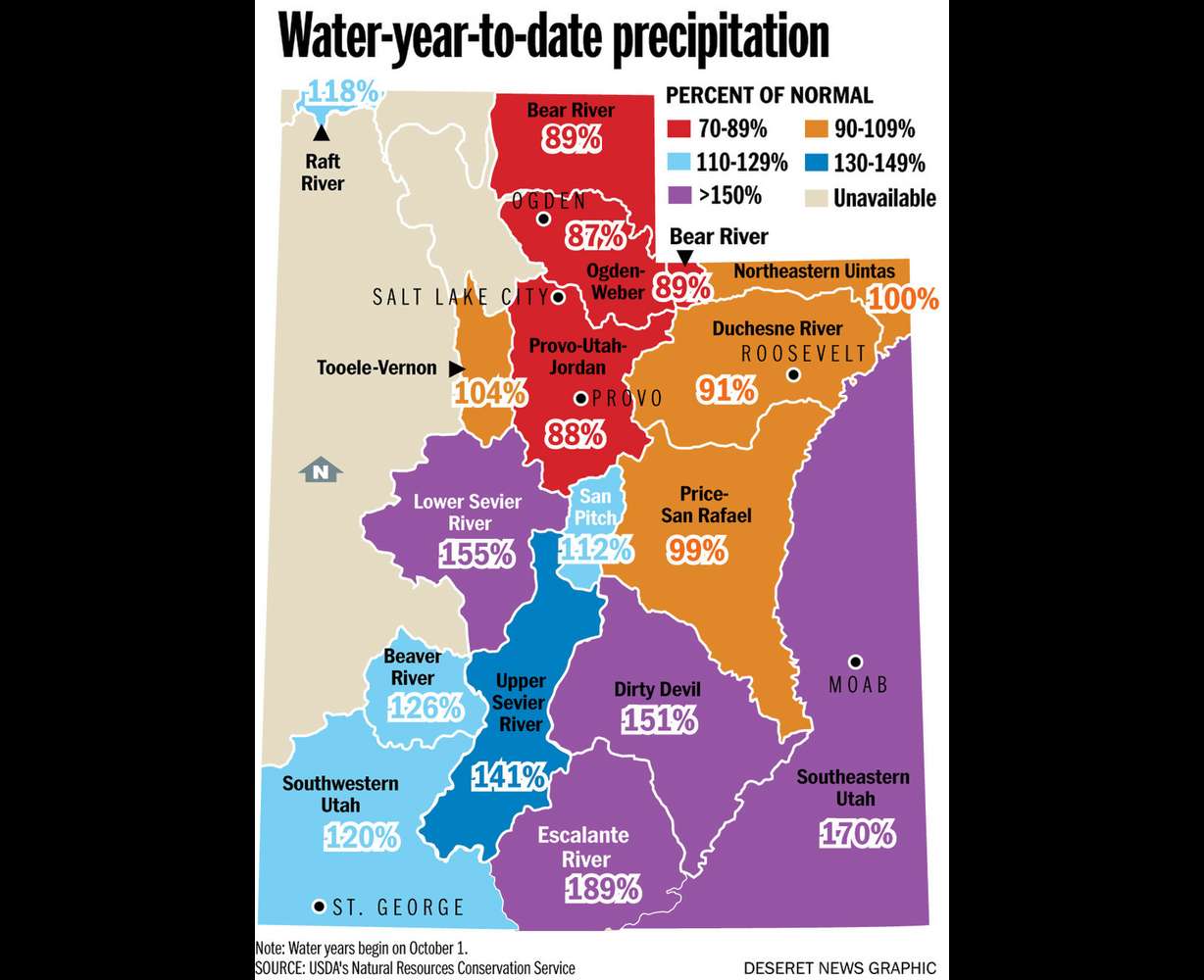 ×
Photos