Estimated read time: 4-5 minutes
This archived news story is available only for your personal, non-commercial use. Information in the story may be outdated or superseded by additional information. Reading or replaying the story in its archived form does not constitute a republication of the story.
SALT LAKE CITY — Jackie Biskupski was sworn into office Monday, becoming Salt Lake City's 35th mayor.
Biskupski's historic election, as the city's first openly gay mayor, was met with warm reception on the brisk Monday afternoon. A crowd of about 500 welcomed her with a standing ovation after she took the oath of office on the steps of the Salt Lake City-County Building.
Biskupski's fiancee, Becky Iverson, stood at the new mayor's side as she was sworn in by Salt Lake County Presiding Judge Shauna Graves-Robertson.
Following the ceremony, Biskupski said she's committed to "building an inclusive and welcoming" Salt Lake City by improving air quality, welcoming businesses, creating opportunity for people from all walks of life, and rooting out crime and homelessness.
"The people of this city are why I ran my first race," Biskupski said, referencing her unsuccessful bid for Salt Lake City Council in 1997. "And you are why I am standing here today. It is for you that I will work every day to build a city for everyone."
Biskupski was joined by members of the Salt Lake City Council, including Derek Kitchen and Andrew Johnston, who were also sworn into office for the first time Monday, and Charlie Luke, who begins a second term on the council.
Kitchen and Johnston replace former councilmen Luke Garrott and Kyle LaMalfa. Garrott ran an unsuccessful campaign for mayor, while LaMalfa did not seek re-election.
Former Mayor Ralph Becker watched from the crowd of onlookers as the new elected officials were sworn in. Becker served as mayor of Utah's capital city for eight years before falling less than 1,200 votes short in his bid for a third term.
"I have mixed feelings," Becker said on KSL Newsradio on Monday before the ceremony. "I'm excited for her, and I wish her the best to do well and for the city to do well. But there's also this remaining twinge of it being bittersweet."
Becker said he still doesn't know exactly what he'll be doing next professionally. For the next month, he said he plans to hike the Colorado Plateau with his wife, then he'll turn his attention on what direction to take his career.
"It'll be the beginning of a new era," the former mayor said. "I'm looking forward to it."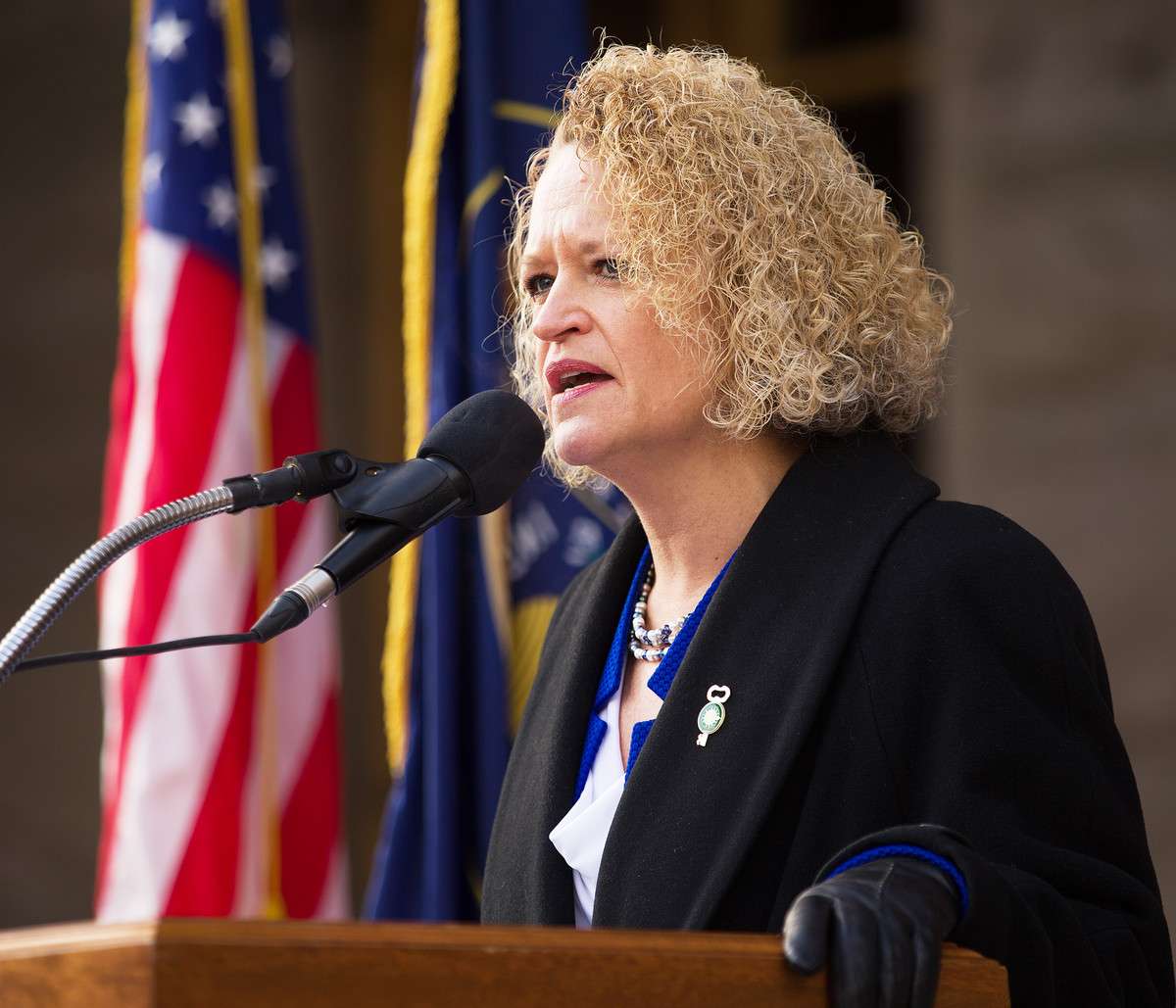 A new vision
As Biskupski spoke, some members of the crowd wore surgical masks, shielding their lungs from Monday's hazy air.
The new mayor said improving air quality is one of her top priorities.
Biskupski said she will be reaching out to legislators, developers, business leaders, church leaders and fellow mayors across the Wasatch Front to take "collaborative and concrete steps" to improve the valley's air.
"As a community, we have nothing more in common than the air we breathe, and the air we are breathing in Salt Lake City is simply unacceptable," she said. "This is a problem we cannot ignore. As the new mayor of the capital city, I promise improving air quality will be at the core of every decision and policy we make."
After the ceremony, Biskupski told reporters her administration will also begin work immediately preparing for the upcoming legislative session and advocating on behalf of the city on issues such as transportation and air quality.
"In the coming months, I am committed to shepherding the completion of a comprehensive transit master plan that addresses our unique, intra-city needs, resulting in fewer cars on our local roads and less pollutants in our air," she said.
Biskupski also pledged to foster a more "stable and streamlined" process for business permits and building codes by having city agencies work closer together, creating a "technology corridor" in the city, and promoting opportunity in "every corner of our city" through economic development and education.
"When it comes to opportunity, we will not allow a freeway to divide us," she said. "To secure our future, we must bring focus to our city's dynamic west side."
Lastly, Biskupski said Salt Lake City must root out crime and develop a new model to address homelessness by helping cities and counties across the state learn how to integrate resource centers in their communities and develop low-income housing.
"As a first step, I am committed to finding ways to strategically root out the criminal element that hides and preys upon the homeless population," she said. "We must also disperse the homeless population in order to provide them with safer environments to live and better opportunities to become self-sustaining."
Biskupski did not offer any specifics planned for her first months in office but indicated that she will do so during her first State of the City address later this month.
"Today, I have the honor to serve the people of (Salt Lake City), to listen to your concerns, put your interests first and to always lead from a place of integrity," she said. "I am ready. It is time. Let's get to work.
Contributing: Sandra Yi, Paul Nelson
×
Photos
Related stories
Most recent Utah stories