Estimated read time: 3-4 minutes
This archived news story is available only for your personal, non-commercial use. Information in the story may be outdated or superseded by additional information. Reading or replaying the story in its archived form does not constitute a republication of the story.
SALT LAKE CITY — Nearly 1,000 homeless and low-income people lined up at the St. Vincent de Paul Dining Hall on Friday night to enjoy a warm Christmas dinner.
For some, including Richard Greenlaw, it would be the best meal they've had all year.
"I'm overwhelmed," he said.
Greenlaw, who is homeless, said he has lived on the streets of Salt Lake City off and on for the past two years. "I'm tremendously grateful. This really makes you realize how we can be to each other."
It's the 15th year volunteers at Catholic Community Services have hosted the annual Christmas dinner, with steak, potatoes and rolls donated by The Church of Jesus Christ of Latter-day Saints, as well as pie, hot chocolate, coffee and other sides donated by the Grand America Hotel.
Piles of clothing — coats, sweaters, hats, socks, mittens — and even toys were handed out after patrons finished their meals.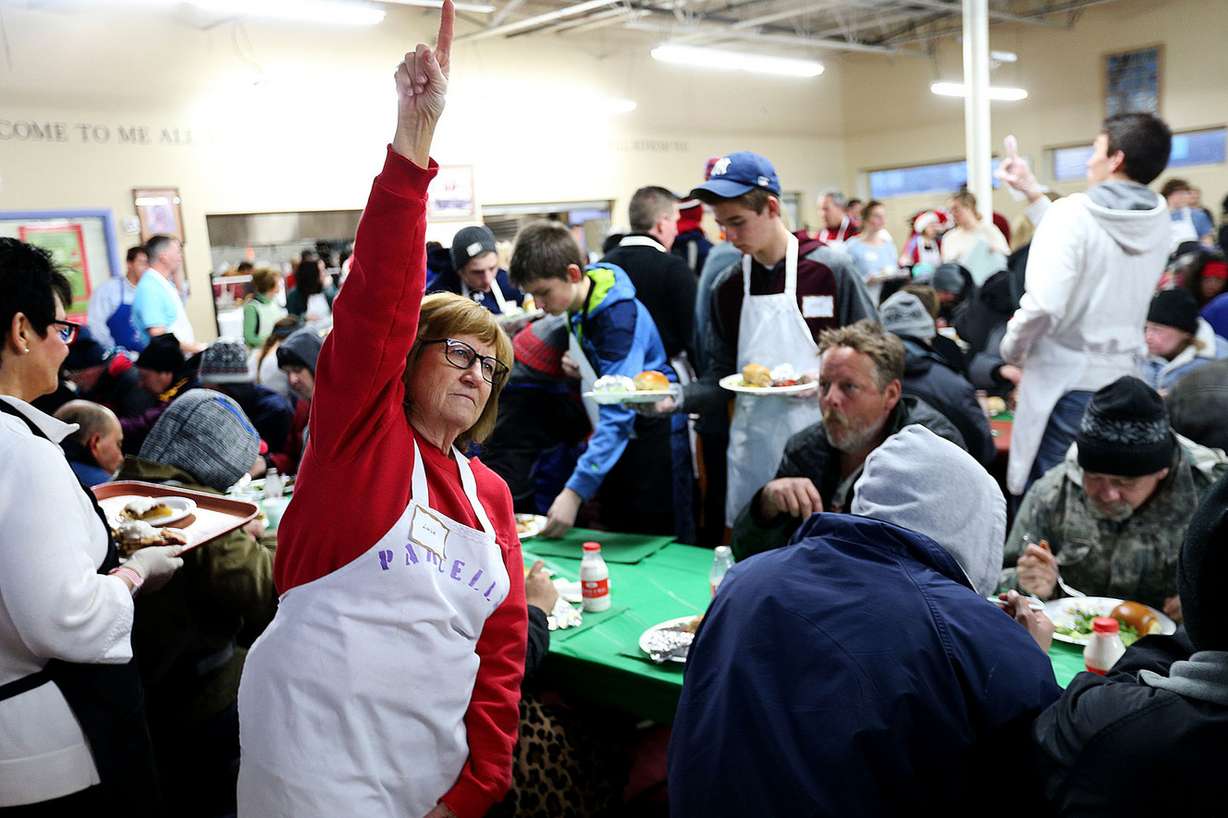 Pamela Atkinson, dinner organizer and a longtime advocate for people experiencing homelessness, said many of the dinner patrons tell her it's the only time of the year they get to have a steak.
"It's really a warm feeling that we're able to treat people with dignity and respect and make them feel welcome" Atkinson said. "All of the volunteers and myself feel it's a perfect ending to Christmas Day."
Atkinson said more than 80 volunteers showed up to help this year — so many, that some had to be turned away.
"More and more people come out every year. To many of us, this is the greatest gift we can give on Christmas Day," she said. "Giving back to those in need, helping them have a great meal, and helping them get gifts that they otherwise wouldn't have."
President Dieter F. Uchtdorf, second counselor in the LDS Church's First Presidency, was among those volunteers, busing plates back and forth in the crowded dining hall. President Uchtdorf said he and his wife, Harriet, volunteer at the dining hall multiple times throughout the year.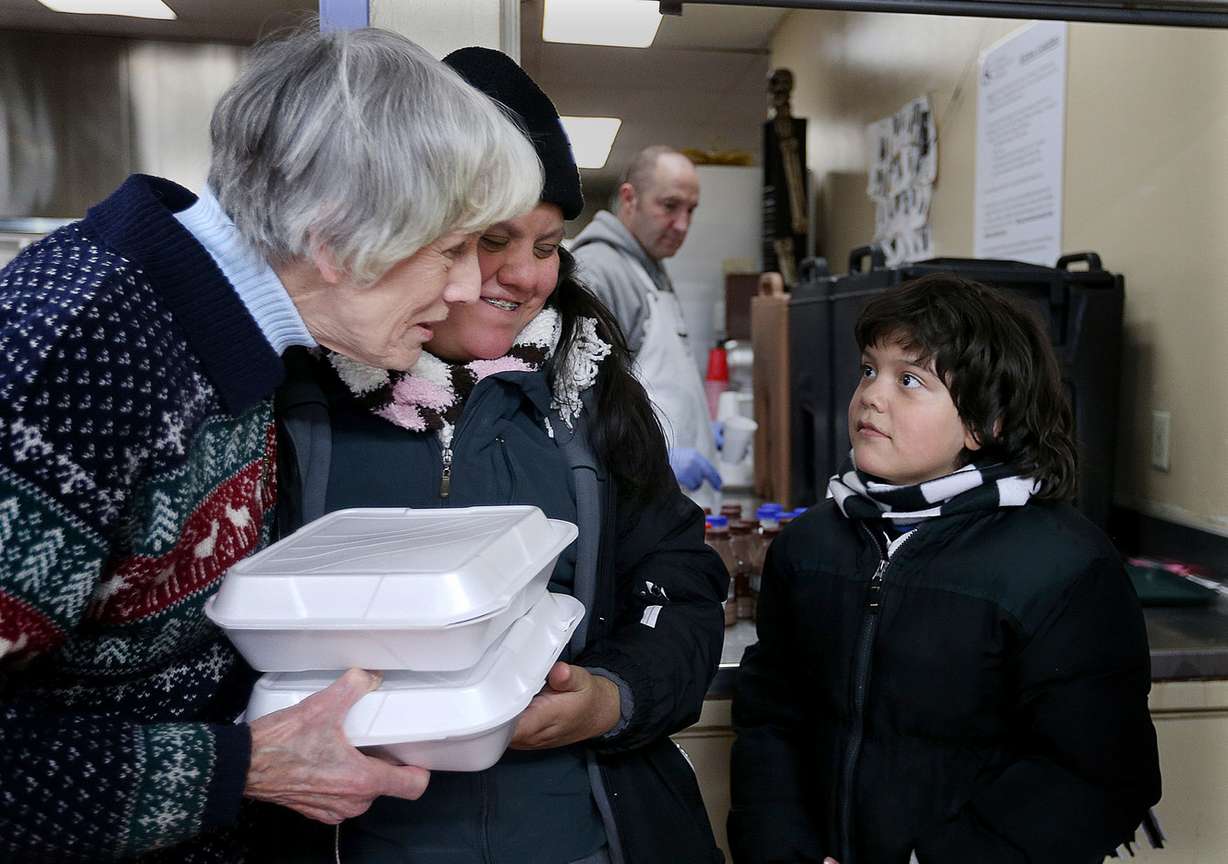 "We just wanted to spend the day with these wonderful people," he said. "Sometimes it's even a smile that feeds more than a steak."
President Uchtdorf added that it's important to help those in need all year long, not just on Christmas.
"If we can help a little bit here to spread a little warmth and the great feeling of Christmas, that's perfect," he said. "But every one of us has to reach out and try to help wherever we can. There are a lot of needs in the world."
Atkinson echoed that sentiment, urging people to remember that the struggles of homeless and low-income people persist throughout the year.
"We're meeting certain needs here tonight, but their needs are there all year round," she said. "People need to give in January, February and March, and all throughout the year, because the same needs are there. Our homeless and low-income friends need a lot of love and gifts at that time as well."
Greenlaw, who had found new black leather jacket, admired its fit when he slipped it on. Holding a bag of new clothes, he said it was wonderful to meet so many generous and jolly people.
"We're known by our actions," Greenlaw said. "This shows what we can be as people."
×
Photos