Estimated read time: 2-3 minutes
This archived news story is available only for your personal, non-commercial use. Information in the story may be outdated or superseded by additional information. Reading or replaying the story in its archived form does not constitute a republication of the story.
One of the ballrooms at the Salt Palace Convention Center will be full of "geeks" for the next three days. We're not being disrespectful here, that's the name of the show: The Gaming and Electronics Expo -- GEEX, for short.
The expo is for computer game lovers, and if you know what "Warcraft 3," "Doda," "Team Fortress 2," "Track Mania Nations" or "Grand Theft Auto 4" are, you should go and play.
This is Salt Lake's very first large gaming expo. As you wander around the room, you'll notice people playing a computer game set up in the back of an SUV. In another spot, students are assembling computer components.
Vendors come to sell the latest games, and there are others who carry in and set up their own equipment to compete in the various contests. Welcome to GEEX 2008!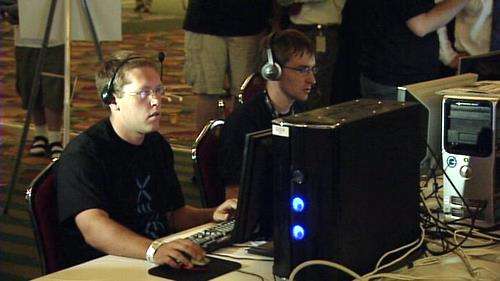 "These are some of the best regional players coming here to compete. We have a professional shoutcaster coming to shoutcast out our tournament on stage," said LeGrande Jolley, the show's organizer.
There will be a number of different tournament formats, including Xbox and Nintendo. Another big draw will be a room where several hundred gamers will be connected by miles of computer cable, and they'll play games against each other around the clock through Saturday night.
Nathan Cragun and Gabriel Branson brought their computer stuff from Pleasant View.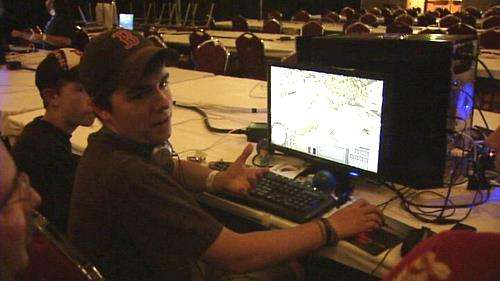 "I find it a lot more competitive when I'm sitting right next to the person you're actually playing. When you're playing someone who's a thousand miles away, it's just not as fun," Cragun said.
Computer games have come a long way the last few years. The graphics and special effects are almost hypnotic. "It's crazy the amount of technology that goes into these games, how good they look and the qualities they have. Monitors now are getting huge, and the sound is great," Jolley said.
GEEX is open to anyone, whether or not you're a gamer. "We've got everyone from 10-year-olds this morning, a lot of kids from school -- school's out, so they're coming down here to hang out; and the adults are coming to check out and see what their kids are getting into," said GEEX director of events Marie Bowcut.
Up to 5,000 people from the United States and Canada are expected to attend the show. It runs through Saturday night, and $10 will get you in.
For more information on the expo, click the related link to the right of the story.
E-mail: kmccord@ksl.com
×
Related links
Most recent Utah stories