Estimated read time: 5-6 minutes
This archived news story is available only for your personal, non-commercial use. Information in the story may be outdated or superseded by additional information. Reading or replaying the story in its archived form does not constitute a republication of the story.
PROVO — BYU athletic director Tom Holmoe presented a basic outline of what he was looking for in the school's next head football coach when Bronco Mendenhall announced he was going to Virginia.
At the top of the list was the ability to recruit — not just to recruit the top talent to play a sport at BYU, but also to bring in the unique high school students that the unique faith-based institution has drawn on for its entire athletic existence.
In Kalani Sitake, Holmoe found exactly what he needs.
"To listen to the way that he communicates with players, it's so exciting," Holmoe said of Sitake. "In the short time we've been together since he's been named the coach, it's been great to see him on the phone, talking to recruits already.
"This is his thing."
That's no surprise — recruiting is the blood that pumps through the veins of any successful college football program, whether in the so-called Power 5 conferences, a Group of Five member, or an independent team like BYU or Notre Dame.
The head coach doesn't do all of the recruiting. But he is the face of the program — and potential incoming freshmen need to identify with him.
Sitake showed his open, friendly manner before walking into the BYU Broadcasting Building on campus for a press conference. He spotted two students, huddled inside the rare open building on campus amid a snowstorm, and extended his hand.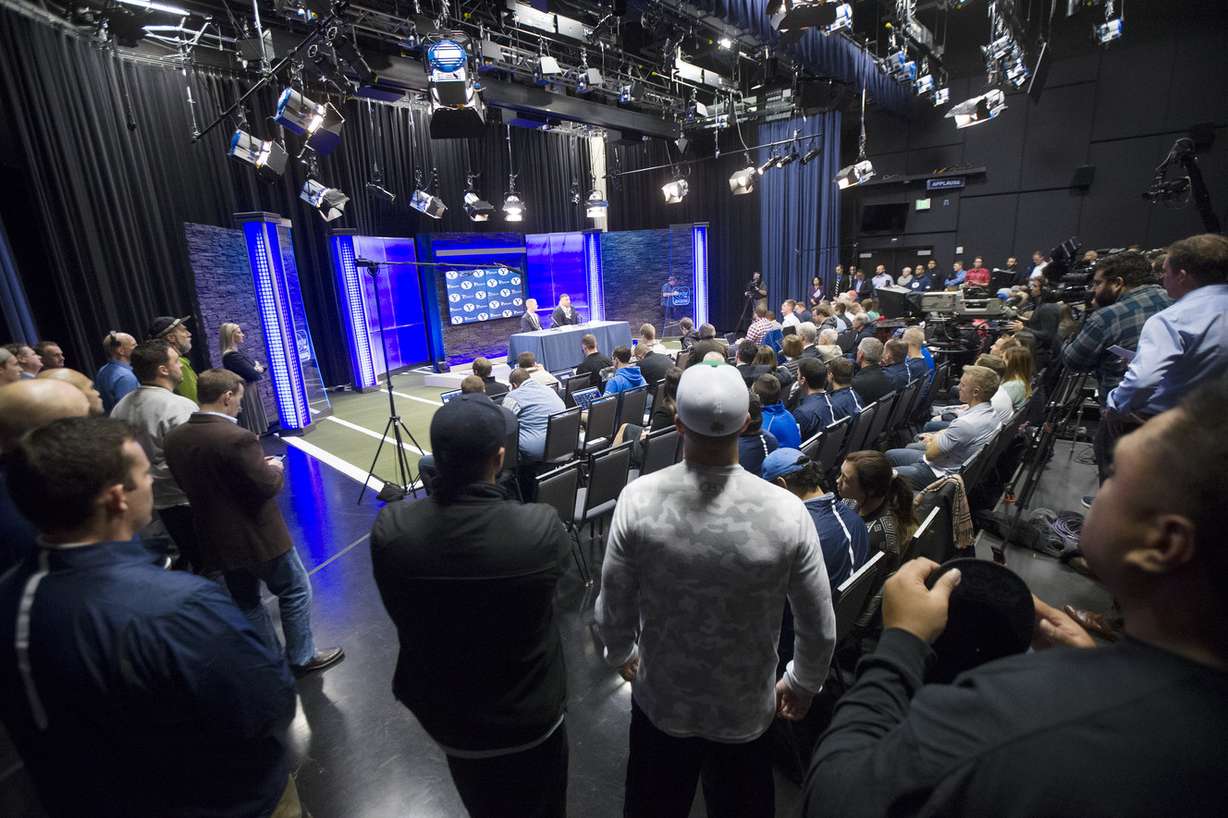 There was no mention of Coach Sitake or the new football coach. It was just a simple, "Hi, I'm Kalani."
"Those people looked up and said, 'I don't know who that guy is,'" Holmoe recalled, "but I like him."
Sitake knows about his reputation as a recruiter, and thus he likely knows that such a reputation precedes him.
He was even ready Monday afternoon when a reporter asked him for a sample pitch to try to bring the typical BYU athlete to Provo, and why they should sign with the FBS independent Cougars instead of a Power 5 conference school like rival Utah.
"Recruits, be ready," he said during a press conference, as confident as he likely looks while sitting in a high school athlete's living room. "I'm going to look you in the eye because I played here. I lived this life. I met my wife here, made great friends and brothers for life here. You can, too.
"That's a selling point, and I'm going to get working on that stuff."
As if he convinced himself to sign a National Letter of Intent on the spot, Sitake then muttered aside, "If you can wrap it up quickly, I want to get moving."
Sitake's warm demeanor has been described as a characteristic of his culture. The first native Tongan to be a named a head coach in Division I football history represents his culture well, and the fact that such a barrier was broken at BYU isn't an accident, former coach LaVell Edwards said.
"The Polynesians have been instrumental in the success that we've had here," Sitake's coach from 1994-2000 said. "I think as soon as he indicated that he was one of the candidates, I got in touch with him and visited with him. We talked. He's a great choice."
Players were immediately struck by the culture revealed by the program's first Polynesian head coach — even though from their own corner of the South Pacific.
"I love the fact that he's Polynesian," said senior-to-be punter and rugby star Jonny Linehan, an Auckland, New Zealand, native. "I love the islands. I'm a little biased, but I feel that I have the heart of a Polynesian even as a white New Zealander."
Linehan admitted Sitake's demeanor has been different than what BYU has had for the past 11 seasons in Mendenhall. It's not a bad thing, and may or may not prove to be a good thing. But it's different.
"Coach Mendenhall and coach Sitake have two different coaching styles, but I feel like that enthusiasm is what we need," Linehan added. "Without putting too many expectations on him, I think he's going to do really well."
Related Story
Just as important as his culture, though, is Sitake's faith. The first-time head coach who ran the defenses at Oregon State and Utah placed a premium on faith and family — so when the BYU job became available, he knew he was interested.
"I'm proud of my heritage and where I come from. That's important to me," Sitake said. "But I'm also proud of being a member of The Church of Jesus Christ of Latter-day Saints, of being a good person, of being a friend. I'm proud of my coaching abilities, too. I just happen to be Tongan, as well. It's just part of who I am."
Sitake has been busy putting together his coaching staff, which KSL has learned will include former BYU quarterback Ty Detmer at offensive coordinator and former Oregon State and Utah linebackers coach Iliasa Tuiaki in a currently unannounced role.
But he's also eager to embark where he belongs — on the recruiting trail.
"It's been humbling," Sitake said of the new job. "I've received tons of support from so many different people. But I also want to get to work so bad. I'm fired up, I'm excited.
"I'm ready to roll."
×
Photos
Related stories
Most recent Sports stories